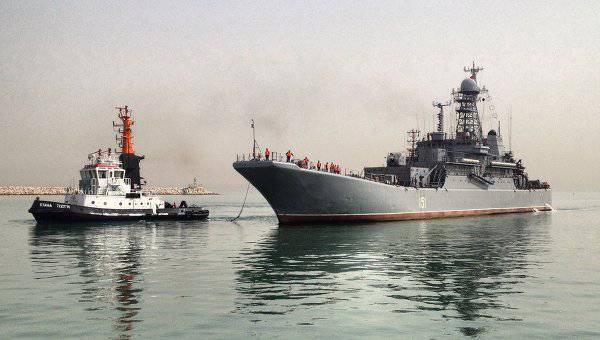 Russian warship for the first time in
stories
Bilateral relations arrived in Israel to congratulate the locals, primarily veterans of the Great Patriotic War, on the upcoming anniversary of the Victory.
Without waiting for the late Israeli mooring, the large Azov landing ship approached the wall of the port of Haifa, and the sailors who jumped ashore themselves secured it with ropes on the mooring bollards. In the next three days, Israelis are waiting for a tour of the "Azov", performances of the Black Sea Orchestra
fleet
and marines. The ship itself during the call will have time to replenish supplies, and the crew - a little rest. The ship's visit will last until May 3.
"This event is out of the ordinary, to be honest. This is not only the first visit in history - it is also timed to the anniversary of our Victory in the Great Patriotic War ... I think that the visit will be a serious event in our relations with Israel and will serve to further build up bilateral cooperation" - said the Russian ambassador to Israel, Sergei Yakovlev. In Israel, where tens of thousands of veterans live, Victory Day is a public holiday, which, like in Russia, is celebrated on May 9.
The commander of the brigade amphibious ships of the Black Sea Fleet Alexei Komarov said that the order to enter Israel was received at sea after the Azov visited the Italian port of Messina, where a monument to the Russian naval commander Fyodor Ushakov was opened. "Everything that we have prepared, developed, will be happy to show both the residents of Haifa and dear respected veterans. For us, May 9 is holy," Komarov said, expressing hope that the first arrival of a warship to Israel would not remain a "one-time event." ".
When asked if they are planning to call at nearby Syria, where battles between government forces and opposition troops are taking place, the commander of the march replied that Azov, if received such an order, is ready to take part in the removal of Russians. "We are in readiness, including the evacuation of Russian citizens who are in Syria," he said.