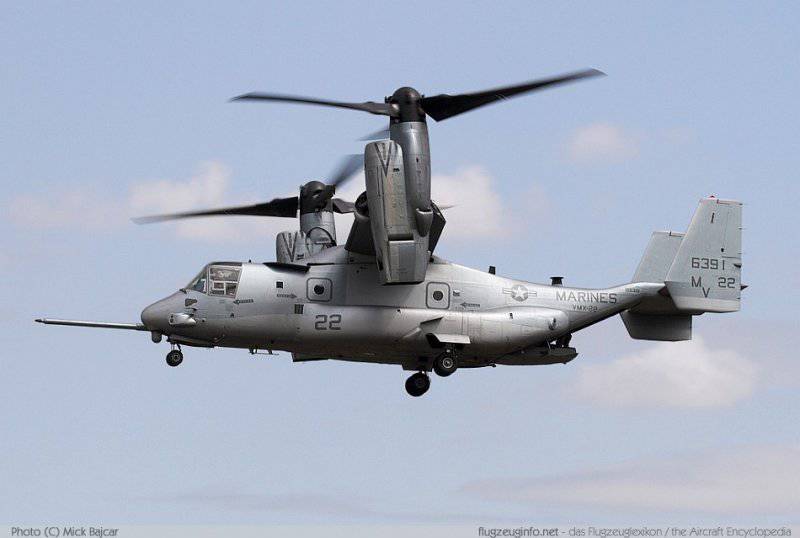 The US authorities will transfer the 12 Osprey convertiplanes to Japan, Pentagon chief Chuck Hagel announced Monday after talks with Japanese Defense Minister Itunori Onodera.
"We confirm the deployment of the second squadron (convertoplans) MV-22" Osprey "in Japan, which will occur this summer and which will increase our (military) capabilities in the region," ITAR-TASS quoted the head of the American military department.
The main part of the US military facilities in Japan is located on the island of Okinawa. Recently, the American military presence is causing increasing discontent among the population of the prefecture. This is partly due to the transfer to the island of convertible planes of vertical take-off "Osprey", which locals consider to be unsafe.
Boeing and Bell Helicopter Textron corporations began developing the V-22 a quarter of a century ago. They were supposed to replace the helicopters of the Vietnam War. Designers had to overcome many difficulties. Several prototypes and first produced cars crashed during tests. Only in 2000, the 23 marines were killed in the wrecks of Osprey.
However, according to the Pentagon, the V-22 convertoplanes showed themselves quite well in military operations in Iraq and Afghanistan. They can deliver up to 24 people over a distance of 900 km, reaching speeds of up to 620 km per hour. Each such machine costs from 70 to 89 million dollars.