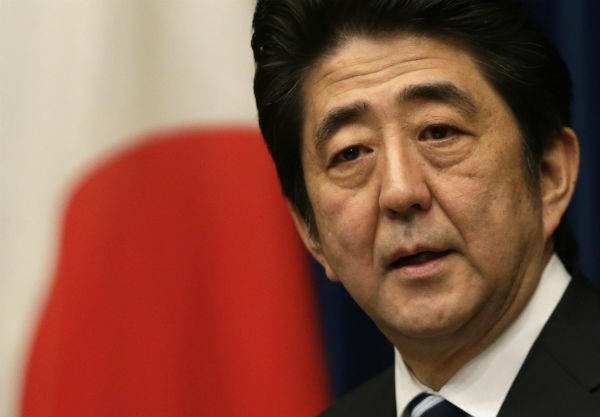 Japanese Prime Minister Shinzo Abe gave an exclusive interview to ITAR-TASS and Rossiyskaya Gazeta.
Mr. Prime Minister, thank you very much for the opportunity to meet with you. As far as I understand, this is the first trip of the head of the Japanese government to our country in the last ten years. What are you going to Russia with? And in general, what place does Russia occupy today in Japan's foreign policy?
Shinzo Abe: It is with great pleasure that I am going to Russia now. Russia is a very important neighbor for Japan, relations between our countries are among the richest in possibilities. Japan and Russia have common benefits and a common interest in maintaining peace and security in the Asia-Pacific region. Russia is a country that has a huge territory and rich resources. Japan has high technology. Therefore, our countries naturally complement each other and will, I think, do this through cooperation. Two years ago, after the powerful natural disasters in eastern Japan, Russia immediately sent a large rescue team to us, and we do not forget about it. Then the Patriarch of Moscow and All Russia Kirill visited the affected areas, where restoration work is underway, including the damaged Orthodox Church. President Putin has a clear goal - to build a strong, prosperous Russia. And my current goal is to build a strong Japan. Thus, President Putin and I share common values ​​and ideals. And I have great feelings for him. I have already had the opportunity to meet several times with President Putin as Secretary General of the Cabinet or as Prime Minister of Japan. During this visit, I, firstly, would like to establish a personal relationship with him as the Prime Minister. Secondly, I would like to reveal the possibilities for the comprehensive development of our relations in the future. Thirdly, I hope to agree on a new start of peace talks that are not moving forward between our countries, give impetus to our relations and make the current visit open up new long-term opportunities for their development.
I would like to emphasize that in this visit I will be accompanied by numerous high-ranking representatives of private business. It is the largest and most powerful in
stories
Our relationship is a business mission consisting of approximately 120 people. I would like to outline new opportunities and establish contacts in three promising areas - investment environment, health care, as well as agriculture and food production. We hope to present our high technologies in medicine, delicious Japanese food products to the Russian public, and to establish complementary relations in these areas.
Mr. Prime Minister, you have already answered almost all my further questions. Therefore, I will have to detail them. I would like to start with the most sensitive issue in our relationship. You mentioned that you would like to negotiate with President Putin on the conclusion of a peace treaty. Two years later, 70 is celebrated years since the end of the Second World War, and there is no peace treaty between Russia and Japan, this is not normal. You said several times that you would like to achieve a breakthrough in this direction. Therefore, I recall the words of President Vladimir Putin when he used in this context the term from judo "hikivake", i.e. draw. This is what Vladimir Putin proposed as the basis for concluding a peace treaty. Of course, there are certain problems that prevent this. This is the problem of the Kuril Islands. And here I would like to mention one of your predecessors, former Prime Minister Yoshiro Mori, who spoke about the division of the islands. What concept do you practice? What are you going to negotiate on this issue, if it is not a secret?
Shinzo Abe: 67 years have passed since the end of World War II, and there is still no peace treaty between Japan and Russia. This seems to me to be an abnormal situation. President Putin spoke of this. The conclusion of a peace treaty, in my opinion, would, without any doubt, lead to the abrupt development of our relations. The responsibility of our generation is to resolve the issue of ownership of the four northern islands and conclude a peace treaty. I am very encouraged that President Putin has a positive approach to the dialogue with me on this issue. There is no magical means to solve this problem with one blow. However, having built personal relations of trust with President Putin during this visit to Russia, I would like to demonstrate that we have the same political will to start a new start at our negotiations. I would like to negotiate to find a mutually acceptable solution to the issue against the background of the comprehensive development of our relations.
I would like to touch upon the main theme of our economic cooperation - energy. Japan significantly expands purchases of Russian natural gas. After the tragedy on Fukushima, this has become particularly relevant. How much do you consider promising our cooperation in this direction, what is your special potential?
Shinzo Abe: Energy is one of the most important pillars of Japanese-Russian economic cooperation. Our relations in this area are consistently developing - we can call the extraction of oil and natural gas on Sakhalin, the beginning of the work of the entire pipeline to the coast of the Pacific Ocean. In particular, deliveries of liquefied natural gas from the Sakhalin-2 project, in which Japanese companies take part, cover slightly less than 10 percent of our country's import needs. As you noted, after the powerful natural disasters in 2011, Japanese fuel purchases increased, which increases the trade deficit. An urgent task for our economy has been to reduce the cost of fuel purchases, primarily liquefied natural gas. Japanese-Russian energy cooperation is important in terms of reducing fuel costs and diversifying its sources of income. I consider it important to expand mutually beneficial cooperation in the construction of facilities for the liquefaction of natural gas, in the development of its fields, in production.
You mentioned that the largest landing party of Japanese business is flying to Moscow with you. Almost 120 business representatives will be in Moscow at the same time. If we consider that last year the trade turnover between our countries exceeded the record amount of 30 billion dollars, then you can imagine where he can jump after this landing. And yet - where do you see the greatest opportunities for our trade and economic cooperation, what are the most important projects? What do you expect from the Japanese business in trade with Russia?
Shinzo Abe: Russia has rich resources, Japan - high technology. Therefore, it seems to me, our countries have complementary, mutually beneficial relations. After the formation of our government, Japan began to pursue an economic policy in three ways out of deflation - bold quantitative easing in finance, mobile financial policy, and the encouragement of private investment. On this basis, we strive for active economic growth. Currently, one after another, the results of such a strategy are already showing up. I am confident that the development of the Trans-Siberian Railway, ports in the Far East has great potential for strengthening the economic cooperation of our countries, and Japan can make a great contribution to the development of Siberia and the Russian Far East. As I have already said, an unprecedented economic delegation of leaders of Japanese business is traveling with me. I think that this will be a real impetus to his new full-scale advancement to Russia, to a real expansion of investments. President Putin, as I know, sets the goal of 2018 to raise the position of Russia in the international rating of investment attractiveness to the 20 position. Further improvement of the investment atmosphere on the way to this goal gives hope for the creation of conditions for even broader Japanese investments in your country.
You mentioned the cooperation between our countries in the Far East. But in this region is now quite tense. There is a threat of conflict on the Korean Peninsula, Japan has repeatedly criticized China for its policies. How do you see the cooperation between Japan and Russia in the Asia-Pacific region? And I would like to ask you to separately tell about your vision of the resolution of the North Korean problem.
Shinzo Abe: It seems to me that now there is a rather dangerous security situation in the Asia-Pacific region. Its transformation into an area of ​​peace and stability, without any doubt, meets the interests of Japan and Russia. Expanding our cooperation in this area is not only in the national interests of the two countries, but will also contribute to the development of the entire region. North Korea's actions and statements are extremely provocative, it provokes the international community. It is necessary that the world community, including Japan and Russia, make it clear to North Korea that this behavior will in no way benefit her. And I believe that the cooperation of our countries in this direction and, further, the cooperation of Russia, Japan, the USA, China, South Korea and other members of the world community will make a great contribution to peace and stability in the region. If we talk about China, then not only Japan, but many other countries are concerned about its actions in the South China and East China seas. Japan and China are in a relationship of strategic complementarity, seven years ago, when I was then prime minister, I visited China, where we expressed consensus on this issue. In the economic sphere, in particular, our relations are inseparable. It is important to understand each other. We keep the door open for dialogue. And it is important, as it seems to me, to return to the initial principle of strategic complementarity with China. In addition to the above, we face new threats and challenges, such as international terrorism, cybernetic terrorism. And I think it is very important to promote Japanese-Russian security cooperation. Recently, it develops just before our eyes. The naval self-defense forces of Japan and the Russian Navy from 1998 of the year to last year already conducted 13 joint exercises to work out search and rescue operations. There is an increase in security cooperation through various channels.
Your family, Mr. Prime Minister, is known for her interest in developing relations previously with the Soviet Union, and now with Russia. Your wonderful father, Shintaro Abe, when he was foreign minister, was in our country and did not hide his sympathy for her. And in this regard, it would be very interesting to know your personal attitude towards Russia. Especially since you, as far as I know, have been in it. If memory serves me correctly, you visited us with Prime Minister Koizumi. So, what does Russia mean to you?
Shinzo Abe: My father, Shintaro Abe, was foreign minister from 1982 to 1986 a year. He was then able to resume negotiations with the USSR, which had previously been interrupted for ten years. Then he visited the Soviet Union. For my father as a politician, one of the tasks was to conclude a peace treaty with the USSR even during the lifetime of the current generation. And my father, a month before his death, met with President Mikhail Gorbachev, who became the last foreign leader with whom he spoke. In 1986, during a visit to Moscow, we created a Japanese corner in the Botanical Garden of the USSR Academy of Sciences. I accompanied my father and attended the planting of these trees. Then it was just a few seedlings, but now, through the 27 years, as I heard, there are already growing 220 sakura trees. And every spring, as I was told, they bloom beautifully. In accordance with the will of my father, I would like to achieve such a development of relations with Russia so that the Sakura there entered a time of full bloom. After the creation of modern Russia, I participated in the Japanese-Russian negotiations in Irkutsk with Prime Minister Yoshiro Mori in 2001, and in 2003 I participated as cabinet secretary general in the official visit of Prime Minister Junichiro Koizumi to Moscow. I remember how we, together with Premier Koizumi, visited the Nutcracker ballet. Both of these visits took place in a very cold season, I have never experienced such a cold before, but the Russians took us very warmly. I have the impression of Russia as a country of developed culture, literature, music, technology.
I want to calm you - in Moscow, the weather is now warm, the spring sun will meet you there. I do not know if you will have the opportunity this time to visit that mini-garden in the Botanical Garden that your father planted, but before we went to Japan, we went there and made sure that the sakura you planted is blooming beautifully. It is very beautiful there. In this regard, the question arises - this is the first official visit of the Japanese prime minister in ten years. Of course, there will be a lot of official events, but still, I would like to ask, what is the main message about Japan that you carry to Russia? What, in your opinion, is the place of Japan in the modern world?
Shinzo Abe: The Japanese are very eager to develop relations with Russia. As I said, there are many opportunities in our relationship. For example, I heard that now in Russia - the boom of Japanese cuisine. And during this visit, we also would like to acquaint Russians with delicious Japanese dishes. I wanted them to try more high-quality Japanese food, which is also very healthy. Now, signs of improvement have appeared in the Japanese economy due to our economic and financial policies. I hope that in the process of improving our economic situation, in the evolution of Japanese-Russian relations, we will make a more active contribution to the development of our region and all international relations.
I am forced to interrupt the smooth flow of my questions, since you mentioned one of the most interesting topics for me - Japanese cuisine. We really are booming Japanese cuisine, and in this regard, I would like to ask - what is its secret? It seems to me that Japanese cuisine is a whole philosophy. You said that you were going to offer Muscovites Japanese cuisine. How will you do it?
Shinzo Abe: One of the peculiarities of Japanese cuisine is its ingredients, the products themselves. Fish, vegetables. It is important to use their features, to revive them. In this, I think, one of the special features of Japanese cuisine. In addition, it is very good for health. And I would like the Russians to try authentic Japanese food. We also have Russian restaurants, but among them there are those that do not serve truly authentic dishes. It's hard for me to figure it out.
Unfortunately, there are no real ones.
Shinzo Abe: Therefore, we would like to present real Japanese cuisine during this visit and carry a lot of products with it.
At one time, such a thing as "Reaganomics" was included in the political-economic dictionary. Then - such a thing as "thatcherism." Now, the notion of "abenomics" is becoming increasingly popular. If possible, explain to me, an unknowing person, what is it?
Shinzo Abe: If we talk about these concepts, then at the time of Reagan, the US economy experienced difficult times, suffered from the so-called. stagflation, stagnation and inflation. To overcome this phenomenon, Reagan applied a new policy. Great Britain, too, was stagnant for a long time. the "English disease" that Prime Minister Thatcher coped with. Japan has been suffering from deflation for fifteen years. No other developed country has experienced it for such a long period. This is not only about economics - all this has led to a decline in the role of Japan in the world community. And our people are losing faith in the fact that, for example, next year our lives and society will become better than they are now. Our policy is aimed at radically changing this situation. First of all, you need to change the way you think - you have to believe that next year we will live better. To do this, measures are taken in the field of money circulation, finance, growth strategy. We call it the three arrows of our policy. It is important to return to the Japanese desire and desire for economic growth. This is the essence of our policy.
It seems to me that your life path was predetermined by ancestors. Your maternal grandfather was the prime minister, your father, as we have said, the foreign minister. Of course, you worked in business for some time, but, as I understand it, your political fate was predetermined. And in this regard, tell us what were the main lessons from your grandfather, from your father? How do you use them in your life and politics? Do you have a favorite motto?
Shinzo Abe: I received the same lesson from my grandfather and father. They had one hero - a man named Shoin Yoshida. And he had a favorite expression, borrowed from the ancient Chinese sage Mencius. "If you have checked yourself and are confident that you are right, then go ahead, even if you have an army of ten million enemies in front of you." I learned from my grandfather and father this truth, so important to a politician.
At one time you became the youngest prime minister in Japanese history, the first prime minister born after World War II. You and now - in excellent sports form. What allows you to support her? How do you spend your free time in conditions when the schedule of the Prime Minister is tight to the limit?
Shinzo Abe: Once every two weeks I go to a fitness club and do workouts. Once a month I play golf. And if possible, do not eat all that I was served.
Honestly, once in two weeks is a simulator, and once a month is golf, these are not very big achievements.
Shinzo Abe: But, alas, there is nowhere to go. It does not work anymore.
Mr. Prime Minister, our program is called Formula of Power. You are already the second time as the Prime Minister, you already know the concept of "power". What is it for you? What is the power of taste?
Shinzo Abe: Power is responsibility. Well, the taste ... It would be a mistake to think that this is the taste of honey. It has a bitter taste. One who has no power will not understand this.
I can only wish you to experience this bitter honey taste for a long time. Good luck and a good trip to Russia.