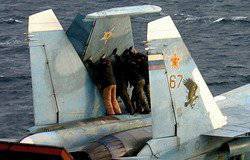 Gentlemen, officers and admirals! Honestly, read on
your forum
many of your arguments and thoughts are much nicer than reading the memoirs of admirals. Because your reasoning is much more robust. But on the forum, here and there, I read outrageous and megalomaniacal opinions about the fate of your naval
fleet
and ways of its development. I am perplexed. I worked and continue to work in the general system of merchant shipping - now not on the bridge, but in infrastructure, so to speak. Nevertheless, the Russian merchant fleet and its development were of interest to me and interest in the first place. And considering myself a part of merchant shipping, I actually believed and still believe that the navy is in our service, and not vice versa. But when I read and listen to the military, I understand that they are thinking and acting on the basis of their supremacy. Of course, they say something else, about protection and sacred boundaries, about greatness and so on, which you can't measure and bite, but in reality it turns out - not for their sake, but for their sake. Gentlemen officers and admirals! But is it time for you to descend from the heavens of your dreams and fantasies to the sinful land of reality?
Let's take it in order. About the mighty Soviet Navy. He became the ocean. What did he do in the ocean? He defended not the interests of Russia, he defended the interests of the USSR and the cause of socialism. His main task was to contribute to the victory of socialism throughout the world. To the extent that the task really was global, the fleet had to go into the World Ocean, and it went there. With the collapse of the USSR, the cause of socialism has become irrelevant to us. And the huge fleet of Soviet times automatically became unnecessary. Because there are simply no global tasks that require a global and powerful presence in the oceans. But here and there they talk about the opposition of NATO, the United States and some kind of defense of our interests in places that have nothing to do with our interests. Lord officers! And also admirals! We do not yet have transnational corporations whose interests need to be protected by aircraft carriers somewhere on the edge of the earth. Well, no! But our admirals from time to time talk about the protection of domestic shipping? Here let's more in detail.
So, our domestic merchant shipping - what is it and what protection does it require? Our military men say about him, but not out of caution, or simply out of ignorance, they will never clarify what it is and what it threatens. Let me explain. In Soviet times, the Navy was built and expanded, inspired by ambition and political doctrine - either we or capitalism. Merchant fleet expanded, pushed the most severe economic need and the economic failure of the Soviet state. Were needed, at all costs, dollars, yen, marks, pounds and other hard currencies. One of the main suppliers of the USSR currency was the merchant fleet — these were ships under the Soviet flag, with Soviet crews, these were particles of the USSR, and there were many of them, they walked all over the World Ocean, selecting the currency where possible. It was possible, therefore, to talk about the protection of domestic merchant shipping - was the subject of conversation. The merchant shipping of the USSR was oceanic, international, and it was strategically important for the USSR because it brought a vital currency for which they bought both bread and new technologies. With the collapse of the USSR and the return to the real world, the merchant fleet of the USSR collapsed, scattered and eventually revived, already as Russian shipping.
Russian shipping has lost not in volumes and quantities, of which the cheers-patriots grieve - they have lost their strategic importance. It is strategically important in only one, in ensuring domestic delivery - this is primarily the North and the Far East. When we are trying to give out, for the strategically important, transportation of our raw materials, this is pure water (pure oil) slyness. If we imported oil and gas, then and only then these shipments would be of strategic importance for us. And we are trying, many politicians and for some reason admirals, to compare and compare with Japan or China. Strategically important is that without which the country faces death. Who threatens to reduce the export of our oil? Oligarchs? Well, let them protect in this case. But do not worry, nothing threatened the export of oil and it will not threaten, because our oil is not needed for its customers for luxury, but for elementary survival, and therefore they will take oil from us and take it out, and ensure the safety of these shipments the way we and did not dream.
All other types of transportation that we need are, for the most part, in addition to Russian shipping and even Russian ports, the main global freight traffic routes. So, gentlemen, the protection of Russian merchant shipping in the expanses of the oceans is a bit of a myth. It is too small to make 5-6 aircraft carrier connections to protect it. But I have to explain something for those who are accustomed to navigate fleets and squadrons using maps, rather than understand the base vulgarities of the world economy and world trade navigation. In the last century, the world economy spawned such a phenomenon — a convenient flag. Under the convenient flag, almost the entire world fleet has fled, and only recently, 10-20 ago, the reverse process of returning ships to the flags of those to whom they actually belonged began. And this process is not caused by someone's will or political games of deputies and presidents, but by the demands of the economy. This is a separate conversation, but the essence, in relation to this article, is that the merchant fleets of the countries and their military fleets do not coincide with the point of view of protecting domestic merchant shipping - there is not a single example of compliance. If we proceed from the fact that there is a connection between the number of merchant ships flying the flag of this state and the size of its navy, then superpowers such as Panama, S. Vincent, Mongolia (who do not know - for several years now, Mongolia has become a convenient flag and , through an office in Singapore, it trades) or Cambodia, should each have 5-6 aircraft carriers, not to mention other trifles. The United States should have a couple of dozens of destroyers, England and the minesweepers will wipe, and for example, Finland will have enough of a couple of boats with pump guns in nests and holsters with pistols on their side.
The question is, what exactly should our aircraft carriers protect in the World Ocean? Whose interests? What do they even do there? Directly or bluntly, but it is understood that we must counter the threat from the naval forces of NATO and the United States. Okay, let's take it. We will try to resist a little and see what happens. Above its bell tower, merchant shipping, I do not climb. Geopolitics - this is not in my part, it hurts like a crappy thing, or is it done by those who are enthusiastically engaged in it? In general, we all know such a stamp - "the world gendarme". The Navy means NATO and the United States, this is a world gendarme. Gentlemen, the question is - what's wrong with the gendarme? And who lives in the world without gendarmes and police? Show? I can show if you can not immediately. Somalia. For the third decade there are no policemen or gendarmes there. Go online and read, listen and see what Somalia is and what is happening there. So, the NATO and US Navy is somehow or less, but they are coping with their role as a gendarme; on the whole, the world's shipping feels safe, with the exception of certain places. If someone thinks that in the World Ocean it is not necessary to maintain an elementary order and monitor security, then let them think further, it is not harmful to think. If the main concern and aspiration of our Navy is the confrontation of the naval forces of the West, then in fact, what does this mean? There is no political doctrine opposing the Western one. We just want to be cooler, and all you doctrine? Okay, let's go. Then we - precisely we - turn into gendarmes, there is no way out of it. We will run for help, we will be asked for protection, we will have to crawl into every hole in the oceans and extinguish every emerging conflict. Will they become more grateful towards us than towards us? Strongly doubt. Strong fear, but do not like. Just look at the Americans - whatever they do, everything is bad. They are bitten and in their direction spit, without exception, the whole world. If someone says, having blown his cheeks, that we are a completely different matter, that we are spiritual, and they, the NATO Navy and the USA, no, then with your permission, I giggle in this place. And this is not humor! I read in the memoirs of one admiral - an American aircraft carrier, this is a Teutonic knight in armor, intended for terrorist strikes, and the Russian aircraft carrier, this is a Russian knight in mail, intended ... for what he was intended there, the admiral was still undecided, painfully spiritually. But clearly not for what purpose American carriers of obscurantism are built. Gentlemen, patriotism is certainly good, but schizophrenia is by no means obligatory.
Do the Western Navy pose a threat to world shipping in general and Russian in particular? For example, last fall, before sending our AUG to the Mediterranean, the naval authorities said that this hike and further hikes of this kind were designed to ensure the safety of navigation in the North Atlantic. Gentlemen, any ice floe in the North Atlantic is more dangerous than NATO and the Western Navy, in general, to anyone. From whom it is necessary to protect shipping in the North Atlantic, explain? Did the German bots rise from the bottom and take on the old? In Greenland and the Norwegian fjords did the Vikings begin to move, gearing up the dragons? What kind of nonsense? Ask, finally, our domestic merchant shipping, do they need protection, and if so, where and from whom? By the way, this march began, if anyone remembers, from an ugly incident - the planes from Kuznetsov scared the scheduled Norwegian helicopters serving the oil platforms on the shelf. The Navy instantly declared that it had not violated laws and borders. Well, yes, did not break. But marine culture - violated. And if someone says that this was not the case, and that our military sailor is a model of culture, then the public will swallow it, but the merchant seaman does not. We have such a saying - be afraid in the sea of ​​a fisherman and a military sailor. I remember, on the traverse of Petropavlovsk, we're walking past, laden with gasoline, kerosene and some kind of rocket for warriors fuel. Night eyes gouged out. Suddenly an incomprehensible object dangling to the right in the drift, with a running gear, but without anything else a single light, obviously a warrior, suddenly gives a sharp turn and slips in our meters on the nose. Then back. We izmatilis on VHF, until finally, something hoarse, we did not explain that they are working out the task. No teachings and no squares - some kind of pirate, his mother. What kind of kindergarten is this? This sin not only our military, but others too. The military consider themselves to be the salt of the earth (or the sea), and us, all others, the second grade. Personally, I think the opposite. He who builds and sows, transports and bargains, heals and forges, he also has salt, and all the rest are in one way or another freeloaders. Who, in short, pays, orders music, and it's not for the military to determine their strategic objectives and goals, but to those who contain them. Tactics and techniques for accomplishing these goals set by them - yes, their business. But not more.
By the way, I note that there is no need to drag fishing into the protection of merchant shipping. These are completely different songs. Fish wars go on constantly, all are fighting against all. NATO members are fighting between themselves and with non-members, non-members are also not lagging behind, there are neither ideologies, nor political groups or interests. Fight for fish is no less evil and desperate than for oil.
If we talk about the protection of our domestic shipping and our domestic shipowner, then NATO and the USA are no more dangerous to them than Martians or giant squid. If we really protect our shipping and contribute to its development, then in principle, 5-6 aircraft carriers will not interfere. Provided that they are put on the raids of our main ports, and on every voyage of the original and main enemy of our shipping - various agencies, authorities and inspectors, the Navy will fly airplanes and helicopters into the air, take by storm the offices and institutions, and without trial or investigation mercilessly smack - a simple sailor's belt with a badge - all those who strangled and strangled our shipping. Our shipowner, gentlemen officers and admirals, is a rat thrown into a cage with fox terriers. With the order to survive. What he manages to do. And nobody helps him in his main war. If you put it before a choice - the elimination of one Russian bloodsucking agency, or of all US aircraft carriers combined, be sure of the choice. Carriers will not suffer.
And if you speculate about piracy, then here from the words of our admirals hair stand on end. And the officers, too. Here on the forum I notice a couple of times how the gentlemen of the military solve the problem of piracy with a hand-waving gesture - with a remarkable degree of contempt for the problem in general and its solution in particular. But this is a forum, what to take with it. But another weighty one - one of the regular commanders of the Black Sea Fleet several years ago stated literally that if our Navy rises from the ruins and reaches at least Soviet power, it will at once disperse all the pirates. Gentlemen, when a fleet commander speaks, it is a state official. Does he have to think or not, what does he say and what is behind his words? If not, then let me, the shtafirke, explain what it means to cope with pirates - well, for example, Somali. So, our fleet became great and mighty, and went to restore order to the Gulf of Aden, where for so long and so incompetently they were picking the United States with NATO. Came What to do? There are two ways. The minimum is to set up proper patrols along the Somali waters, which is thousands of miles (I may be mistaken, but thousands, not hundreds). Maximum and radical - to restore order in the country. Patrolling all waters along the entire border will require the entire Russian fleet, and what the Gulf of Aden today is, and why the coalition forces are not enough even there (not to mention the Somali waters in the Indian Ocean), the curious can learn from a small article
"Black day in the Gulf of Aden"
.
Beat on the bases of pirates? Gentlemen, this is not San Diego or Rota. Pirate base, a dozen huts, worse quality than the hut of Robinson Crusoe, and a couple dozen motorboats. Change the base - go to the next bay by boat, send boilers, rice in bags and wives with boxes of cartridges on camels. It is necessary either to cover the entire coast with a series of preventive asymmetric (oh, I like these modern terms!) Nuclear-missile strikes (like the tsunami recently destroyed, having destroyed all Indonesian pirates for a few months), or to root them - to bring order to the country but power. It means - to occupy it to hell, with all that follows. On the one hand, humanity will breathe with relief. On the other - on the country that does it, immediately hang all the dogs and blamed for all sins. Journalists and politicians will find out that there are deposits of oil and gold, uranium and diamonds in Somalia, as well as there are - the Holy Grail and the Alexandrian Library, and that Russia or who else, who is occupying Somalia, has trampled all laws and morality, pursuing purely selfish goals. And every mistake and failure of the invader country will cause joy, applause and gloating screams of all progressive humanity. That's what, gentlemen, restoring order and the fight against piracy. First of all, this is a struggle with the world community in order for the mind to prevail, and for the world order to be able to provide peace and tranquility where the local population cannot provide it. And if this is not the case, then the person who dared to get into a foreign country will get so much on his head that a nuclear explosion will seem like a minor accident. Examples are in plain sight - Vietnam, Afghanistan, now here is Iraq. Any small and mediocre, at times criminal, state feels practically unpunished, and has the right to encourage piracy, then fight against it - in order to somehow influence it, great efforts and agreement of the entire world community are required. I can describe, and even laziness, how they fought and struggled with piracy in the Strait of Malacca, what kind of work it costs, and what kind of wild resistance any proposals from interested countries to help in this struggle cause. And our admirals promise to throw caps on piracy!
Officers, gentlemen, do you know that besides the fact that everyone knows, the pirates of Somalia and the Strait of Malacca, Nigeria and the Caribbean, there is another piracy, state? Here you are, for example, the DPRK. I will not write anything here, referring the curious to the article
"Direct and Immediate Threat - Regional Shipping and the DPRK"
. But our new friend Venezuela - let it be known to you that, for example, quite recently Novoship was suing a Venezuelan company, along with other tanker companies. The roots of the conflict go to the top of the Venezuelan, and the essence of the conflict - simple kidalovo. But Venezuela comes up with something else, more abruptly. Something related to drugs. Vessels are arrested, shipowners fined, and thereby replenish the country's treasury for good socialist and anti-imperialist purposes. Oil money is not enough. Painfully actively struggling. The state piracy is also flourishing in a number of African countries.
So, with my trade and shipping bell tower, the Russian Navy in the oceans is not needed? It seems to me, not just needed, but very necessary. But - reasonable and high quality. At least two ship groups, and preferably three. In the Mediterranean, in the Gulf of Aden and in the waters of the APR, with a base in the Far East. Let these groups consist of a minimum of ships and transports, but let them be, and will be constant. In the Mediterranean region there are a number of countries that, by virtue of not very big mind, respect our Russian merchant ships only when they see masts and flags of Russian ships looming behind their settings. They treat everyone like that, not only Russia. And in the Mediterranean region there are more ships under the Russian flag than probably anywhere else. In the Gulf of Aden, our group could (for me, so long ago) have to join forces patrolling its waters, not only to participate in the holy fight against piracy, but also to gain invaluable experience in joint actions as part of selected forces of leading world maritime powers. In the Asia-Pacific region, it would be nice to demonstrate the strength of some local scumbags, it's high time.
5-6 aircraft carriers are not required here. But a few surface combat-ready ships are very necessary. But! We are approaching the biggest "but" from my civil point of view, the despicable shpak. It seems to me that the most important disease of our navy, coming from the depths of the centuries and poisonous tumor, has gnawed on the inside of the fleet especially in Soviet times, this is morality and concept - first ships, and then (if at all) people. So far, the people we have, from the last sailor up to the commander of the nuclear submarine missile carrier, are cheap consumables, requiring a minimum of expenditures and, last but not least, there is no real navy, and there will not be. Empty room and a waste of money. It is better to leave alone the border guards, and calm down.
The man first. Suppose a minimum of ships, but that the officer did not beat his head on the bed in the campaign, thinking about how the family is there. And this is not an official who, in a jeep, should casually overtake the submarine commander on a shabby beushka or indecent Zhigulenka somewhere on the way to the resort on vacation, but quite the opposite. An ordinary sailor, having been honored to get to the fleet, should, together with her parents, thank fate and offer prayers - I will serve, and I will have a higher education where I wish. And the service will be in conditions that it would envy, according to the material and living conditions, any medical sanatorium. The bases of the ships must meet any requirements and standards of NATO or the United States or the Arab sheikhs. Is it really impossible to do this, eh? Let the minimum, but the quality minimum at the level of the best world standards. And already from this minimum to dance and build powerful squadrons. What the hell do you need iron if people do not serve on it, but leave? How can you demand something from people set to manage the most complex and formidable technology, if they do not live, but survive? All these cries - they say, service to the fatherland, first about the homeland and then about the family, and thinking about myself and generally a crime - this is deception and deceit. I, gentlemen, are a rough materialist and a cynic, as it should be - after all, it's not merchant shipping, but merchant shipping. And therefore if I hear calls for sacrifice, heroism and patience not in exceptional conditions, for a very short time, but constantly - for years and generations, I immediately begin to calculate, and to whom it is beneficial. And after a short calculation, I find a small task. Such morality is claimed by those who don't care what fleet they are, if only they look at the parade. Who needs irresponsibility and impunity. And in more detail - I will not, you yourself know. And this is not my business, after all.
My business is merchant shipping, and so far our Navy is going to take not the quality and people, but the amount of iron, our merchant shipping, gentlemen officers, do not care how much aircraft carriers will be in the Navy, and whether they will be at all, because there will be no sense.
Vojtenko Michael
July 06 2008
Maritime Bulletin - Sovfracht
http://www.odin.tc