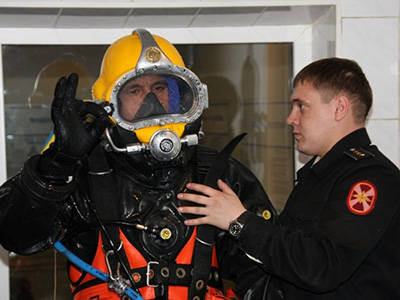 In the course of practical exercises, the participants of the collection conducted training for equipment, means for providing descents and testing of the mobile diving barometric complex PRS-VM, the Kokon transport pressure chamber, and practiced diving descents and surveys of sunken objects.
Special attention was paid to emergency cases with divers and the circumstances of their occurrence, as well as the causes, symptoms, prevention and first aid in case of oxygen starvation, decompression sickness, nitrogen narcosis and ear barotrauma.
"Each diver is obliged to confirm his qualification at training camps and therefore at the final stage of training all divers passed the exam. The participants in the collection successfully confirmed their qualifications, showed a high level of professional training, mastered the new equipment, "said the head of the training and methodological collection, captain of the 2 rank, Roman Gudalin.