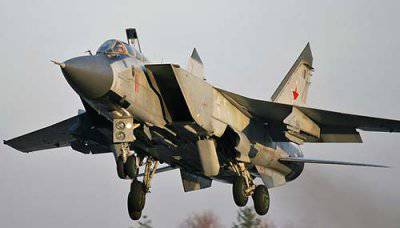 The MiG-31 interceptor fighter crashed the night before during a training flight in Kazakhstan. One of the pilots died, according to the republic's military prosecutor's office.
"About 22 hours 45 minutes 23 April in the area of ​​the village of Spacious in Shetsky district of Karaganda region during a training flight crashed military aircraft MiG-31 military unit 50185 of the Ministry of Defense, under the control of the pilot - part of Colonel Edigeev MO and navigator - his deputy, Major Galimzyanov RR. When the plane fell, the crew ejected, "- said in a statement.
The pilot Edigeev died on landing, his body was found by rescuers sent to the crash site. The navigator was taken to hospital, his life is not in danger.
On the fact of the catastrophe, the prosecutor's office opened a criminal case on the article "Violation of flight rules or preparation for them." The crash, according to preliminary data, was due to the failure of technology.
The crashed MiG-31, according to prosecutors, in December 2012 underwent repairs at the 514-m aircraft factory of the Russian Defense Ministry in Rzhev. After that, the plane managed to fly all 42 hours. Before the fall, the fighter made four sorties, the crash occurred after the fifth takeoff.
Recall that in October 2011, the Russian MiG-31 fighter crashed in the Perm Territory, in the area of ​​the Bolshoe Savino airfield. Fighter performed a scheduled flight. Both crew members died. No one was hurt on earth.
The year before, the MiG-31 crashed in 60 km northeast of the same airfield. Then the pilots managed to eject. Shortly before the fall, the interceptor crew reported that the car was in a corkscrew.
The MiG-31 is a double-supersonic interceptor developed in the USSR at the turn of 1970 - 1980's. The fighter of the fourth generation made the first flight of the USSR Air Force in 1982 year. The maximum speed of the fighter is 3 thousand km / h, the range without ammunition - 3,3 thousand kilometers. The maximum flight height is 20,6 thousand meters. Armament consists of 23-millimeter cannon and short-range, medium and long-range guided missiles. Combat load - 3 thous. Kg.