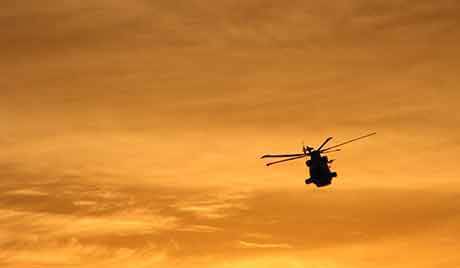 A Turkish helicopter made an emergency landing on the evening of April 21 in the Azra region of the eastern Afghan province of Logar. As originally reported by Xinhua, a civilian helicopter belonged to a Turkish company and carried engineers. According to different data from the 5 to 9 people were on board with the crew. The cause of the incident was called "bad weather conditions".
Subsequently, the Afghan provincial authorities denied the landing version of a civilian helicopter. According to them, in the mountainous region of Azra, a helicopter of the Turkish contingent of the International Security Assistance Force made an emergency landing. All on board the military and civilians were abducted by militants of the Taliban movement, reports Khaama Press.
The head of the provincial council, Abdul Wali Vakil, clarified that the helicopter transported six Turkish engineers, two engineers from Uzbekistan and soldiers of the Afghan army. The crew of the helicopter - the Turkish military. The hostages were taken to the Dara-e Tan area, which is completely under the control of the Taliban.
The question of the reasons for the forced landing of the helicopter remains open. Most likely the car was hit by the Taliban, but did not fall and made a hard landing. This version is supported by the fact that the militants could not quickly take hostages if they were not in the immediate vicinity of the landing site. Nevertheless, neither the militants nor the Turkish command commented on the incident.