Shel 1945. Spring was fragrant with its smells .. May ...! On one of the farms in East Prussia, a squadron of 114 OP Communications was stationed. These were young girls 21-23 years of birth. The very fact that they were in this war is unfair! It is unfair that they were born to love and give birth, and not to kill and hate! ...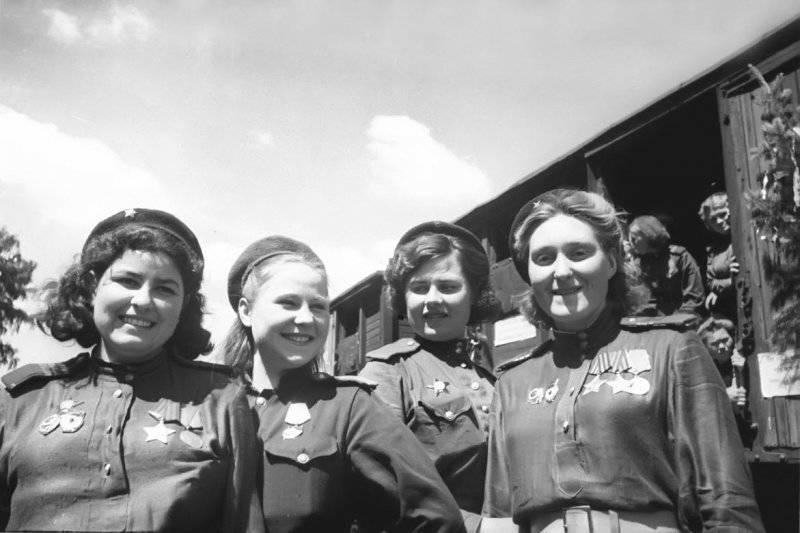 Already there was the Reichstag, already there was an intoxicating feeling of VICTORY ... According to the canons of literature and nature, Nadia J., the corporal, fell in love! And, of course, to the platoon commander. On the eve, passing through a German town, she saw stockings in a broken display case. Ordinary women's stockings. It was beyond her strength. Previously, she saw stockings only in the picture, or on the wives of high-ranking party bosses. She stole them! Yes! I did not take it, but I DRAWN! She was ashamed that she took what does not belong to her. Forgive her - the temptation was very great! In the evening, she tossed and turned under her overcoat for a long time, thinking ahead how the squad platoon in these stockings would meet her. When she woke up in the morning, so as not to come with bare hands, she welded up the potatoes she had got in the barn, cleaned her uniform, ironed off the heavy skirt, ironed her skirt, and walked. She went to her Herman-Commander, who stayed for the night at the location of the company. Of course, she did not forget to draw her eyebrows with a black pencil, and rub her lips with beetroot! And even more so to wear captured stockings, which in a strange way and strove to slip from it. Sweet cherries and cherries have already begun to bloom. It seemed that all the birds of the world, including the cockatoo, which she had never seen, chirp.
-Mom, and then what? - I asked.
-What is that ... I got it, thank God. (I'd rather I did not interrupt her).
-Mom, well tell me, and? !!!
- Well, I got to town. I remember that the street is narrow and houses are two-storey ... I go - I fix stockings with one hand, and with the other I carry a kettle with potatoes. And still papacha-kubanka and strives to overtake his eyes.
And then the noise - far away - the aircraft. And I go - After all, victory. And only when I heard the characteristic sound of the German "Messer" - I realized that it was German! She understood with her mind, but she didn't accept with her soul - after all, VICTORY !!! Lead smelled on the pavement ...
She came to me in the gateway, where an old infantryman with a mustache pushed me.
Daughter! What are you roaring? !!! Wounded ?!
Grandpa-ah !!! I broke the stockings-ah !!! And scattered potatoes on the road !! What am I going to come to Herman ?!
PS My mother didn't like to tell about the rest of the war ...