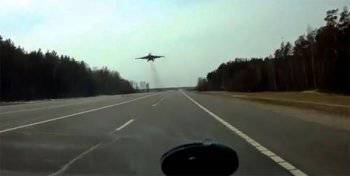 Drivers driving along the Brest - Minsk - Russian border, filmed fighter flights at a low altitude above the Belarusian highway on a DVR.
In total in the video you can see the flights of two aircraft. As can be seen on the video, the movement was not limited, the cars were moving at normal speed.
The DVR recorded temporary signs installed by road builders, a patrol car and a military truck. At the same time, cars and vans continued to move along the roadway. Presumably, the fighters could work out landing on the highway. Meanwhile, the Belarusian media indicated that the exercises take place on this route annually.
Note that the flights of fighters at extremely low altitudes over the roads in Russia, by order of the Air Force commander, Lieutenant General Viktor Bondarev are prohibited.
According to him, the exercises were going according to plan, but will not be repeated. "The only thing is that we, naturally, took measures so that there would be no similar cases in the future," he stressed.
Recall that in early September, two videos appeared on the Internet about flights of the Su-24 bomber and the military Mi-8 at extremely low altitudes.
Video for several days gained on the Internet tens of thousands of views and a lot of comments, including from abroad. Some have suggested that this could be a training flight with practicing exercises that imply a reduction to critically low altitudes.
The military prosecutor's office of the Southern Military District began verification of the fact that Su-24 was flying over the highway. Later it became known who was at the helm of the Su-24 assault bomber.
A few days later, a video appeared on the Web with a similar incident that occurred near the city of Kamensk-Uralsky, Sverdlovsk Region. There Mi-8 helicopter flew at extremely low altitude over the track.
Upon the flight of the Mi-8, the airspace utilization department of the Ural MTU of the Rosaviation began checking.
In 2007, it became known that the fighters of the Belarusian Air Force MiG-29 and Su-27 carried out a training landing on the international highway Brest - Moscow. After landing, the aircraft were serviced and took off. From the air, the landing of the aircraft was "covered" by two Su-24 attack aircraft.