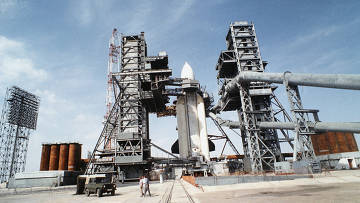 The decision to create a super-heavy rocket in Russia will be made in the coming days, said Vitaly Lopota, president of the Rocket and Space Corporation Energia, at a press conference in Moscow on Tuesday.
"A piloted lunar program is possible when the launch vehicle reaches 70 tons. Then we can hope for a ballistic flight around the moon, "said Lopota. - The ship will be tons of 20. To make it fly to the moon, you need tons of more 40 overclocking block. To return the ship, you need tons of 20. If we land on the moon, there are still 20 – 30 tons. "
RSC Energia President noted that 2030-ton carrier will be created by 130, ITAR-TASS reports.
At present, Vitaly Lopota said, preparations are underway to hold a competition for the creation of a heavy launch vehicle.
"Officially, according to the Federal Target Program, there is no such carrier. But initial data are being prepared for a competition to create a rocket, "he noted.
At the same time, the Vostochny Cosmodrome is building a launch complex for a heavy launch vehicle.
The development of deep space, according to Vitaly Lopota, is possible only in international cooperation. Answering the question whether it is likely that our country will make another cosmic breakthrough, he noted that "the exploration of deep space is a matter for the international community, otherwise no one can do it effectively".
"The expeditionary complex, where you can fly to Mars, will weigh 500 tons. You don't even have to try to explore deep space alone - this is futile, "Lopota said.
Recall that earlier it was reported that the launch of the Luna-Glob landing gear will take place in 2015 year, and the orbital lunar module - in 2016 year.
After that, the IKI, together with the Lavochkin Scientific Production Association, plans to send a heavy scientific apparatus to the Moon, and also, together with India, carry out the Luna Resource mission.
In addition, it was reported that the launch vehicle "Luna-Glob-1" is supposed to use the launch vehicle "Soyuz-2". The mass of the scientific apparatus with fuel will be about 1400 kg.
The weight of the landing module will be about 500 kg, including 20 – 25 kg of scientific instruments. An equipment for water search will be installed on the landing module, as well as a manipulator for the study of soil samples.