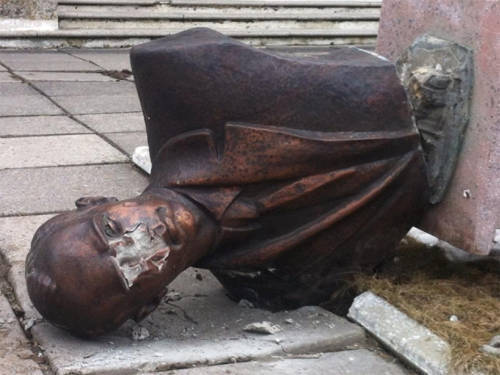 On the night of April 7, in the Lviv region, unknown persons destroyed two monuments to the leaders of the UPA - in the village of Pride in Sambir district and in the city of Morshyn, UNIAN reports.
As Maria Wozniak, secretary of the village council of the village of Pride, said, on the night of April 7, the monument to the Heroes of the UPA Eugene Konovalets and Stepan Bandera on Sich Riflemen Street, opposite the village council in 1991, was destroyed.
On the night of April 7, the Stella of Heroes with bas-reliefs of the heroes of OUN-UPA Roman Shukhevych, Yevgeny Konovalets and Stepan Bandera was also destroyed. This was announced by deputy of the Stryi district council of Lviv region Marian Berezdetsky.
"Unknown, apparently - with a big hammer, they broke the Stella of Heroes, which is installed near the Center for the rehabilitation of veterans of the UPA and the repressed Goverla in the city of Morshin," said Berezdetsky.
In the State Department of the Ministry of Internal Affairs of Ukraine in the Lviv region they reported that law enforcement officers were leaving the scene of the incident, all the circumstances of the destruction of the monuments are being investigated.
It was also reported that on the night of April 7 in the village of Velikoselki Kamenka-Bugsky district of Lviv region, unknown people destroyed a monument to the leader of the OUN Stepan Bandera. On the night of March 6, a memorial tablet and monument to Stepan Bandera was damaged in the village of Volya-Zaderevatskaya, Stryi District, and on the night of March 7, a bas-relief of Roman Shukhevych in the village of Bilogorscha near Lviv.