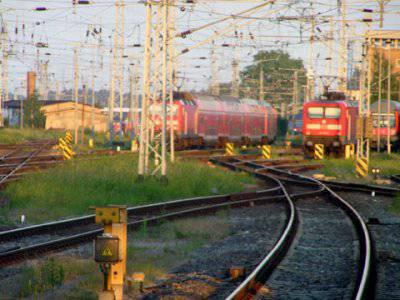 At a recent meeting between Vladimir Yakunin and President Putin, it turned out that RZD is planning to carry out optimization activities, since lately the company has suffered losses due to a drop in freight volumes. Obviously, optimization means that Russian Railways will reduce the number of employed employees, as well as at the level of incomes of those who will remain in the field of railway freight traffic.
Meanwhile, in the Russian press, it was reported that optimization procedures (read - reduction of staff and expenses) can be avoided if substantial private capital is invested in the company. In particular, it is said about the need to attract huge private investments of up to 400 billion rubles for up to 2020 year. This document, according to some sources, may soon be on the government table for approval. Why on the government? The fact is that RZD is one of the state-owned companies, the owner of which is exactly the government of the country.
It turns out that before Railways actually raises the question of the privatization of a certain part of the total shareholding. What consequences can this lead to? This is unlikely to affect the cost of passenger traffic, and, accordingly, are unlikely to rise in price, for example,
Sapsan tickets
or other passenger flights. On the other hand, the privatization of a part of the Russian Railways share package may have serious consequences for the freight segment of the shipments carried out by the company. If private companies are really able to invest in Russian Railways on transparent terms, then the effect will not take long. But in recent years, the very word "privatization" has become almost associated with the direct theft of state property, and therefore the words and the need to attract private capital to the development of Russian Railways may look rather doubtful in the eyes of the average man.
The initial public offering of state-owned shares, while maintaining state control, is planned for the period from 2014-2016. At the same time, it is reported that the company's management itself was in no hurry to begin privatization, but was pushed from the government. It is reported that such a kind of impulse came from the Ministry of Economic Development. How rational for the budget of Russian Railways and the budget of Russia will be the placement of shares of the railway company on the stock exchanges, time will tell.