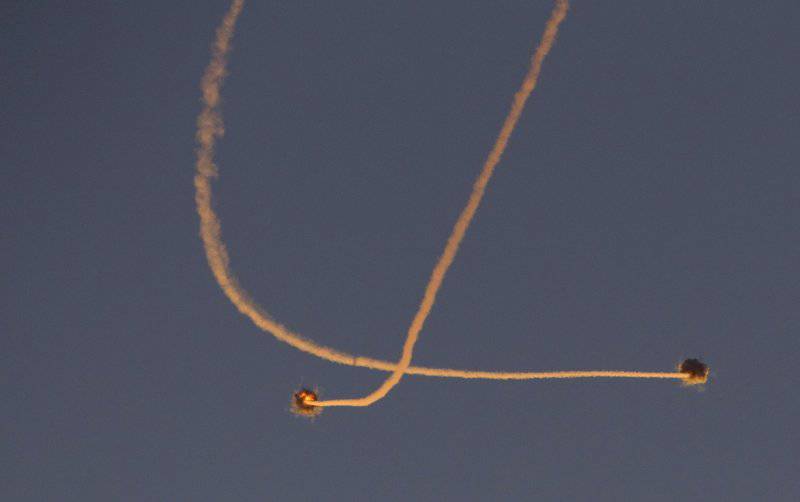 The Israeli military recently reminded the public that the Iron Dome anti-missile system was not at all intended to protect cities and villages, but only military bases and life support facilities (energy and water supply). This reminder came after the Iron Dome successfully intercepted Hamas missile attacks (roughly 1500 missiles) in November last year. Many Israelis have suggested that this means that they can hope for similar protection in the event of a massive attack by Hamas or Hezbollah. However, the military noted that Hamas has more 5000 missiles, and Hezbollah has more than 40000. In the event that one or both of these groups launch several thousand rockets of the Iron Dome battery, they will have to be used primarily to protect military bases and power plants (national security facilities) before attempting to protect civilian objects. With a less massive attack of the existing number of batteries, the Iron Dome will be enough to protect all objects, which is what happened last year. Before it becomes possible to purchase more Iron Dome batteries, a massive rocket attack will leave many Israeli civilian targets vulnerable.
This is not the first time when the military point to this. In the first it happened three years ago after scoring plans to place new Iron Dome batteries for storage. At that time, politicians often mentioned the Iron Dome as a means of protecting people in the country living in close proximity to the border and vulnerable to missile attacks fired from the Gaza Strip in the south and from Lebanon and in the north. However, it turned out that the Iron Dome needed about 15 seconds to detect, identify the target, and launch interceptor missiles. Most of the civilian objects currently under attack from Gaza are so close to the border (within 13 km radius) that the missiles land in less than 15 seconds. When intercepting long-range missiles aimed at many other targets (civilian and military), the Iron Dome is effective. This was demonstrated in November last year.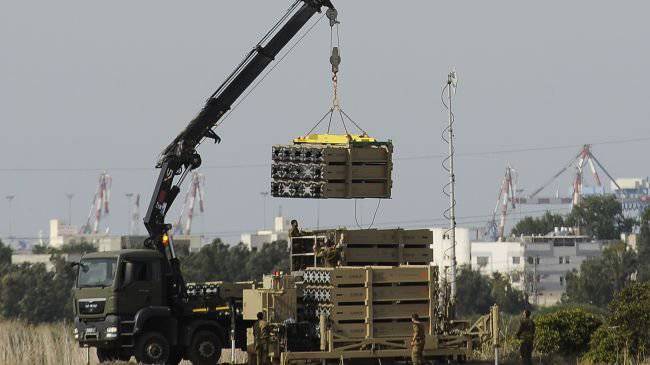 All of this explains why, after the Iron Dome declared to be combat-ready three years ago, it was unexpectedly placed in storage. The Air Force said they would prefer to save money and store the Iron Dome batteries for storage and deploy them only for regular exercises, as well as in the event of a real emergency (an expected large-scale attack on the south or north of Israel). Politicians demanded that at least one battery be deployed along the border with Gaza. The military has information about how Hamas and Hezbollah accumulate a large number of long-range missiles that would allow them to carry out a massive attack on Israeli military bases. The generals believe that it is more important to protect the armed forces, which will ultimately protect Israel and this is exactly what the Iron Dome will be used for.
Since 2010, Israel has acquired seven batteries for the missile defense system Iron Dome. Five of them took part in the interception of Hamas missiles in November last year, when a large number of long-range missiles were used. Each battery includes a radar, control equipment and four rocket launchers. The cost of each battery is about $ 37 million, which includes more than fifty Tamir missiles ($ 40 worth 000 each). The iron dome uses two radars to quickly calculate the trajectory of the attacking missile and does nothing if the calculation of the trajectory of the missile indicates that it is heading towards deserted terrain. However, if the calculations predict that the rocket is heading to a residential area, then guided missile interceptors are launched.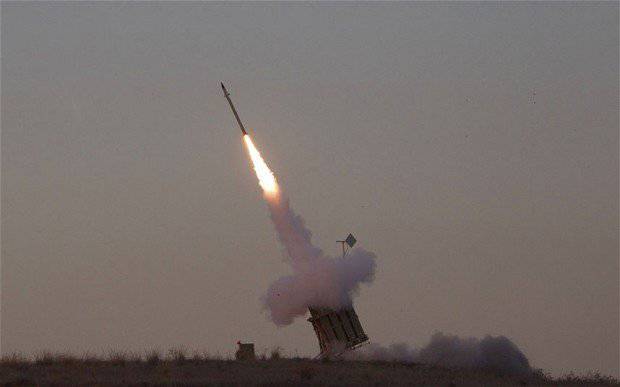 This approach makes the system cost-effective. The reason for this is that Hezbollah launched an order of 4000 rockets in the 2006 year, and Palestinian terrorists in the Gaza Strip fired over six thousand missiles over Israeli territory over the past eight years and the Israelis knew where each hit. More than 90 percent of these missiles landed in a deserted area, and only a few of those that actually hit settlements have resulted in human casualties. Israel has already launched a radar giving some warning of approaching missiles. The iron dome uses this radar in addition to another, more specialized radar deployed in southern Israel.
Palestinians, experts believe, will try to defeat the Iron Dome using salvo firing simultaneously in several cities. Theoretically, this can suppress one or two batteries of the Iron Dome. But Israel is able to keep unmanned aerial vehicles over 24 Gaza 7 hours a day and observe the attempts to deploy large salvo launchers. This will allow Israel to bomb many of these launch pads. This will lead to a large number of rockets destroyed on earth or their chaotic launch and their fall on the territory of Gaza or far from the targets to which they were directed. Since the Iron Dome is able to track hundreds of approaching missiles, quickly calculate their trajectory and place of probable fall, and also ignore most of the missiles that do not pose a danger to the population, Palestinians will try to simultaneously launch hundreds of large (long-range) missiles in order to cause Israel the maximum number of casualties. Until now, the Palestinians were not able to launch simultaneously a sufficient number of missiles.
Palestinian rocket attacks appeared around 2001 in the year, but they intensified significantly when Israel withdrew from Gaza in August of 2005. It was an unworked gesture of peace. From 2001-th to 2005-th year, about 700 missiles were fired from Gaza in Israel. After the retreat in 2005, more than 5000 rockets were fired at Israel. The number of rocket attacks increased even more with the advent of Hamas to power in June 2007 year.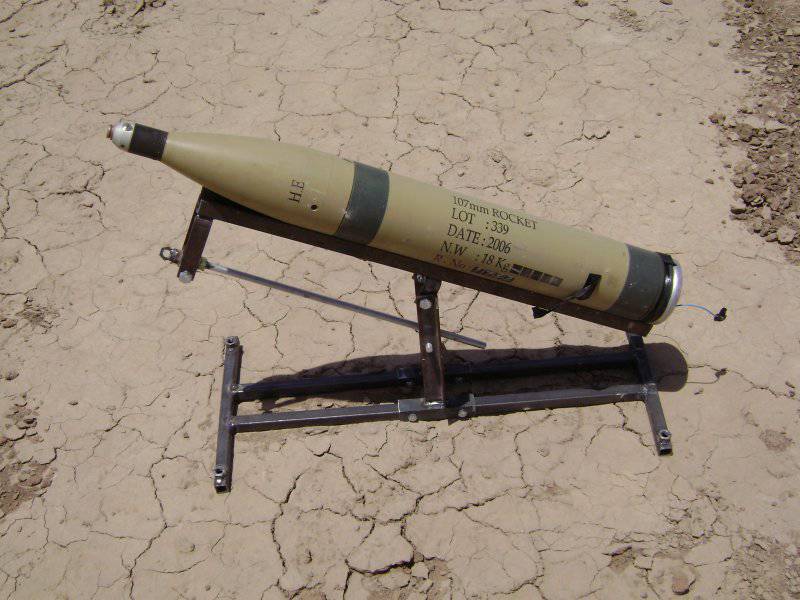 Hamas is arming itself with more and more Iranian and Chinese BM-21 and BM-12 rockets of factory production. Israel believes that currently Hamas in the Gaza Strip possesses BM-21 factory rockets, each of which has a firing range of 20-40 kilometers. They also have a certain number of Soviet-developed B-12 missiles with a shorter range (six kilometers). The 122-mm BM-21 rocket weighs 68.2 kg, is 2.9 meters long. It carries the 20.5 kg warhead, but its accuracy is not much higher than the 107-mm model. However, these large missiles have a maximum range of 20 kilometers and a flight time of up to 15 seconds. Again, these rockets are unmanaged, and therefore they are effective only when used by a volley or on a large area target (for example, a city, a large military base or an industrial complex).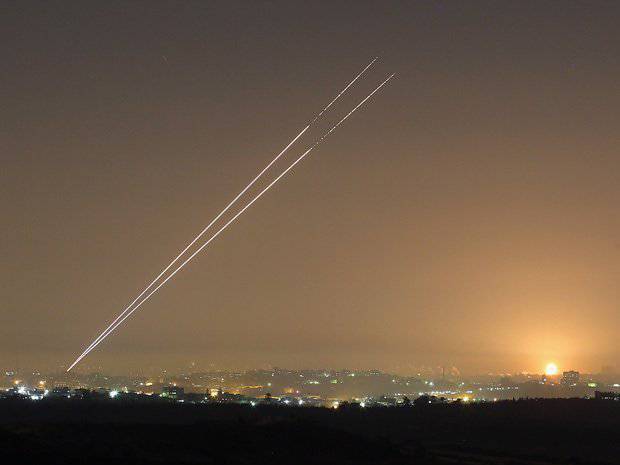 There are also Egyptian and Chinese versions of the BM-21 with a smaller warhead and a large rocket engine, which increases their range to about 40 kilometers and a flight time of more than 15 seconds. Israel believes that there are dozens of larger Iranian Fajr rockets with a range of 70 kilometers, as well as several hundred 122-mm missiles with an increased range (40 kilometers) and even more standard 122-mm missiles (20 kilometers) in Gaza. Until November last year, it was believed that there were more than 10000 missiles in Gaza. However, thanks to the Iron Dome, point bombing and shelling of their storage sites, more than half of these missiles were destroyed.