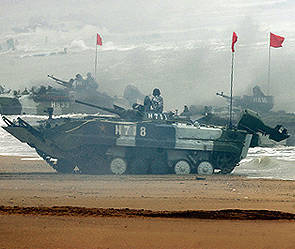 Chinese army directs
Tanks
and military equipment to the territories bordering the DPRK.
According to the website of the Washington Times newspaper, the "movement" of Chinese troops in the border areas began in mid-March, and this process is currently ongoing.
According to intelligence data, in particular, in the Liaoning Province, the movement of army units and heavy artillery of the People's Liberation Army of China (PLA), including the 190 motorized infantry brigade, is observed. A large number of fighters also appeared in the sky over the border cities of Fucheng (Hebei Province), Chang'u and Changchun (Liaoning Province).
Recall the other day it was reported that the United States is calling on Russia and China to take a more active part in containing the DPRK.
"It's not a secret to anyone that China has a potential impact on North Korea. We have already called for and again urge China to try to influence the DPRK. In addition, we also urge Russia," said White House spokesman Jay Carney.
The United States continues to increase its naval capabilities in international waters near North Korea.
Recall 30 March, the DPRK authorities said that the relations of the two Korean states went into a state of "wartime", and Pyongyang will act according to the laws of "wartime" in the event of hostile "provocations" that can grow into "full-scale" or even "nuclear" war