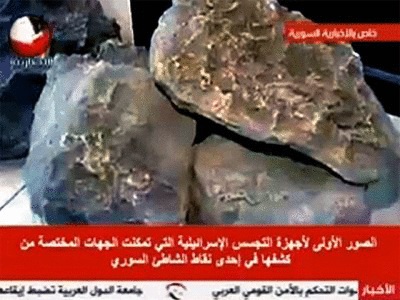 Behind the "muscle-waving" of the Russian
fleet
in the Mediterranean, more "eyes" could be observed than imagined: on one of the uninhabited islands opposite the Syrian port of Tartus, dummies of stones with camouflaged cameras were found. The devices were allegedly installed by the Israeli military.
Spy equipment, hidden in artificial stones, was discovered by fishermen, reports The Sunday Times. The camouflaged cameras themselves did not arouse suspicion - it was likely that the soldiers who had installed them first took samples of local stones so that the dummies seemed similar.
Syrian state television showed the discovery on the air - a camera, satellite dish, batteries, cables and other devices, according to a British newspaper.
"It is believed that they were installed by scuba divers from the Flotilla 13, an elite unit of the Israeli maritime special forces," the translation of the article InoPressa states. It is assumed that the special forces arrived to Tartus on a submarine, and the equipment was delivered to the island at night by inflatable boats with a silent motor.
"Stones" could track and film the movement of Russian warships and broadcast images to Israel via satellite, "the British newspaper writes. In Damascus, it was not excluded that the devices could also track the movement of Syrian troops. How long the equipment was on the island is not installed .
7 in March, the Lebanese television channel Al-Manar reported that the Syrian military had discovered several devices that are capable of video and photographing and transmitting recorded information, reminds NEWSru Israel. State news agency SANA reported that spying equipment was found on Al-Namal Island (an area of ​​around 150 square meters) and accused Israel of "involvement in the conspiracy against Syria."
At that time, Israeli Foreign Ministry spokesman Yigal Palmor refused to comment on the situation. "We are not embroiled in the Syrian civil war - neither on the propaganda or the verbal front, nor on the real battlefield," Haaretz quotes the statement of the diplomat.
Stones "spies" in 2006 were found in Moscow. It was only in 2012 that the British authorities recognized that United Kingdom diplomats were using recording equipment.