Were the Soviet soldiers marauders?
I write down the words of my 90-year-old grandmother Alexandra Samoilenko. We sit in the kitchen in her apartment in Lviv, drink tea and talk about life. We say that a person must preserve his dignity not only for his own sake, but also for the sake of his children and all his descendants, so that they can later remember their ancestors, if not with pride, but at least not with shame. In addition, grandmother believes that the descendants have to pay for their sins in varying degrees.
Great Patriotic War, my grandmother graduated from the 4 of the Ukrainian Front with the rank of senior sergeant. During the war, she met and married my grandfather, a colonel in the staffing and combat service department of the troops.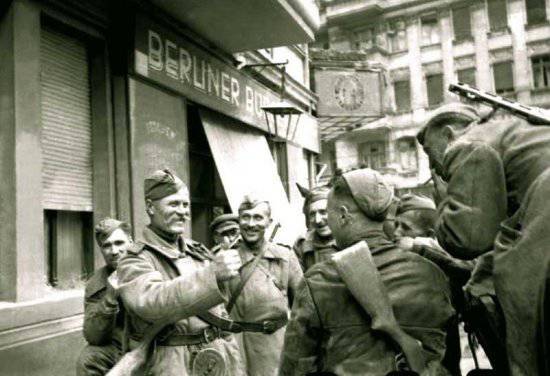 The grandfather was an important person; in the liberated cities of Europe, he was provided with rooms in good houses and "decent" families. Grandmother told me that not all Poles and Czechs were happy to host Soviet soldiers. Although the majority of the population was very friendly and open, there were those who were afraid of Russians, behaved "wildly", hid valuable things and hid themselves. But these measures, according to my grandmother, were in vain, since none of the Soviet servicemen dared "lay hands" on other people's property. Such actions were punished by execution in the Soviet army. Yes, and hide the stolen property of the Soviet soldier, returning from Europe, it was impossible. Therefore, no one took anything. Even in abandoned or bombed apartments.
Grandma recalls how in one broken, half-burnt Polish apartment she saw a Singer sewing machine. For her, it was like seeing a miracle that she had once heard, but did not even want to see. She very much asked her grandfather to take this car with her, but her grandfather did not allow it. He said: "We are not thieves, the owners can return. And if not the owners, then the neighbors can see how we take someone else's. It is unacceptable!"
The quartering of the military was carried out by a special unit, which revealed "safe" places to live. In these houses and apartments, the military settled not permanently, but permanently. It so happened that after the end of the war, the grandmother and grandfather returning by the same route were housed in the apartment of the old polka, in which they had already stood at the offensive. The grandmother noticed that in this apartment all things remained in their places: the expensive service, tablecloths and paintings, and even a staple dressing gown continued to hang in the bathroom.
Soviet soldiers left Europe with a much more valuable cargo - the joy of victory. And let most of them have nothing left after the German defeats in their native land, no one had any thought to compensate for these losses with other people's property.
Soviet people - the liberators of Europe were inspired by the feeling of incredible delight and responsibility for everything that happens around. The concept of honor was raised to the highest degree and rang like a taut string. When my grandmother tells me about it, it seems to me that all of them were then under the influence of a strong dose of adrenaline and, perhaps, in part, they overtook the complex of God as people who saved the world from death.
Well, so be it. I think it was not even a complex. They really were gods - great, strong and just. And for us they are now like gods - unattainable, and more and more are turning into a legend.