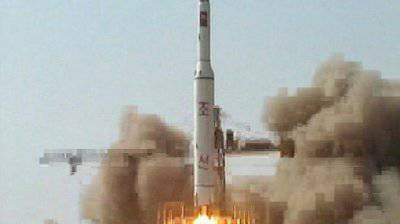 "The DPRK nuclear missile potential is greatly exaggerated by the Americans," said PIR Center expert, Lieutenant-General of the Reserve Yevgeny Buzhinsky, told VIEW VIEW. The expert said that the North Koreans used to take relevant technologies from the USSR and the Chinese, but now these channels are closed.
DPRK leader Kim Jong-un has signed a final plan for the technical preparation of strategic missile forces for a nuclear strike on US military bases in the event of a provocation. The South Korean military has already recorded activity on North Korean military facilities and did not rule out that Pyongyang "will deliver a real blow."
On the eve of the American "invisible" bombers, for the first time, trained in dropping the "nuclear bombs" on Korea.
"Second Pearl Harbor"
As the newspaper VIEW, Kim wrote at an emergency meeting, he approved a plan to prepare for a missile attack on US military facilities located on the mainland (Alaska), on the island of Guam, Hawaii, and in South Korea.
The attack on US facilities hypothetically could entail the use of the 5 article of the Washington Treaty, which provides for collective protection of the territory of a NATO member country, said in response NATO Assistant Secretary General Alexander Vershbow.
"I think that at the present time it is only hypothetical that we can judge what will happen next. As we observed 11 of September of 2001, if the territory of the United States is attacked, the article of the Washington Treaty 5 begins to operate, "Voice of Russia quoted Radio Vershiba.
PIR Center expert, former deputy head of the main department of international military cooperation of the Russian Defense Ministry, reserve lieutenant general Yevgeny Buzhinsky told the newspaper VIEW about what the Pyongyang would actually like to achieve with such threats.
VIEW: Yevgeny Petrovich, is it true that the estimated range of the Tepkodon-2 rocket reaches 6,5 thousands of kilometers, or is it just the rhetoric of the DPRK?
Yevgeny Buzhinsky: They haven't allowed it to such a distance yet. Once let out, she flew over the Japanese islands, tried to repeat, but nothing happened. In reality, they have our Scuds, all this within 1,5 – 2 thousand km, not more. The nuclear potential of North Korea is greatly exaggerated by the Americans for purely domestic political reasons.
VIEW: And if they successfully develop their program, when can they really threaten Alaska?
EB: It's not about time, but about economic potential and technology. First of all, this is a very expensive pleasure - all these nuclear missile programs. Secondly, we need the appropriate technologies, which the North Koreans do not have, and they have nowhere to take them.
Previously, they took rocket technology from us, enrichment technology, from the Soviet Union and China. Now all this is blocked - fairly efficiently and reliably. Therefore, on their own, in my estimation, they are unlikely to be able to do this due to purely economic and technological reasons.
VIEW: And from a purely military point of view, how could the DPRK army use an atomic bomb?
EB: Well, North Korea does not have an atomic bomb. They blew up a nuclear device three times. The nuclear device and the atomic bomb - between them a huge distance, technologically. They created an uncertainty factor. Everyone says, Americans, Westerners, that they have an atomic bomb, meaning: "What if they really have something that they can blow up?" Otherwise, they would have had the same thing with Moammar long ago Gaddafi
VIEW: So it turns out that neither Guam, nor Alaska, nor Japan is threatened with any missile attack?
EB: I think that from North Korea, besides this belligerent rhetoric, that they are bringing something to a state of full alertness, that they are about to strike - all this is pure bluff. It is beneficial for our American friends to support this horror story in order to develop their military programs in the Asia-Pacific region. That's all.
VIEW: Kim gives the Americans a great excuse to redirect elements of their missile defense system to this region?
EB: No, you do not need to retarget anything. With regard to missile defense, the United States is creating a global system: the European segment, a segment of the national territory and a separate system in the Asia-Pacific region. That's all. But in order to create, need some kind of reason. In Europe it is Iran, in the Asia-Pacific region it is North Korea.
VIEW: They say that in fact the missile defense will be aimed at China and the eastern part of Russia ...
EB: Naturally, because in the Asia-Pacific region, the only US geopolitical competitor is China. Well, and partly Russia, but not the DPRK.
VIEW: What is the purpose of such a war of words from Pyongyang in the end? Kim Jong-un wants loans? Food aid?
EB: They are just trying to remind themselves once again, and secondly, so that, God forbid, no one had the thought of forcibly changing, frankly, this rather odious regime.