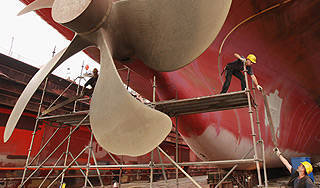 In the Far Eastern Center for Shipbuilding and Ship Repair, the contractual deadlines for repairing 14 ships and submarines were broken down, a source in the Ministry of Defense said.
The DSSS should have transferred the ships to the Russian Navy until the end of 2012, ITAR-TASS reports.
Earlier, Russian Defense Minister Sergei Shoigu demanded to change the order of financing the repair of ships and submarines. This requirement came when the minister, who was on Wednesday in Kamchatka on a working trip, visited the nuclear submarine of the 71 "Bratsk" project, which has been under repair for six years .
"It is necessary to do an inventory first, and only then make financing, and not vice versa. This process must be subjugated to logic, "said Shoigu.
He expressed outrage that "for six years, the crew, which now consists of 37 people, have to be at the boat, doing nothing."
"Due to the inability of the SRRC to carry out this repair, it was decided in the summer of 2013 to send Bratsk for repairs to another plant," the Ministry of Defense of the Russian Federation reported.
The Far Eastern Center for Shipbuilding and Ship Repair (DCSS) is a subsidiary of the state holding company United Shipbuilding Corporation (USC). Has been operating since 21 March 2007.
DSSS unites the largest specialized enterprises of the region and includes shipbuilding and ship repair plants in the Far Eastern Federal District, including in Kamchatka, in the Khabarovsk and Primorsky Territories, according to the website of the center.
The company solves the tasks of state importance related to the preservation and development of the research and production potential of the defense-industrial complex, and directs its efforts to the concentration of intellectual, industrial and financial resources in the implementation of projects for the construction of ships and marine equipment for the development of the Russian shelf.