20 March 2013 of the year at the Kiev airport Svyatoshino held the first flight of the first production 99-local passenger aircraft An-158 (serial number 201-01). The plane, which became the second copy of the An-158, was built at the Antonov Serial Plant (the former Aviant plant), and was completed on the order of the Russian leasing company Ilyushin Finance Co. (IFC) for further transfer to the Cuban state airline Cubana de Aviacion. It was originally planned that the aircraft would be ready by the end of 2012 of the year. As the press service of the Antonov state enterprise reported, the first flight of the new 20 machine in March was 2 hours 20 minutes. The plane was piloted by test pilots of the Antonov State Enterprise, Sergei Troshin, the crew commander, and A. Gorin. The test program provides for the implementation of 10 flights, including three bearer and three receiving.
In total, Cubana de Aviacion with the financing of IFC and the mediation of the front company of South American Leasing SA registered in Panama, has leased three An-158 aircraft, of which the aircraft with serial numbers 201-02 and 201-03 are now under construction at the Antonov Series factory ". According to the plans of the Cuban airline, An-158 will operate both domestic and international flights to Central America and Canada. In October-November 2012 of the year at the Antonov state enterprise, ten employees from among the flight and engineering staff of the Cuban airline took theoretical, practical and simulator training.
The An-158 is an extended version of the An-148. The first model of the An-158 (01-02 serial number, UR-NTN registration) was reequipped at 2009-2010 at the Antonov Series factory from the second experienced flight prototype of the An-148 (01-02 serial number, UR-registration NTB) and is now in operation at Antonov Airlines.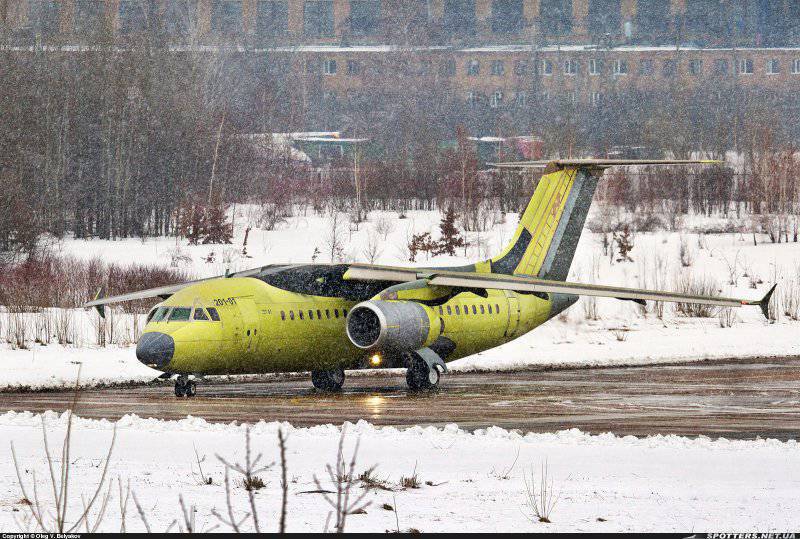 The first An-158 production aircraft (201-01 serial number) on the day of the start of flight tests. Kiev, 20.03.2013