If you observe how a fly tries to penetrate a house or fly out of a house, you will notice that it does not do this in a particularly graceful way — hitting walls and glass many times, it finally finds its way by an exception.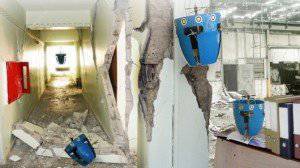 Researchers from the laboratory of the Federal Polytechnic School of Lausanne (EPFL) in Switzerland decided to use the same approach when developing a new autonomous intelligent system. latest version
drone
AirBurr collides in flight with various items and objects and thus builds a map of the environment.
The new model AirBurr is equipped with blades, and the entire electronic "filling" is placed in an open, flexible structure made of carbon fiber. This structure is strong enough to protect electronic components in the event of an accident, and is flexible enough to bend under pressure without destroying the structure.
In the case when the UAV is "shot down" in flight, he is able to lift himself, pushing the four legs of carbon fiber. And after, jumping on the springs of their legs, the drone can take off again and continue the flight.
An important improvement in the new UAV model can be considered its ability to learn from its accidents. By analyzing the position and strength of the collision, AirBurr can gradually outline the plan of the neighborhood, setting the boundaries of certain objects and objects. The algorithm is similar to the random direction technology that is used
robots
-vacuum cleaners in order to study the location of objects on the floor when cleaning.
On-board drone sensors consist of only four photodiodes that are designed to search for light sources. In addition, thanks to the use of the existing simple "strike and fall" method, the UAV has no problems navigating even in pitch darkness.
According to scientists, developers, this method can be invaluable in the development of close and / or dark places, such as caves, destroyed mines or damaged nuclear power plants. Moreover, AirBurr's unique ability to find the path to a light source will not be lost even in a cloud of thick smoke, in which laser navigation systems are useless.
The video below shows more detailed information about the new AirBurr.