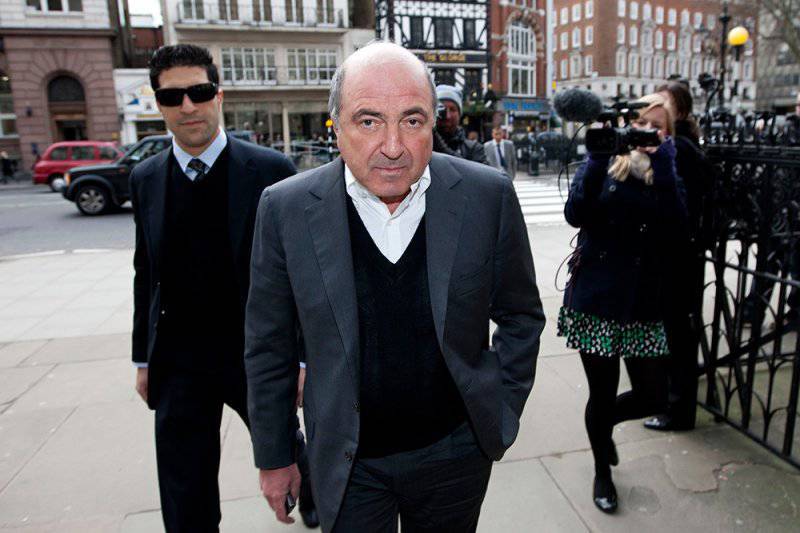 Yesterday evening on the page of Boris Berezovsky's son-in-law Yegor Schuppe on Twitter appeared a laconic entry: "Boris Berezovsky died." The well-known plutokrat, oligarch and shadow politician, who was the Kremlin's gray cardinal in dashing Yeltsin times.
Soon, the information was confirmed by the former general director of the publishing house Kommersant Demyan Kudryavtsev, who wrote in his Twitter microblog: "London time in 11".
A lawyer Mark Feigin (who defended the "girls" from Pussy Riot) a bit later also reported on Twitter: "Yes, indeed, Berezovsky died. I was just talking to his close friend. "
"Just called from London. Boris Abramovich Berezovsky committed suicide ... The man was complex. A gesture of despair? Impossibility to live poor? A series of blows? I am afraid that no one will know the truth, "Alexander Dobrovinsky, who knew the deceased lawyer well on his Facebook page, wrote.
According to him, the disgraced Yeltsin oligarch "has recently been in a terrifying, terrible state: some debts, he was practically ruined, he sold paintings and something else." The lawyer claims that "the death of Badri Patarkatsishvili was a terrible blow to Berezovsky." "I also know from our mutual friends that the other day he asked 5 thousand dollars for a ticket from them in order to fly somewhere," added Dobrovinsky.
Sources from Berezovsky's entourage told ITAR-TASS that the businessman had been found dead in a bath in his London home. No official information and comments of relatives yet. Russian law enforcement agencies have not yet received official notification of the death of Berezovsky, against whom criminal cases are being investigated in the Russian Federation. But the British media have already trumpeted the death of Berezovsky. So the fact of death is beyond doubt.
A runaway Russian oligarch who received political asylum in the UK in 2003 died at 68. The circumstances of death are not clear. According to some data, he died suddenly after several heart attacks within a week. Others suggest that Berezovsky committed suicide. The investigating authorities of Great Britain have so far only reported that Scotland Yard has begun an investigation into the circumstances of death.
Penitential letter
A spokesman for Russian President Vladimir Putin said that Boris Berezovsky, shortly before his death, apologized to the head of the Russian state.
As Dmitry Peskov reported on the Russia 24 channel, a few months ago, Berezovsky gave Putin a letter written by him personally, in which he admitted that he had made a lot of mistakes. The businessman asked for forgiveness for these mistakes and appealed to the president to allow him to return to his homeland.
"There was such a letter," Peskov confirmed, but without specifying whether Putin responded to Berezovsky's appeal.
Peskov said that he was unaware of Putin's reaction to the death of Berezovsky. "But it can be said that information about a person's death, whatever it may be, cannot evoke positive emotions," said a spokesman for the Russian president.
Dying revelations
Fragments of the last interview with Berezovsky, given to them by Forbes magazine a few hours before his death, appeared in the mass media. Here are three passages from this interview.
1. "I don't want anything more than to return to Russia. When they even opened a criminal case, I wanted to return to Russia. The main thing that I underestimated is that Russia is so dear to me that I cannot be an emigrant. "
2. "I was absolutely idealistic in presenting the possibility of building a democratic Russia. And idealistically imagined what democracy is in the center of Europe. Changed my idea of ​​the path of Russia. I should not have left Russia. "
3. "I lost the point. Meaning of life. I do not want to engage in politics now. I'm 67 years old. And I do not know what to do next. "
According to Forbs, the deceased expressed a desire to return to science and study it in Russia, noting that he once bore the title of full member of the Russian Academy of Sciences.
These are curious confessions made before death, which means sincere. And the most curious thing about them is this. Berezovsky is a Jew, and in previous years he repeatedly stressed his Jewishness. And before his death, he suddenly realized that he was a Russian Jew, and he could not live without Russia. Russian Jewry is a theme for a deep novel or film called "Nostalgia" or otherwise, the plot for which can serve Berezovsky's fate.
Cases can stop
Boris Berezovsky left Russia in 2000 year - after the conflict with Russian President Vladimir Putin, who was funded by the team funded by Berezovsky. The oligarch thought that he would turn by the gebist Putin, as he turned the alcoholic Yeltsin, but he miscalculated and was forced to leave the country so as not to be in the dock.
In 2007, the Russian court sentenced him in absentia to six years in prison in the "Aeroflot case", and in 2009, to 13 in the case of the theft of 2,3 thousand cars through LogoVAZ, where he worked with Badri Patarkatsishvili. In May 2012, two new criminal cases were initiated against Berezovsky on the basis of calls for mass riots in Russia.
A source from the Interfax agency explained that now the investigation of criminal cases against Berezovsky may be terminated, however, his relatives have the right to demand the continuation of the investigation if they seek his rehabilitation. The interlocutor of the agency also suggested that in the event of the termination of the criminal prosecution of a businessman, the arrest of his property would be removed.