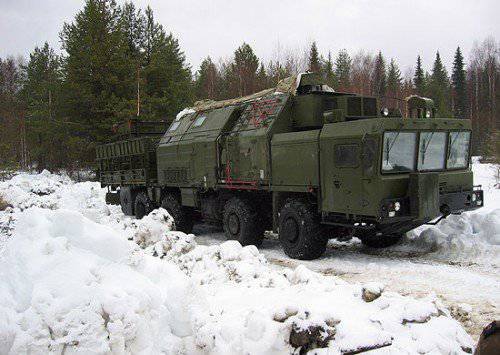 Machine engineering and masking MIOM-M
The engineering unit of the Teikov missile division of the Strategic Missile Forces, stationed in the Ivanovo region, received the newest engineering support and disguise machine MIOM-M.
One MIOM-M vehicle is capable of concealing the deployment or redeployment of a whole group of mobile Topol-M and Yars mobile missile systems from the enemy. The machine has a high cross, the crew can autonomously stay in it for up to three days.
Machine engineering and masking MIOM-M developed and produced in the city of Volgograd in the Central Design Bureau "Titan". MIOM-M was created specifically to accompany the Topol-M and Yars mobile missile systems, during their entry into combat duty. They must ensure the concealed advancement and engineering support of strategic complexes.
MIOM-M can simultaneously conduct engineering, radiation, biological reconnaissance of the surrounding area. The crew, thanks to special equipment, determines the possibility of launching rockets from a given platform.
The crew number of MIOM-M is 8 people, shift duty is foreseen, when one shift of four people are on duty, the other rests in the living compartment at this time.
MIOM-M was created on the chassis of MZKT-7930 "Astrologer", weighs 43 tons, and is capable of speeds up to 120 km / h. The machine is easy to manage. A special grader behind the car paves the road in the snow and at the same time covers its tracks. For example, a car in the forest can make many false trails and confuse the enemy.