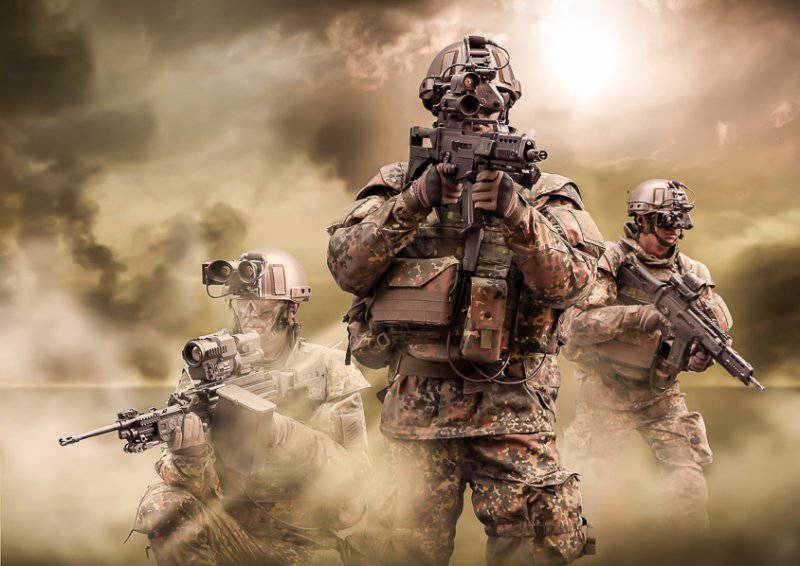 The Rheinmetall company announced the ceremony at Ruhpolding to hand over to the German Armed Forces the first sets of individual equipment for the Gladius soldier, also bearing the Infanterist der Zukunft - Erweitertes System (IdZ-ES or IdZ-2) designation. The first kits were adopted by the 10th
tank
Bundeswehr divisions.
Rheinmetall developed the Gladius kit using the experience of creating the IdZ (Infanterist der Zukunft) outfit. The first of them were adopted by the Air Force, Ground Forces and the German Navy in 2004 year. In total, more than 3 thousand sets of this version were used for the Armed Forces of Germany, which were used mainly in foreign operations.
The contract for the development of an improved version of IdZ-ES was signed with Rheinmetall in September 2006. The agreement for the supply of the pre-production version of the kit was signed with the company in 2009. The Gladius apparel purchase program began in 2012. 14 June 2012 The German Federal Office for Defense Technology and Procurement (BWB) has contracted with Rheinmetall to supply the first 30 Gladius kits for 300 troops. The cost of this agreement was about 50 million euros.
The contract included an option for the supply of the German Gadius 60 additional sets, which was implemented in January 2013. The cost of this contract is estimated at 84 million euros (112 million dollars). The implementation of the agreement will allow 60 infantry units to be equipped with a total of 600 troops.
Currently, the Bundeswehr, in accordance with the schedule, accepts 30 Gladius kits ordered in 2012. By June 2013, military personnel equipped with them will be trained in the use of new equipment before being sent to Afghanistan.
Delivery of kits under the option will be made in two batches of 30 kits each. The first tranche will be transferred to the customer in the middle of 2013, the second - by the end of the current year. This will allow the following two contingents of the German Armed Forces to be sent to Afghanistan in advance.
According to the manufacturer, the Gladius outfit surpasses its existing counterparts, including the basic version of the outfit. The use of "Gladius" will increase the effectiveness of the combat use of infantry units, as well as increase the survival rate of servicemen.
Gladius is designed to integrate infantry units numbering up to 10 people and armored vehicles used by the unit (Puma, Wiesel) into a networked command and control system that provides intelligence, data exchange, transfer of control commands and allows for more efficient planning and conduct of combat operations.