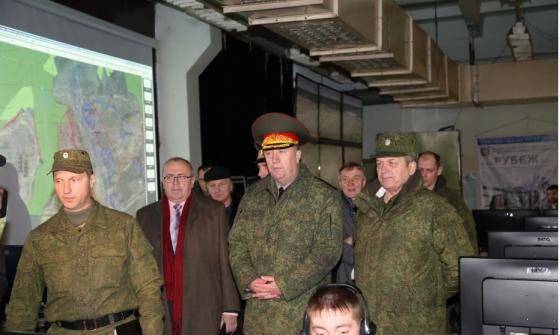 Tests of a complex class simulator for training tactical level control bodies (up to the level of a reinforced motorized rifle company). Source: Logos Production Company
TSAMTO, 21 March. In Tver, a preliminary demonstration of the intermediate stage of the development of a fragment of a prototype of a set of technical equipment for the advanced combat training center (PPI) of the Ground Forces, which is being created at the Mulin range in the Nizhny Novgorod region (ZVO), took place.
According to the press service and information department of the Ministry of Defense of the Russian Federation, modern training facilities for the pulp and paper industry, which include training complexes, polygon equipment, computer classes, as well as unique software, have been developed by Russian industrial enterprises participating in the experimental design work. "Brigade-U".
"For the first time, in the practice of creating training centers in a single information space, the means of training control bodies, training armaments and military equipment, computer classes, as well as range equipment and laser simulators of firing and destruction, are combined," said the Commander-in-Chief of the Colonel General Vladimir Chirkin.
The presented technologies make it possible to create a modern automated system for organizing both single training of military personnel and coordination of subdivisions, including the training of officials of management bodies united in a single information space.
"This will allow the pulp and paper industry to exercise constant and comprehensive control over the work of the trained military personnel from the initial level of their training to the final arrangements for the coordination of subunits and formations as a whole," said the Commander-in-Chief of the Army.
According to him, "an objective assessment of each serviceman and subunits of the compound will be conducted from both stationary and mobile training management points."
The complex has 895 light targets, which together mimic the enemy's reinforced company. All targets provided by the Course of Shooting are radio-controlled, made of polymer shields, which are easily repaired with the help of a building hair dryer and a piece of plastic.
The 300-meter roads, on which the targets are moving, allow you to change their directions of movement with at least two turns to the left and right by at least 30 degrees. The target moving speed is adjustable from 0 to 20 km / h in increments of 1 m / s.
In addition to the use of technical means of training a new generation - laser simulators of shooting and defeat, complex simulators combined into a single virtual battlefield, considerable attention is paid to automating the everyday activities of the pulp and paper industry, the Ministry of Defense of the Russian Federation said.