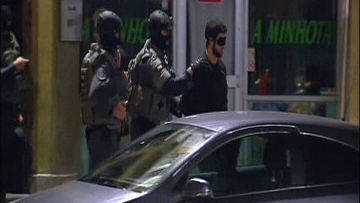 A Chechen refugee living in Austria was detained at the Vienna airport. Detention made on Thursday. He is suspected of planning a terrorist attack on the territory of Belgium, the Austrian edition Krone reported on Saturday. This information has already been confirmed by the Attorney General of Belgium.
It was established that the man maintained contact with the detainees in Antwerp at the end of November. They are suspected of participation in the terrorist Chechen-Moroccan group, which maintained contact with the organization Sharia4Belgium.
A Chechen, who lives in Neunkirchen (Austria) with his wife and two children, was detained at the Vienna airport immediately after returning from a pilgrimage to Mecca. Presumably, 32-year-old Aslambek L. was the brain center of an uncovered terrorist group in Antwerp.
The Prosecutor General's Office confirms the December 2 detention. "This person maintained contact with the Antwerp wing of the terrorist group," said a spokesman for the prosecutor's office, Liev Pellens.
According to the publication Krone, the alleged terrorists planned to undermine the train carrying NATO troops. This information, however, was refuted by the representative of the national Belgian railways SNCB, Louis Maret. "SNCB has not organized military transportation for more than five years," he says.
The prosecutor's office did not specify what exactly the terrorists were planning.
Austrian authorities detained a Chechen after a request from Belgium, the newspaper writes. A European arrest warrant was issued against the man, prosecutors say. Belgium demanded his extradition. According to Lie Pellens, he may be transported to Belgium in the next two weeks.
The detainee seized a computer and mobile phones.
In total, eight people were detained in Antwerp, three in the Netherlands, one each in Germany and Austria.