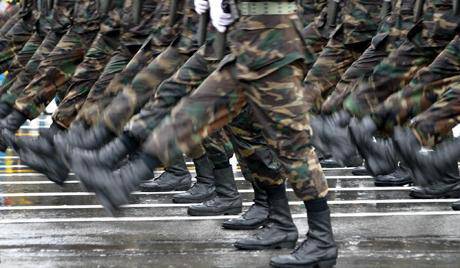 From this year in Kazakhstan, it is possible on a paid basis in just one month to complete military service, an alternative to the traditional military service.
To get a military ticket in Kazakhstan is now possible for money and is completely legal. In the 12 regions of the country, the military-technical schools of the Ministry of Defense will open at universities. There will be preparing reserves for the Kazakh army. The young fighter will be able to complete the course at the age from 22 to 27 years.
During 30 days, those who wish can learn a theoretical course, practice shooting in shooting galleries and at ranges of military units, as well as familiarize themselves with weapons, military equipment and life of military personnel. In this case, the training of cadets will be expensive.
Reserve Colonel, Head of the Military Department of the Kazakh National University Yernazar Ishanov said that the initial military training is necessary for all Kazakhs:
"Now there is a requirement everywhere that there are military tickets. A demand for any job. Therefore, a person can unlearn a month, pay money and get a military ID. He, as a specialist, becomes part of a mobilization military reserve. Military schools are not military departments. Military-technical schools, remember, there used to be DOSAAF, specialists and drivers were trained there. They were already trained, they were only called for. "
This year, in Kazakhstan, 3 will have thousands of alternative military service. Rustem Kusmanov - one of them. He is a teacher of basic military training in the secondary school in Atyrau. Rustem noted that it is very difficult for him without a military ticket. Like a shoemaker without shoes. Now he will be able to set an example to his students:
"I can't wait to go to my pupils in uniform as a soldier from the army. Now I will feel more confident, and there will be more authority in the eyes of the guys."
However, military training courses are not cheap. Training costs almost 1400 dollars. But this does not bother anyone, since those who want to go through the army in a month are more than enough. However, the funds received, according to the military, will go to the expenses of the recruits themselves: food, the purchase of a complete set of military clothing. After completing the course, all field uniforms will be given to graduates for storage.
At the same time, the director of the Atyrau branch of the military-technical school, Marat Rakhmanov, explained that only those who received approval from the military office can undergo alternative service:
"These are the people who did not serve for various reasons, but want to serve. Of course, you cannot replace a full year of service, but they will receive the basics of military service."
Each successful graduate will take a military oath, will receive a military ID and will be registered with military service. But for those who fail the exams, the desired ticket will remain a dream.
Meanwhile, the Ministry of Defense of Kazakhstan is preparing another innovation. It is possible that starting next year, 50 percent of military specialists will be trained on the basis of civilian universities.