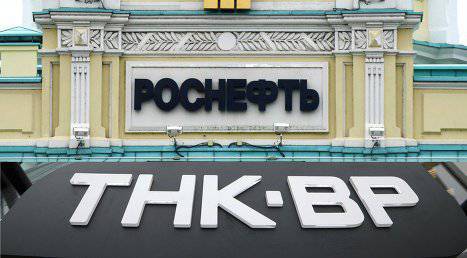 Rosneft, Russia's largest oil company ROSN + 1,85%, closed the most anticipated deal of this year on Thursday - bought 100% of TNK-BP TNBP + 0,62% shares from British BP and the Russian AAR consortium, thus becoming the world's largest public oil and gas company.
BP received a total of about 12,5 billions of dollars and 18,5% of Rosneft's shares, becoming its largest shareholder after the state. AAR consortium got 27,7 billion dollars. Last year the deal was recognized as the largest in terms of mergers and acquisitions.
Now Rosneft will have to build a new, freshly bought asset into its structure. This process, which began in February, the company plans to complete before the end of the year.
WHOM AND HOW MUCH
Rosneft gave 50 a percentage of BP in TNK-BP with a cash 16,65 of a billion dollars and 12,84% of its shares. Separately, BP acquired 5,66% of Rosneft shares from Rosneftegaz. As a result of the transactions, BP received 12,48 billion dollars in cash (including dividends of 0,71 billion dollars received in December 2012 from TNK-BP) and, taking into account its previous 1,25% shares, became the owner of Rosneft 19,75%.
On Thursday, Rosneft completed a deal to acquire an AAR stake in TNK-BP for 27,73 billion dollars in cash. AAR said that this opens up opportunities for the participation of the consortium shareholders in new large-scale projects both in Russia and in international markets.
The state company has long collected all the necessary funds for the purchase. In December, they attracted a loan for 16,8 billion dollars to buy out the share of BP, in February 14,2 billion dollars to buy out the share of AAR. In March, Rosneft received an advance payment in 10 of billions of dollars from Glencore and Vitol on long-term oil supply contracts. In addition, last year Rosneft placed Eurobonds for 3 billion dollars. This week, the company also reported that it had attracted a loan of 184,4 billion from Gazprombank.
Thus, Rosneft has consolidated 100% of TNK-BP and has become the world's largest public oil and gas company in terms of production and hydrocarbon reserves. According to Rosneft President Igor Sechin, in 2013, the combined company's production will amount to 206 million tons of oil and 47 billion cubic meters of gas, processing will reach 95 million tons of oil, and revenues - 4,9 trillion rubles.
STRONGLES
Rosneft, which for the first time officially recognized interest in purchasing TNK-BP in July last year, announced on October 22 that it had agreed to buy 100% of this company. The sales contract with BP was signed on November 22, with AAR - December 12 2012. Thus, from the moment of the announcement of the transaction to its completion only five months have passed, and from the conclusion of an agreement with BP - four months, which is incredibly fast for a transaction of this level.
At first, the parties announced that the deals would be closed in the first half of 2013 of the year, in early March, Sechin promised to close them at the beginning of the second quarter, but eventually overtook this term and unofficially called the date 1 of April.
At the same time, the head of British BP, Robert Dudley, has already been nominated to the board of directors of Rosneft as a state representative. In general, the British company after the completion of the transaction will be entitled to two seats on the board. Dudley is also a member of the presidium of the Rosneft and TNK-BP integration committee.
At a meeting with Russian President Vladimir Putin, Dudley acknowledged that there are certain difficulties in working in Russia. "But we are working on them," he assured the president. "They are sometimes quite difficult; as we say, it's as if dealing with a bunch of cats - no one knows which one is in charge and what they are going to do," Dudley said figuratively. "But I think that we have overcome most of this complex legal process; I think that we have practically gotten out of it," he said. "You need to have a firm position in it," Dudley shared with Putin.
MERGING IS GOING
Rosneft and TNK-BP even before the completion of the transaction began the process of integration, which may last until the end of the year. This week, for the first time, Sechin took part in a TNK-BP production meeting on key operational management issues for the company. Rosneft expects to ensure continuity of production when combined with TNK-BP, all employees were invited to continue working in the combined company.
In general, integration will be divided into three phases. At the first of them - before 1 April 2013 of the year - it is necessary to prepare for integration: develop control measures, define a scheme for the distribution of powers, draw up plans for the business and functional areas of the integration process.
At the second stage of integration, during 100 days after April 1, it is planned to develop a target management model, form the staffing table of the central management and ensure its filling, quantify the economic effect of integration. Also during this period, Rosneft plans to prepare a consolidated report of the company combined with TNK-BP according to international standards.
At the third stage, before the end of 2013, the completion of the main components of the integration process is planned. First assessments of the effectiveness and results of the integration activities performed will be given. Heads of departments should develop action plans to improve management systems.
However, TNK-BP, as expected, began to leave top managers. On Thursday, his departure was announced by Chief Financial Officer Jonathan Muir. So far, Rosneft has not yet announced who will lead the combined company, but according to unofficial information, this will be the first vice-president of the state-owned company, Edward Hudainatov, who already has experience in management. Before Sechin's arrival in May 2012, Khudainatov had headed Rosneft for a year and a half.
ACCUMULATIVE EFFECT
In early March, Sechin announced that the company is already assessing the synergistic effect from the merger with TNK-BP in 10 billions of dollars, and after the completion of the transaction it plans to submit a revised forecast. Also, the consolidated balance of Rosneft from the date of acquisition will include about 5 billions of dollars of money accumulated in TNK-BP accounts.
The head of Rosneft noted that the acquisition of TNK-BP will create the largest company with a balanced portfolio that can generate significant cash flow and create additional value for shareholders. According to Sechin, the scale of business after the acquisition of TNK-BP creates significant opportunities to optimize costs and concentrate on the best projects from the combined portfolio. Rosneft also sees a large synergistic effect in the field of volume replacement and swap operations in order to reduce costs and improve the efficiency of the refining complex.
The combined company will manage 10 large refineries in Russia and more than 2,5 thousands of gas stations. Also, through the deal, Rosneft acquires major assets in Belarus and Ukraine, enters projects in Brazil and Vietnam, strengthens its position in Venezuela. Famous Samotlor field, mining companies in Khanty-Mansiysk and Yamal-Nenets okrugs, Orenburg and Novosibirsk regions, in Eastern Siberia, and Central Russia will be added to the production assets of Rosneft. Rosneft expects to maintain TNK-BP brands, whose gas stations in Russia and Ukraine operate under TNK and BP brands.