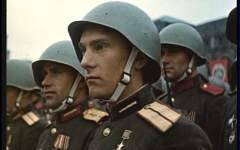 In Israel, in the coastal city of Netanya, the country's first national monument in honor of the victory of the Red Army over Nazi Germany will be laid. This is expected to happen during the official visit of Russian President Dmitry Medvedev to Israel at the beginning of 2011. This was announced on Wednesday, December 1, the Israeli ambassador to Russia Dorit Golender.
To date, dozens of monuments to soldiers who fought during the Great Patriotic War have been erected in Israel. However, none of them has the status of "national". The memorial in Netanya will not only be endowed with such status and will become a symbol of gratitude of the Israeli citizens to the Russian people, who courageously fought against the Nazis.
Golender said that Medvedev's two-day visit would be very eventful. In particular, the Russian president is scheduled to visit the Sergiev Compound in Jerusalem, transferred to Russia. It is expected that at the end of the program important decisions will be made for both countries, reports RIA "
News
».
The revision of the position on the Sergievsky Compound, the ownership of which was not recognized by the Soviet authorities, occurred after the Russian-Israeli negotiations in the 2005 year, when Vladimir Putin came to Israel, who was then President of the Russian Federation. Two years later, Russia legally and in fact received the compound in the property.
Note that the Sergiev Compound is located in the center of Jerusalem, next to the Russian spiritual mission and the Trinity Cathedral of the Russian Orthodox Church. Back in the 19 century, the site was acquired by the secretary of the Imperial Orthodox Palestinian Society, Colonel Stepanov. The building was built according to the design of the Jerusalem architect George Frangia. Pilgrims lived in the compound. The building was actively used until 1917.