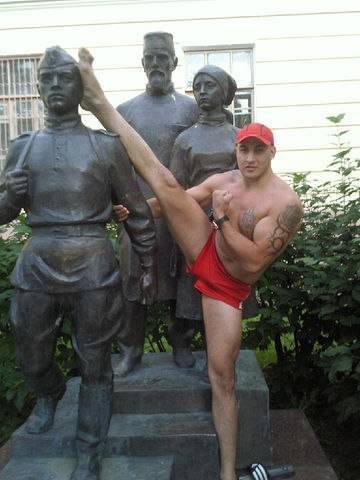 A photo appeared on the Internet, where the next "also Russian" Givi Sotsuk put his foot on a monument to Russian soldiers of the Great Patriotic War, imitating a blow to the head of a soldier.
It would seem, like nothing special, but is this not a disrespect to
stories
Russian people? Spitting into his past? We all remember the photo, where people of Caucasian nationality, sitting on the monument of the Great Patriotic War, raise their index fingers, this is "respect" for our past. I will not speak here about the Soviet government and about my attitude towards it, I am talking about the Russian people, who always fought for their homeland and people, and not for any party or government. Why do these "small" people have such a devil-may-care attitude to our past? Because, it is known that for the most part these peoples in the Great Patriotic War and earlier fought against the Russians, namely the Russians, and not just against the Soviet authorities, as the Cossacks did, for example.
Returning to "also a Russian" from Abakan Givi Sotsuk, I must say that this individual is a member of the Russian national team, as well as the champion of Russia in kickboxing, but does an athlete of Russia who violates the values ​​of our people is needed? It is also noteworthy that according to the Abakan journalists, this athlete is the leader of a local gangster group (http://reporter34.ru/content/publikacii/glavnaya-tema/poterya-pamyati), which is not surprising. Will this Givi be held accountable for such antics? Or they can continue to defile the monuments of our ancestors with impunity?
Link to the VKontakte page of this "hero"
http://vk.com/id21742255