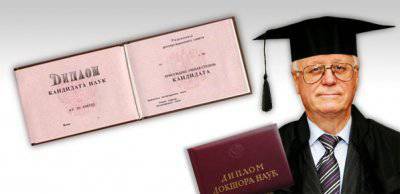 The education system in any state is the face of the state. You can hang any labels on power, you can fully gratify the power, you can wipe your feet about it and put it in the status of an icon, but all this will be a relative and transitory phenomenon, depending on the work of the authorities themselves, and on public conflicts. It remains absolute how much the state is ready to develop the educational system and translate into reality the idea of ​​the productivity of education itself, how ready it is to support the acquisition of basic and professional skills of an effective character by the young generation. And the fact that an educational environment that is developed and ready for productive production of professional personnel is an indicator of the maturity and health of the state and the public - a fact that is difficult to dispute.
I would like to start with chanting the existing educational system, with how effectively this system itself is managed today, how accurately it meets the needs of not only the market, but also society in the preservation and development of its moral foundations. I would like to ... However, unfortunately, there are no objective reasons for this. I want to believe that not yet ...
But how not? - the reader may say. Have there been positive trends in our education system: for example, the introduction of a unified system of passing the state exam, which allows school leavers from the provinces to enter prestigious Russian universities, an increase in the number of educational institutions themselves (especially the higher education level). Has not the number of scientific personnel been able to act as a driving force of the economy and work to raise the level of culture of Russian society in recent years?
Indeed, everything seems to be great. Reports show that anyone, even in a region remote from the center, can easily enroll in one of the best universities in Russia if he has enough points in the Unified State Examination, and if there is no kilometer line of so-called educational benefit recipients in front of him.
According to the statistics, the number of scientists of various degrees and degrees in the Russian Federation is growing every year. In just one year, on average, about 2,5 thousands of doctoral and about 22 thousands of PhD theses are defended in the country. Starting from the middle of 90, the number of people receiving a scientific degree began to grow annually, demonstrating, apparently, how favorable the conditions for the development of science in our country have become. Now in the country, apparently, there is no such municipality or legal office, in which the Ph.D. or Juris Doctor would not be seated ...
Together with the number of happy holders of scientific degrees, the number of universities in Russia grew. To those high schools that for decades produced truly professional staff, hundreds of higher education institutions were added with highly dubious programs, the almost complete lack of necessary teaching aids and guidance that have no idea about the real employment statistics of the specialties obtained for their own graduates. Why not have? Because statistics actually turns out to be such that graduated economists, lawyers, psychologists and sociologists in the overwhelming majority of cases have already fulfilled their mission in this world - they got a "crust" about higher education. And when answering the question: how are they going to dispose of this very "crust" in the future - they often shrug their shoulders and say something like "useful" ... Maybe it will come in handy ...
As a result, the Russian education system has become increasingly similar to a large soap bubble, which is perceived relatively beautiful only at some distance, but in reality it is a very ephemeral substance that is ready to burst and dissolve in the air in an instant.
Obviously, everyone understands that this cannot continue. We need effective mechanisms that would allow peeling the wheat from the chaff and show us a new educational system that meets social and economic needs. But where are today such mechanisms to take, if for a couple of decades of educational destruction, only stone axes have remained as a controlling toolkit ...
But they need to do something, and they set to work ... They took it, as it should be - rolling up their sleeves. They decided to start with checks in the area that directly related to the assignment of scientific degrees to applicants. The scandal, it must be admitted, broke out grand. It was announced that the Higher Attestation Commission (HAC) had turned into a get-together, which at a reasonable price gave off "fake" crusts to literally everyone who wished for it. The councils in various universities of the Russian Federation, endowed with the right to assign scientific degrees, often turned into a kind of tool through which a certain circle of people (from the bureaucratic apparatus, by the way, also) sought to obtain prestigious academic titles for themselves.
There are several hundred thousand rubles in my pocket and in my heart - the desire to turn into a candidate of science - please. And if there are hundreds or thousands of dollars, then it is possible to wipe the defense of the doctoral program ... Why not? ..
Candidate of philological sciences Svetlana T.
Two years ago I became the owner of the diploma of the candidate of science. The idea that after the 4 years of work at the Russian language department you need to get a degree by all means, suggested the head of the department. He motivated me quite simply: if you don't start working on obtaining a Ph.D. degree, you are unlikely to keep yourself at the university - optimization and all that ... Hinted that he could become my supervisor. I understood that you need to listen to these words, because the prospect of being left without work in 30 for years warmed me a little ... I started training. Preparing a great job, collecting the necessary materials literally throughout the country. It happened that in one week I had to "travel" from St. Petersburg to Stavropol, return to the university and at the same time also give lectures to students. Time is sorely lacking.

Suddenly, a member of our university approached me and said that he had heard about my troubles and was ready to help — help in such a way that it would not be necessary to collect materials and negotiate with the editors-in-chief of scientific journals about the publication of my articles. At the same time, he clearly stated that, supposedly, even with the demonstrated diligence on my part, it's not a fact that the dissertation council, in which he has the honor to work, will come to a positive decision on my question ...

I understood the hint and replied that I would think about his words. She herself was aware that she was quite ready to master the work, as she was also aware of the fact that there is a risk of simply "falling over" at the final stage of defending her dissertation. In the end - decided. Through one of the secretaries, I was asked to transfer 154 thousands of rubles (why 154 thousands are the ones I still don't understand) to some account, which, as it turned out, belonged to the university fund for supporting young scientists. Apparently, this amount was a guarantee of my (as a potential young scientist) support from the dissovet ...

As a result, for me, working days are in the past. I was announced that the author's abstract with the data on my "publications" was already ready, and I found out about a positive decision even before I came to the defense. When I got acquainted with "my" author's abstract, then, to be honest, I barely kept myself from not bursting out laughing ... Although funny, in fact, it was not enough ... The author's abstract showed publications of my articles in journals, which I did not even hold in my hands. I tried to find magazines with publications in the library, on the Internet, but the same secretary-intermediary declared to me that it was pointless to do this, because in most cases it was a "linden". As it turned out, in nature there is not only some of my published articles, but even the issues of the journals themselves, for which they are "assigned" in the abstract. So I got the degree of candidate of philological sciences - quite inexpensive by Russian standards ... Where did the amount I contributed go? I guess ...
Question from topwar.ru:
Svetlana, you admit that you received your degree in fact illegally. Are you ready to abandon it and make public the names of those persons who have mastered the earnings on the assignment of scientific degrees? After all, by and large
история
What happened to you is not just one of the sides of corruption in education, but also the most real blackmail towards you.
Svetlana T.
:
Yes, I understand perfectly well that my degree went far from me, as the law requires. And you, obviously, understand perfectly well that they do not like truth-bearers in our country ... I think this: over time, this hype will subside around the "lime crusts", one or two will be punished, perhaps even criminal. And then everything will be back to square one. Yes, I could give the names of those whom I told, I could ask you about the publication of my name and data about the university where I work, but I'm just afraid of my fate. I am sure that if all the names, passwords and appearances are named by me, it's not a fact that a large-scale trial will begin. They will say: she provoked the dissovet, she transferred money herself ...I will say one thing for sure: we are not the capital here, we have our own local education-controlling groups or even clans who managed to organize a business well. In general, as they say, God is high, far to the king. Shy-covered ... We work, we study, we learn. Often it is very peculiar ... By the way, my "crust" really saved me from contraction. Since September last year, optimization of our employees has gone through ... Well, how can I refuse such happiness (smiles)?
Meanwhile, the scandal at the Moscow State Pedagogical University is gaining momentum. On the website of the university "hangs" announcement that the head of the department of history of the Moscow State Pedagogical University, Professor Alexander Danilov, was relieved of his post. The dismissal of a professor is connected with his activity in the very scandalous dissertation council, which, according to a certain circle of people, was engaged in stamping out "fake" candidates and doctors of science.
Danilov himself does not recognize his guilt in misappropriating academic degrees. He declares that if in some works the presence of plagiarism is revealed, this does not mean at all that the applicant of a scientific degree "ripped off" the dissertation from third parties. According to him, today there is no clear regulation on how much borrowing can be used from other sources, which means that the work of the council in this regard is not regulated.
Alexander Danilov also answers the question of how data on publications could appear in the author's abstracts of a number of applicants either in non-existent issues of journals, or even completely fake articles. According to Danilov, only here the dissertation council D212.154.01 (at the Moscow State Pedagogical University) made a mistake. The professor blames himself that, as the head of the council, he did not ask applicants to submit originals of scientific publications with articles published in them. According to him, D212.154.01 specialists believed those prints from magazine pages with corresponding footers. In fact, according to Alexander Danilov, these unscrupulous companies could deceive the applicants themselves, declaring that their articles in journals would be published, providing even reprints of pages, but then did not fulfill their promises.
Even if you believe Professor Danilov, it still turns out that the work of dissertation councils in Russia is ineffective. Obviously, it needs to be improved. Another thing is that people who work in dissovet at Russian universities, carry out their duties solely on a voluntary basis. And what "public beginnings" is, and how altruistic the thoughts of a person should be, so that he would be ready to enthusiastically understand his dissertation without paying his work by the state - this is a separate question. Obviously, this is fertile ground for corrupt activities, which some use for their own purposes, while others become victims of third-party corruption proceedings, as, for example, ordinary employees of the same dissertation councils. As they say, the wood is chopped, the chips are flying ...
To date, the Ministry of Education has published a final report on the state of affairs in the D212.154.01 dis-council, and also provided a list of persons recommended for deprivation of a scientific degree. The list included such people as Andrei Andriyanov, director of SSCC Moscow State University and chairman of the student union council of Moscow State University, Daniyar Batrashev, human rights ombudsman in the Astrakhan region, Arshak Akopyan (general director of Alpoil), deputy director for educational work of Ufa State University of Economics and Service Rail Bikbayeva , Fanil Gabdulkhakov (holder of 2-s diplomas of higher education, formerly a senior account manager of one of the Ufa banks, now unemployed - publishes his resume on the job search website. 26-year-old Gabdulha he did not forget to indicate in the summary that he is a candidate of historical sciences ...) and a number of other gentlemen. The versatile talent of the same Mr. Gabdulkhakov is simply amazing: a bank clerk, plus a candidate of historical sciences. It is a pity not yet pilot-cosmonaut and honored art worker of Russia ...
Such an education system ... Change, no doubt, is necessary. But only the concern is that the changes and various modernizations have been strangely sharpened in recent times. And then, you see, they are modernizing so that not only the "gabdulhakovs" will get under the hot hand, but also those who really stand up for the protection of the interests of an effective educational system.