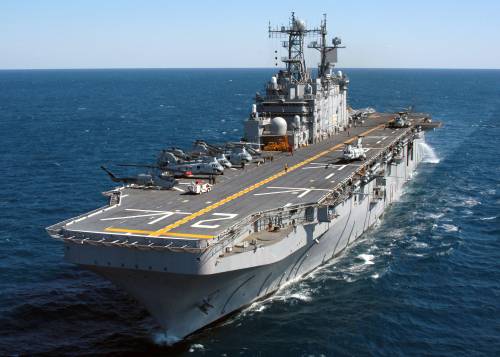 Russia is negotiating with France, Spain and Holland on the purchase of four Mistral-type helicopter carriers, said Russian Defense Minister Anatoly Serdyukov, noting that negotiations are in pre-contract phase.
At the same time, according to the minister, one of the helicopter carriers will be fully built abroad, the rest - with the participation of Russian shipbuilders.
"The first helicopter carriers will go to the Northern and Pacific Fleets: most of all they need ships of this class there, noted A. Serdyukov.
The Mistral class helicopter carrier has a full displacement of 21 thousand 300 t, maximum length 210 m, width 30 m, maximum speed 19 nodes, crew 160 people. Able to carry 450 man landing and amphibious means: 16 heavy helicopters, hovercraft and motoboats.
Recall that in December 2009. Commander-in-Chief of the Navy
fleet
(Navy) of Russia Vladimir Vysotsky said that Russian shipyards will be able to build ships of the Mistral type. According to him, this is not "about a stupid purchase of a ship", it is planned to attract foreign technology for the construction of such ships in Russia.