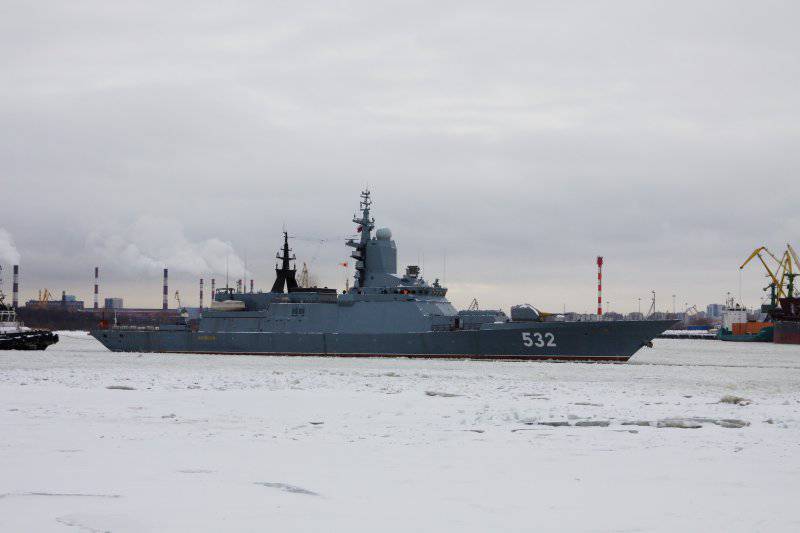 The 20380 project's boky corvette undergoing factory running tests received a full-time 100-mm universal automatic artillery A-190-01, produced by St. Petersburg's Arsenal Machine-Building Plant, which became the latest artillery system of this type manufactured at this enterprise. on the shipyard "Severnaya Verf" Shipbuilding Plant OJSC that built the corvette at the end of December 2012. According to the web resource flotprom.ru, on January 22 of the year 2013, the corvette "Boky" under the tugs departed from the outbuilding berth of the "Northern shipyard" and moved to Kronstadt.
After carrying out preparatory measures and obtaining the necessary material supplies, Boyky will move from Kronstadt to the main Baltic base
fleet
- Baltiysk, where the next stage of running and after its completion state tests will take place.
Due to the difficult ice situation in the Gulf of Finland and the Baltic Sea, the passage of the corvette to the naval base Baltiysk is expected to be provided by icebreakers. It is not excluded that the icebreaker Russia, which came from the North 22 of January to the Gulf of Finland and is now at the anchorage of the external raid of St. Petersburg, will take part in the operation of the "Boiky" wiring through ice fields.
The Corvette "Boky" was released on the 25 September 2012 running tests of the year (without the A-190-01 installed) and successfully completed the first phase of the factory running tests in the autumn, which confirmed the reliability of the mechanical installation, navigation complex, communications equipment and other systems and devices.
Due to the disruption of the delivery of OAO Arsenal Mashinostroitelny Zavod, according to the schedule of the A-190-01 artillery, the transfer date to the fleet, originally scheduled for the end of last year, was postponed. Only for the newest year, the gunfire was delivered to the Northern Shipyard and installed on the ship.
According to the source of the portal, the planned end of all tests and the transfer of the ship to the fleet is the middle of spring.
The Corvette Boiky (building number 1003) is the third ship of the 20380 project, built by the Northern Shipyard. The head corvette "Steregushchy" was transferred to the Russian Navy in February 2008, the second - "Savvy" - became part of the Baltic Fleet in October 2011.