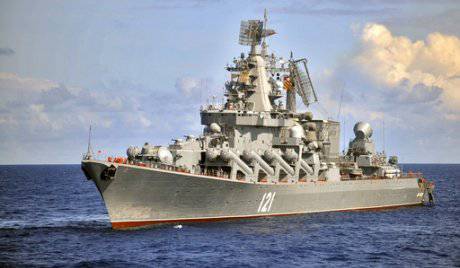 Black Sea ships sent to the Eastern Mediterranean
fleet
Russian Federation led by the cruiser "Moscow". Groupings of the Northern and Baltic Fleets advanced to the same part of the world ocean
Earlier, a large landing ship of the Black Sea Fleet of Russia, the Saratov, passed through the Straits. The detachment of the ships of the Pacific Fleet as part of a large anti-submarine ship Marshal Shaposhnikov is located in the waters of the Indian Ocean, not far from the Persian Gulf. If necessary, this squadron can quickly pass through Suez and also end up in the Eastern Mediterranean. What is the reason for such activity of the Russian Navy?
Of course, Russian warships are not sent to the Mediterranean with cruise targets. This is a demonstration of the flag off the coast in Syrian civil war. But this is not something that many people now write about in the Western and Turkish media. As if Moscow intends to carry out a plan to evacuate the Russians, and even remove President Bashar al-Assad from Syria.
The official representative of the Russian Foreign Ministry resolutely refuted such rumors, just as the presence of the "secret American-Russian scenario." At the same time, many drew attention to the fact that on the eve of the appearance of Russian warships in the Mediterranean, the United States pulled out the aircraft carrier Eisenhower, the landing helicopter carrier Iwo Jima and two destroyers. This decision in the White House was explained by the need to "reduce tensions in the region."
This is due to the fact that, as the UN special envoy to Syria Brahimi stated, "the situation in Syria is a great danger not only for the Syrian people, but also for neighboring countries and the world as a whole." Moreover, according to Brahimi, in this country "in addition to the armed forces of the Syrian opposition, there are also extremist groups."
In this regard, attention is drawn to the determination with which the French armed forces act in Mali against Islamic extremist groups. Moreover, they act, according to the representative of the Ministry of Foreign Affairs of Russia Gennady Gatilov, in accordance with international law.
This suggests that the positions of the West and Russia regarding the prospects for a Syrian settlement are beginning to converge because of fears that in Damascus, the Assad regime will be replaced by the same extremist groups as in Mali. The presence of al-Qaida in Syria was confirmed at a meeting of the Israeli government and Israeli Prime Minister Netanyahu.
And what about Turkey? As noted by Haberturk, Ankara now needs to correctly interpret Russia's position on the Syrian issue and the strengthening of the presence of its navy in the Eastern Mediterranean. Against this background, as Haberturk recommends, it is time for the Turkish diplomacy to take more decisive steps towards a politico-diplomatic settlement of the Syrian crisis. Otherwise, she is in danger of falling out of the global diplomatic ensemble.