Expedition to the ancestors. Solved and unsolved mysteries of "Belly Hill"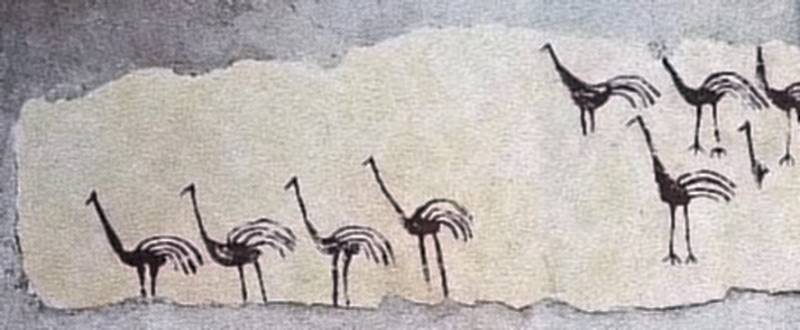 Neolithic wall painting from Tell Bukras in the Deir ez-Zor Museum, Syria
"And they look and see that the stone has been rolled away; and he was very great."
Mark Gospel 16:4
Migrants and migrations.
So, today we continue the story about Gobekli Tepe, and now is the time to remember the existence of the false idea that its buildings were specially filled up. Its author was Klaus Schmidt. The same archaeologist who began excavating this hill. But after his death, new excavations confirmed that they were filled up as a result of a landslide, and not the only one. So there is no mystery here. It's just that the choice of construction site was not very successful. Although it depends on how you look at it. The fact is that the quarry where the stone was mined was very close. That is, there was a completely rational approach to the matter here. Well, they tried to correct the consequences of the landslide by building retaining walls. And somewhere at the beginning of the XNUMXth millennium BC, the "Stone Age zoo" in Gobekli Tepe lost its significance, and people simply did not restore it and excavate it. Agriculture and cattle breeding created new realities, new gods, so that the lives of people in the area changed greatly.
Skulls and stones confirm...
Archaeologists are always very happy when they find burials. And in 2017, they found fragments of a human skull with traces of special processing characteristic of the skull cult widespread in the Neolithic era. They were usually covered with plaster and painted. And here it should be noted that similar finds of plastered skulls took place in Ain Mallah, Jericho, and Iftael. That is, in this region, such a cultural tradition was widespread and was not at all unique to Gobekli Tepe.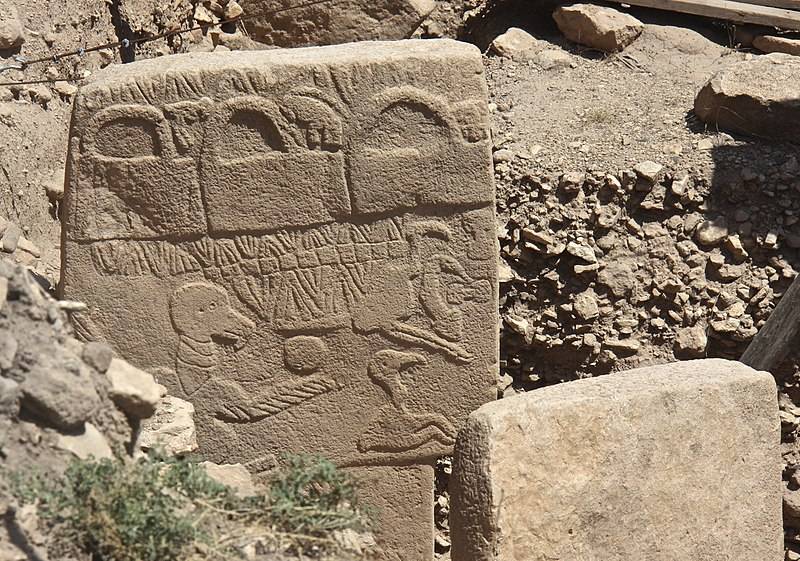 Images of birds of prey on a slab in Gobekli Tepe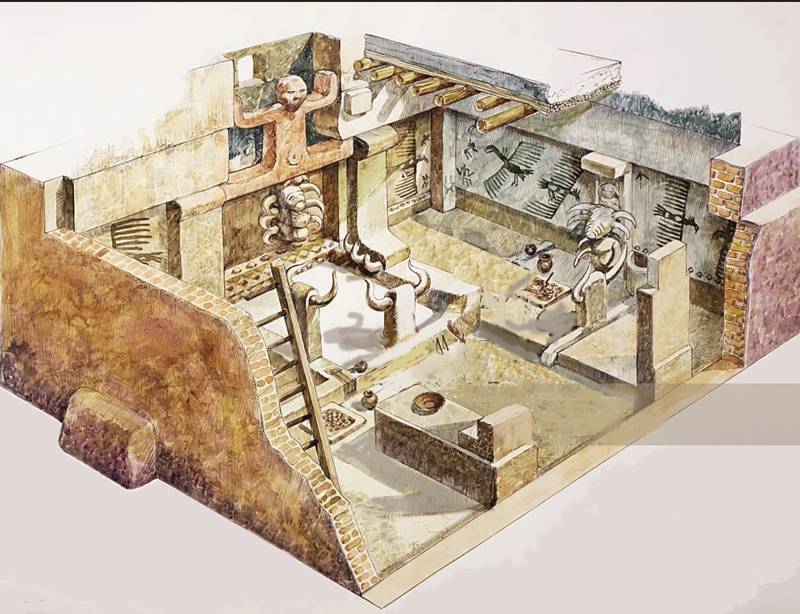 And these are images of birds of prey on the wall of the sanctuary in Catalhöyük. Drawing by A. Sheps
That is, the T-shaped stones and round stone walls found here were also found in other places in the area, although Gobekli Tepe is the largest structure among them!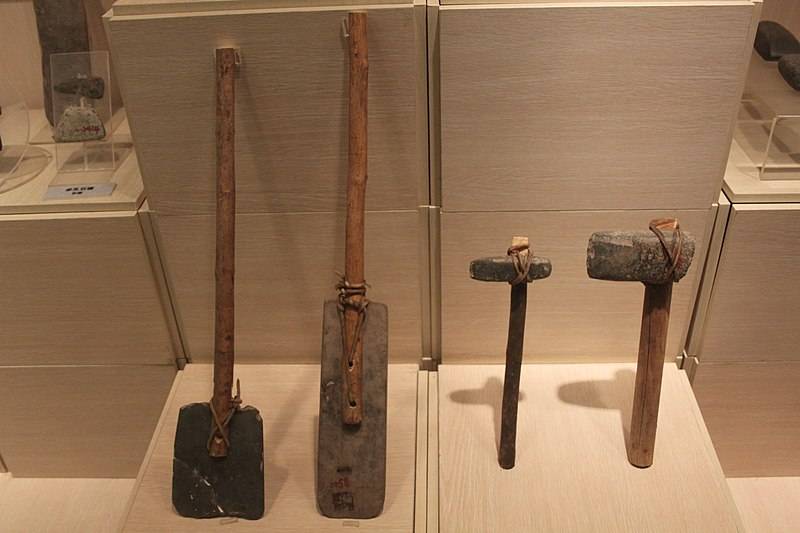 Map of finds of stone structures similar to Gobekli Tepe. Drawing by A. Sheps
"Family matter!"
The largest stone T-shaped monolith, which was hewn out but did not have time to be separated from the stone base, could tell us about this. Its length is 7 m, the width of the "head" is 3 m, and its weight can reach 50 tons. Schmidt himself stated that
"the work of quarrying, transporting and erecting heavy, monolithic and almost universally well-prepared limestone pillars [...] is beyond the strength of a few men."
But what does "several" mean? "Several" is... how much: 10, 100, 1000 people? Based on Thor Heyerdahl's experiments on Easter Island, he calculated that it took 20 people working for a whole year to make one moai statue the size of a T-shaped monolith from Gobekli Tepe, and 15-50 people to transport it over a distance of 75 km . This gave rise to the opinion that the people working "at the site" were newcomers who were lured into construction (or forced to work there) by a small group of representatives of the religious elite. But there is also an opinion that using ropes, rollers, and some kind of lubricant, 7-14 people could do the same thing. Experiments were also carried out in Gobekli Tepe itself, and they showed that not so many people were required to build it. All currently open structures could well have been built by a "brigade" of 12-24 people in less than four months. And this takes into account the time spent on mining the stone itself and on household chores. That is, it could even be one large family or a village community in the Neolithic era. Such a quantity could easily fit comfortably inside one of the stone buildings. So the builders of Gobekli Tepe could well have been some ancient "advanced" family led by... one of the characters in Jack London's story "The Power of the Strong"!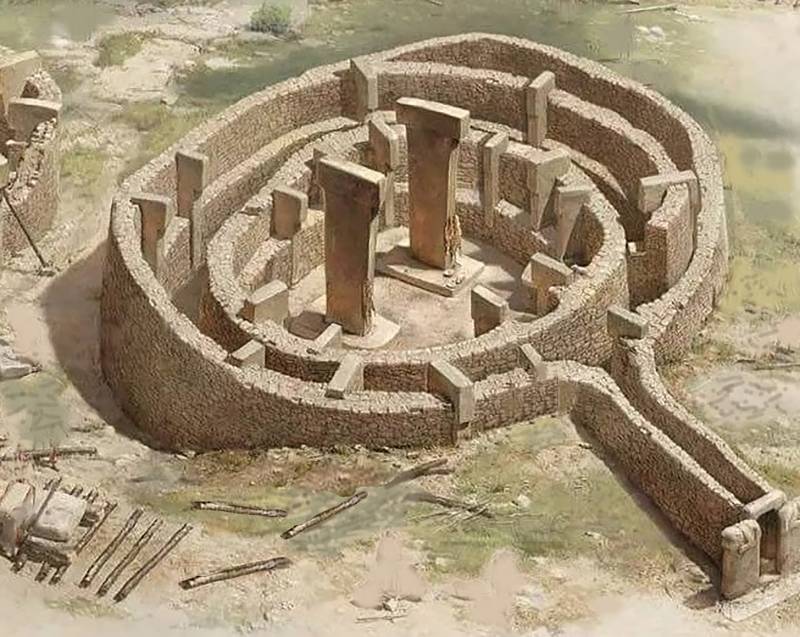 This is what one of the Gobekli Tepe circles could have looked like when it was completely built. Drawing by A. Sheps
What did you work with and what did you build?
The tools discovered by archaeologists are similar to the tools of other northern peoples. Back in 1963, more than 3000 Neolithic tools made from excellent quality flint were found here. But there were very few obsidian tools. During the excavations of "room 16", a very small building, next to "circle D", almost 700 stone tools were found. These are, first of all, tools with retouching, as well as scrapers, piercings and polished stone axes.
Neolithic tools, very similar to those found in Gobekli Tepe, are also found... in China!
As noted here, the stone columns in the Göbekli Tepe enclosures are T-shaped, similar to other pre-pottery Neolithic sites in the region. Most of the carvings on them are of animals, with males often shown in aggressive poses.
There are also abstract shapes that look like the letter "H", as well as crescents and disks. People rarely meet. Thus, on column 43 in fence D, a man is depicted without a head, but with an erect phallus. However, it is believed that the T-shaped shape of the main stones itself is anthropomorphic in nature, that it is a human figure with arms, but for some reason... without a head!
Both Schmidt himself and a number of his colleagues believed that the oldest temple in the world was built here, where people cajoled predatory animals so that they would not harm them, and at the same time prayed to get as many herbivores as possible. Or stones with carved images are totems, like most Indian tribes!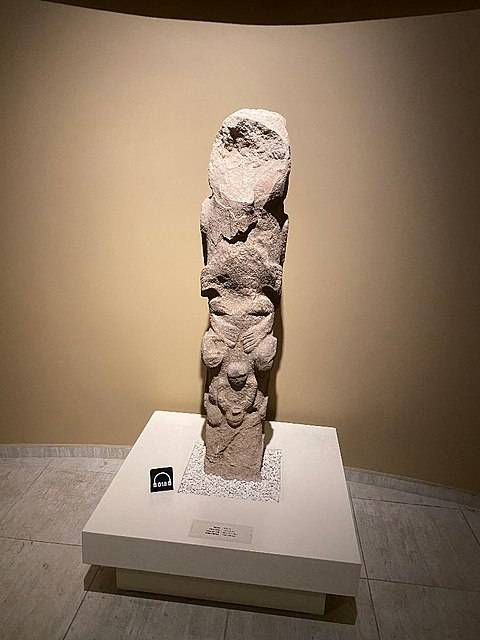 Sculpted stone pillar discovered at Gobekli Tepe. Height 192 centimeters and 30 centimeters in diameter. It depicts three figures (from top to bottom): a predator with the head and neck and arms of a man missing; another figure is missing a head with human hands; and a third figure with a head that remains intact. Snakes are carved on both sides. Sanliurfa Museum
What kind of cult the inhabitants of Gobekli Tepe professed, we can only guess. However, there are too many animals carved there for this to be an accident. A lot of bones of deer, gazelles, pigs and geese were also found in the waste. Were they killed and prepared for those who came to pray? Or, on the contrary, are these sacrificial animals that were sacrificed to... stones? But since the same gazelles came here only during a certain season, then the holidays here were seasonal, right?
"The Man of Urfa", or "Balıklıgel Statue" is an ancient statue of a man found during excavations at Balıklıgel near Urfa, in Upper Mesopotamia, in the south-east of modern Turkey. Created approx. 9000 BC e. during the Pre-Pottery Neolithic period and is considered "the oldest naturalistic full-length sculpture of a human being" It is believed to be contemporary with the sites of Göbekli Tepe (pre-Pottery Neolithic A) and Nevali Chori (pre-Pottery Neolithic B)
In general, all this smacks a mile away of shamanism, totemism and the worship of the spirits of ancestors, both animals and people. The stone totem pole is exactly like the wooden totem poles of the Indians of North America. This is hardly an accident. Similar beliefs give rise to similar symbols.
And more and more supporters of the version that there was not only a temple or temples here, but that there was a village whose inhabitants, in any case, used water from cisterns carved into the stone. Could it be the "priests" and their servants? Yes, why not. And the builders of this complex also lived there... Yes, they lived, but that's, in fact, all that can be said based on the information we have.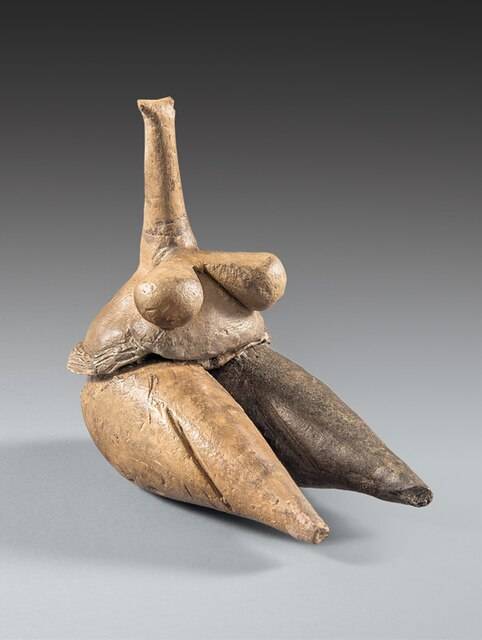 Clay figurine depicting a woman. Perhaps this is the "Goddess of Fertility." Kermanshah, approx. 7000-6100 BC e. National Museum of Iran, Tehran
What did they believe and who did they worship?
We also know that the cult, of which all these Gobekli Tepe columns were a part, existed for a very long time. Moreover, at a distance of 47 kilometers northwest of Gobekli Tepe, on the banks of the Euphrates, a very similar temple was found (the Neolithic settlement of Nevali-Chori), which dates back to around 8400 BC. e. (about 1600 years later than the beginning of the functioning of the Gobekli Tepe temples). The temple has a very similar structure: two large T-shaped columns with "arms" in the center of the temple and around them smaller columns form the basis for walls stacked with stones.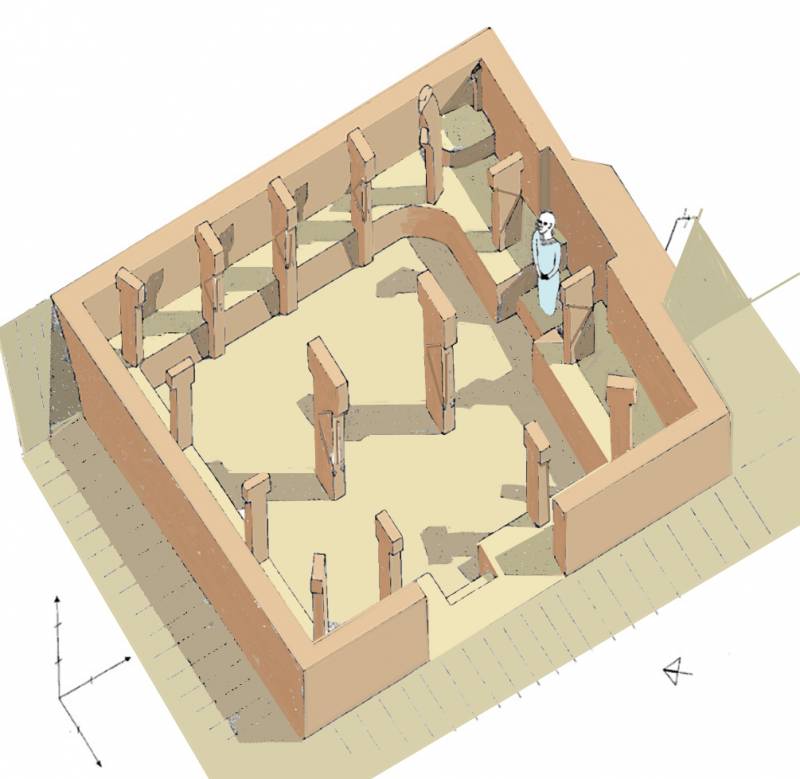 Reconstruction of the appearance of the temple from the settlement of Nevali-Chori. Drawing by A. Sheps
But the walls here are already rectangular... That is, people lived, most likely, differently, but they had the same beliefs... That's all for now. All that remains is to wait until something else is dug up there. How long will they be digging there? Well, who knows... However, what does all this human "fuss" mean for this hill itself and what it hides within itself? He has waited for many thousands of years and may well wait a little longer!