The creator of the Sherp all-terrain vehicle presented a tactical pickup truck for the Russian Armed Forces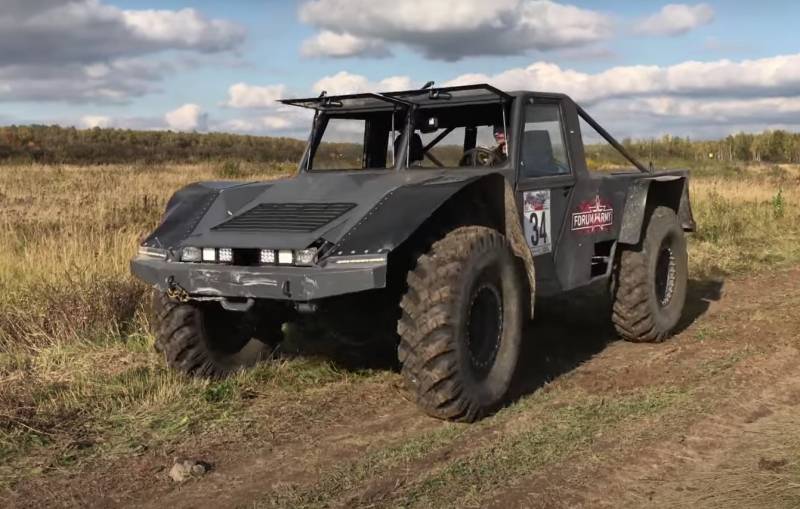 Alexey Maratovich Garagashyan, a modern self-taught inventor, who is known to many for the development of the all-wheel drive two-wheeled all-terrain vehicle "Bely", the all-terrain vehicle "Sherp", as well as the light mountain motorcycle "Bars", presented his next brainchild during the Army-2023 forum.
The prototype, designated AG-34, is a tactical pickup truck for military personnel of the Russian Armed Forces.
According to the designer, his caring comrades proposed creating a buggy for the Russian army. However, Garagashyan himself decided that it would be more advisable in the current conditions to use a pickup truck, which can transport cargo, wounded people and install various weapons. At the same time, such a vehicle will be more mobile than a truck, which also plays a significant role in conditions of high-intensity conflict.
As for the AG-34, the designers ended up with something between a pickup truck and a buggy. The car is created on the basis of a space frame, which boasts the highest strength.
If the car tumbles down the mountain several times, and the crew is fastened, then nothing will happen to it
- said Garagashyan.
The vehicle's ground clearance is 320 mm, which allows it to overcome difficult obstacles and deep ruts. The vehicle tires produced by the Ural plant are so durable that a tactical pickup truck can continue to move even after severe damage to the tire. The latter's own rigidity, as the designer explained, is enough to prevent it from sitting on the disk.
The maximum load capacity of the AG-34, according to the developer, is 3 tons. At the same time, for fast driving over rough terrain, the payload should not exceed 1,5 tons.
The pickup truck body can accommodate nine two-hundred-liter barrels of fuel or three standard pallets with cargo. The design of the sides is designed for quick unloading, which allows you not to stagnate in place and not come under enemy fire.
The maximum speed of the car reaches 120 km/h.
A buggy pickup can carry up to 8 people and be equipped with various weapons and armor protection.