Is it possible to supply Crimea by sea?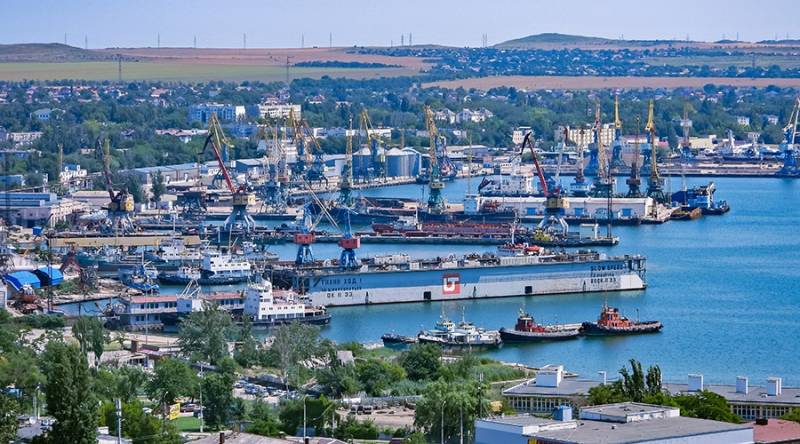 The role of Crimean ports and sea communications with the peninsula may turn out to be critical. In the photo - Kerchesky port. Photo: Kryminform
Earlier in the article
"The Merchant Navy as an Element of the State's Sea Power"
the merchant fleet was considered as a component of the naval power of the state. Of the tasks that the fleet must perform, among other things, two stood out:
1. Ensuring the export of resources.
2. Supplying Crimea in a situation where it will be impossible to supply it by land.
The first task was accomplished by creating the so-called. "shadow
fleet
» for oil export. According to various estimates, the size of this fleet is from 300 to 650 ships. The average deadweight of ships can be estimated at approximately 100 thousand tons.
How is the second problem solved?
Judging by the fact that BDKs were used to transport civilian vehicles on the Kerch ferry crossing, there are problems with understanding the importance of this task.
The need to supply Crimea and troops in the Kherson and Zaporozhye directions
Although the Ukrainian offensive has largely stopped, and there is no chance that it will resume in the coming weeks or result in a successful breakthrough of the defense, it is too early to rejoice. The fighting continues; predicting the situation in six months or a year is a thankless task.
What could theoretically happen if, due to military reasons, the use of the "land corridor to Crimea turns out to be impossible (even if it is not completely cut off)?
This risk is currently minimal, but it cannot be completely ruled out in the long term.
The size of the group of Russian troops, which will be cut off from the "mainland" and will be dependent on supplies coming from Crimea, can be roughly estimated at a maximum of 200 thousand - this is approximately 13 full-fledged divisions. When conducting an intense battle, each motorized rifle (
tank
) the division spends approximately 2 tons of materiel, of which 800 tons are fuel. Of the remaining 800 tons, the bulk is ammunition.
It turns out that to support a cut-off group, 26 tons of dry cargo and 000 tons of petroleum products must be transported per day. The above indicative figures rather reflect the maximum number of troops and the maximum supply requirements.
The population of the Republic of Crimea is 2,5 million people. The population of the Kherson and Zaporozhye regions without the cities of Kherson and Zaporozhye is 1,7 million people. Part of the territory of these regions is under the control of the Ukrainian Armed Forces, but in order not to overcomplicate the calculations, we will ignore this. It turns out that approximately 4,2 million civilians will find themselves in cut-off territory.
Crimea and the Kherson region are regions with developed agriculture, but let's assume that food supply in these territories has become tight. There are approximately 2,1 kg of provisions per person per day, so to supply 4,2 million people per day, 8 tons of food must be transported. According to statistics, each Russian consumes approximately 820 kg of petroleum products per day, so to supply 3,8 million people, approximately 4,2 tons of petroleum products must be transported daily.
The supply of troops and the population will depend on the Crimean Bridge. What one-time attacks on him lead to is already known, and this despite the fact that there has never been a massive one.
For this reason, the possibilities of supply by sea must in any case be subject to revision, which will also be important in other scenarios for the development of the Ukrainian conflict, in which sea transportation may be necessary.
Is it possible to supply Crimea by sea?
The work of maritime logistics consists of the work of two important components: the transport fleet and ports. Let's look at each component separately.
Sea ports of Crimea
Currently, in the Republic of Crimea there is a state unitary enterprise "Crimean Sea Ports" (SUE RK "KMP"), which includes the ports: Kerch, Feodosia, Yalta, Evpatoria and the state unitary enterprise of the city of Sevastopol "Sevastopol Sea Port" (SUE S " SMP"). Also in the port of Feodosia there is JSC Marine Oil Terminal, capable of loading and unloading up to 72 tons of petroleum products per day.
If you believe the official websites of the above enterprises, as well as the website of the Black Sea Sea Ports Administration, the total capacity of the Crimean ports for processing dry cargo is 7,6 million tons per year or 20 tons per day. But these numbers are very disingenuous. And you can find others on the Internet. Why?
The following factors influence the calculations:
1. After the collapse of the USSR, and especially after 2018, ports operate at a few percent of their designed capacity. In addition, cargo transshipment in the ports of Crimea is a consistently unprofitable activity (financial statements are publicly available). As a result, the staff of stevedores has been reduced, port equipment (the most important part of it for our calculations is port cranes) is not used at full capacity and is slowly breaking down. The percentage of serviceable equipment in ports is difficult to estimate, but we can say that it is obviously very far from 100%.
2. The figures for annual cargo handling include all types of cargo, including bulk cargo, but for our calculations we are interested in the speed of cargo handling of general and rolling cargo.
To roughly calculate port performance, you can use the following methodology. On the territory of Crimea there are at least 9 berths capable of receiving ships with a length of up to 140 meters and a draft of up to 6,5 meters (some of them can accommodate ships larger), and 15 berths capable of receiving ships with a length of up to 140 meters and a draft of up to 4,5. 5,5 meters. This number does not include ferry, passenger, oil berths, shallow-water berths with depths of less than XNUMX meters, as well as berths of the navy and ship repair/shipbuilding enterprises, through which, although limited, it is possible to transship cargo.
The passenger berths in Yalta can be used as cargo berths - the depths allow. If you keep a vessel with a deadweight of approximately 5 tons constantly under unloading at each berth (it will be shown below why this vessel was taken for the calculation) with 000 holds, then with a daily unloading rate of 3 tons of general cargo from the hold per day, a total of 500 tons of general cargo can be unloaded at all berths 36 tons of dry cargo.
It is realistic to compare this with the needs of the troops and the population given above and see that this is enough.
To ensure such a speed of cargo handling, you need to have 3-4 cranes for each berth; currently there is no such crane fleet in the ports of Crimea. It can be quickly replenished by purchasing pneumatic gantry cranes or even truck cranes. Truck cranes, of course, are not very convenient for unloading ships, but they are sometimes used for this.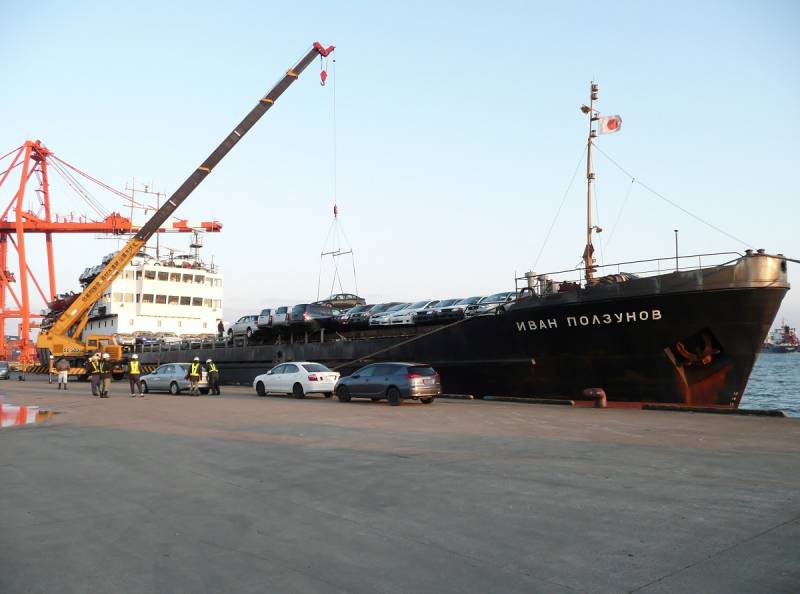 A truck crane loads foreign cars onto a ship. The same crane can also load/unload other general cargo. Photo: "Water Transport" website (fleetphoto.ru).
The above are cargo handling standards for general cargo, i.e. cargo not packed in containers. When using containers, the unloading speed increases. The problem is that not all port cranes can lift a loaded 20-foot container, but it can be solved by updating the crane fleet.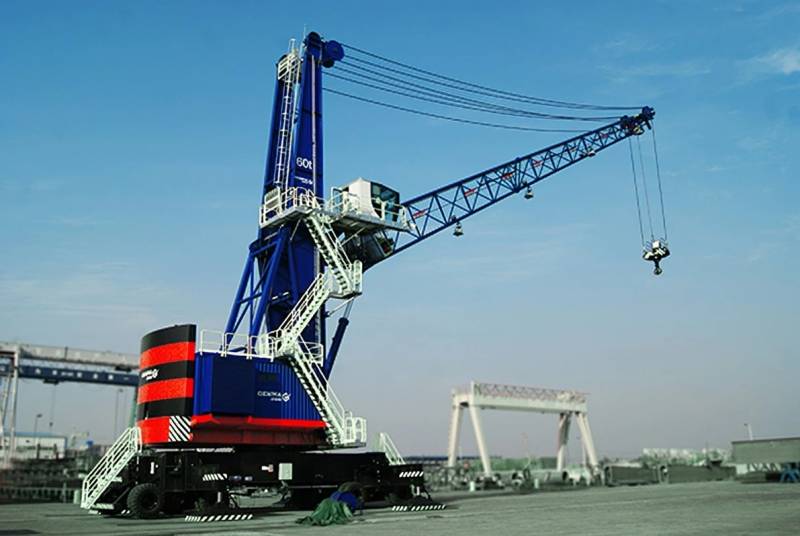 The mobile gantry crane can be deployed at almost any berth; it does not require laying rails. You can buy such a crane in China. Photo: Made-in-China website
Some berths accepted for calculations are intended for bulk rather than general cargo, but this is not fundamental. The main thing is that they have a large concrete area on which, if you have the appropriate equipment, you can deploy cargo handling.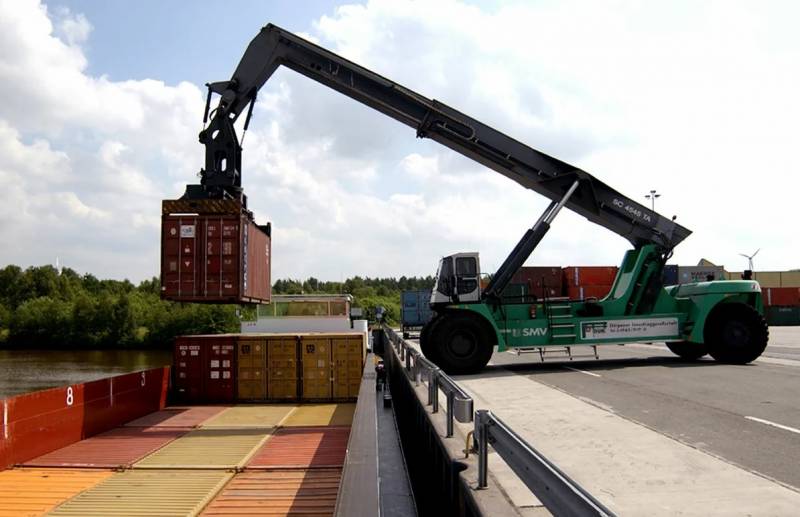 A reach stacker, if the side height allows, can load and unload containers onto a ship, a railway platform or a semi-trailer instead of a crane.
There are at least 5 liquid berths in the ports of Crimea. There is no certainty that the loading berth in the Kerch commercial port is functioning, so an example for calculations is 4 berths: 1 berth in Sevastopol, 2 berths in Feodosia (JSC Marine Oil Terminal, one berth is capable of receiving vessels with a deadweight of up to 60 thousand tons, the other with a deadweight up to 125 thousand tons), 1 berth in the Kerch fishing port (thermal power plant terminal, capable of receiving vessels with a draft of up to 6 meters).
The speed at which a tanker unloads at a port depends more on the capabilities of the vessel than on the terminal. Large-capacity tankers can unload 100 thousand tons of cargo per day, but we will assume that to supply Crimea we use Volgoneft-type tankers with a carrying capacity of 4 tons. Such a tanker can be unloaded in a day (under ideal conditions this can be done in 875 hours), respectively, 12 tons of oil products will be unloaded at the ports per day, but 19 tons need to be unloaded.
The missing capacity of loading berths can be compensated for in the following way. At an ordinary pier, which is connected to railway tracks, installing a railway overpass for loading petroleum products is inexpensive (the cost of an overpass for 4 tanks is about 1 million rubles), and if the work is not delayed, it can be done in an acceptable time. A tanker moored at the pier is hosed to the pipelines of the trestle and unloaded directly onto the railway tanks. In 1–2 days, a tanker with a deadweight of 5 tons can be unloaded using this method.
To be honest, without any overpass you can stretch cargo hoses from the ship to the railway tanks and lower them directly into the top hatches of the tanks. The method is very far from environmental and technological standards, but still the method works - diesel fuel and fuel oil can be unloaded in this way.
If there are doubts about the sufficiency of the tanks of the Crimean oil depots, then 1-2 supertankers from those that are currently exporting oil from Russia can be anchored in the Sevastopol Bay and used as a floating oil depot. To understand, the total volume of cargo tanks of two tankers with a deadweight of 130 thousand tons (not the largest ships of this class) is approximately equal to the volume of the tanks of the Feodosia oil depot, the largest in Crimea.
As can be seen from preliminary approximate calculations, the productivity of the Crimean ports is sufficient to supply troops and the population.
At the same time, ferry crossings were not taken into account, but the speed of cargo handling on them is quite high. For example, in Kerch there are two piers suitable for mooring railway ferries. At least one railway ferry can unload at each of these berths per day. The capacity of the railway ferry "Baltiysk" is 92 freight cars of T-1 size with a length between automatic couplers of 16 mm (the carrying capacity of each car is 970 tons), which will be equal to the transportation of 68 tons of cargo. It turns out that, theoretically, approximately 6 tons of cargo per day can be handled through these two berths.
What to do if the berths are mined, blocked by sunken ships or their productivity is insufficient?
You can unload ships in the roadstead using barges and dinghies. But this is a method with a very slow processing speed. If there are no other options, then, of course, it is used, but it is preferable to use floating piers.
Quite a lot of floating berth projects were created in the USSR and the Russian Federation. They are usually used to moor ships at bases, but they can also be used to unload transport ships. For example, the KAMPO plant produces the Modular Floating Base Complex (MPKB) pr. 02210. With the help of such a complex it is possible to create a floating pier for mooring ships with a displacement of up to 15 tons. This is quite enough - larger vessels are unlikely to be used to supply Crimea.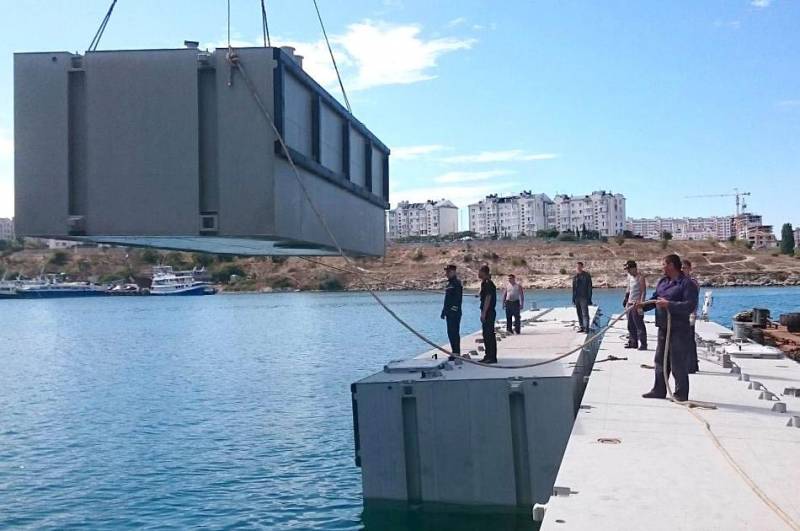 From such prefabricated blocks it is possible to assemble a floating berth of any size and configuration in almost any closed bay. Photo: KAMPO shipbuilding website.
There are also many other projects of floating piers: PM-61M, PM-61M1, PZh-61M (Project 824M), etc. The weak point of such berths is weather restrictions; a vessel can normally load/unload from a floating pier in sea conditions up to 3 -x points. Therefore, they are installed in closed bays, protected from sea waves.
It is possible, of course, to create artificial breakwaters and breakwaters, as the Allies did in 1944 when constructing the Mulberry prefabricated seaports, to protect the piers from waves. But, firstly, this should be done only if the depths allow, and secondly, this activity is quite expensive and requires a lot of resources. Fortunately, in Crimea there are two natural harbors, closed from sea waves - Sevastopol Bay and Donuzlav Bay, in which floating piers can be deployed.
Where can I get floating piers?
Firstly, in the Navy's reserves, if there is anything left there.
Secondly, order production at shipyards in Russia or China. Structurally, a floating pier is a floating iron box; even in Russia they can still make these.
Thirdly, buy on the free market in Russia. If you look at sales advertisement sites, you will find that pontoons from which you can form floating piers are available for free sale.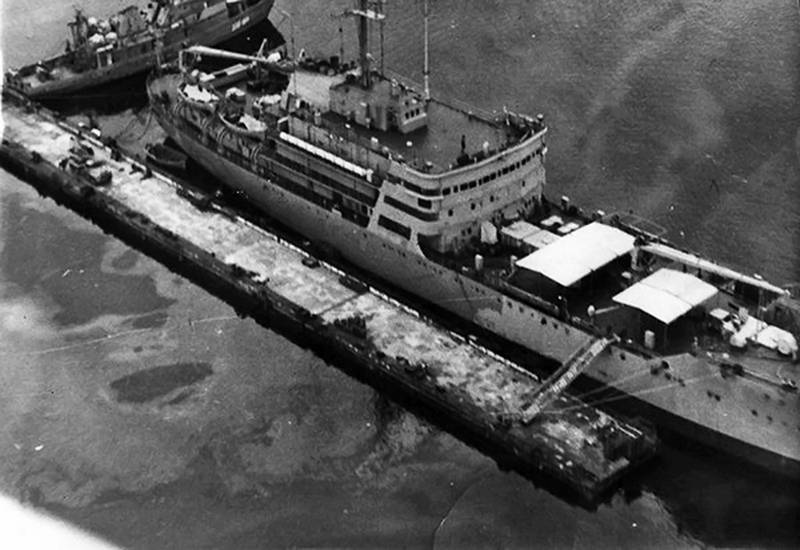 In the photo PM-92 at the floating pier about. Nokra. For the last few decades, the Soviet/Russian Navy has been using floating piers to moor ships and ships. With the same success, they can be used for mooring and unloading civil transport vessels. Photo: SVVIMU website ("Holland").
How to unload tankers if the loading berth is inaccessible or destroyed?
The Soviet/Russian Navy adopted the BZKR-100M, BZKR-150, BZKR-M sets, intended for raid refueling of ships and for unloading and loading tankers in unequipped sea coast conditions. To put it simply, they are coastal hose winches, from which a cargo hose runs along the seabed to a tanker at anchor or mooring barrels. If you have such a kit, you can unload the tanker at an unequipped shore. When unloading in this way, the limiting condition is the availability of tanks for receiving oil products on shore.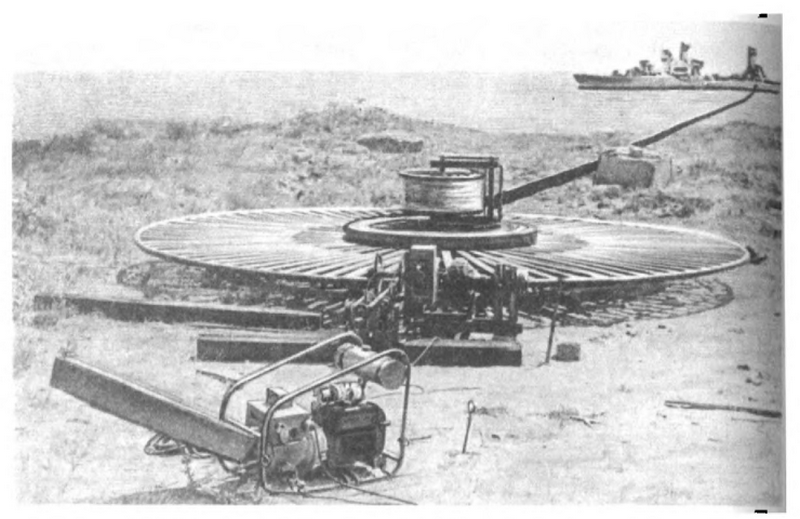 Photo: from the book "Technical Means of Logistics Support" (Military Publishing House, 2003). Set for dockless refueling of ships with BZKR-100M fuel.
When performing a northern delivery in the Far East, tankers are unloaded at anchor using cargo lines constructed from conventional cargo hoses laid along the seabed. Such lines are installed using tractors or skid boats - so even the presence of special BZKR kits is not necessary.
The installation of floating piers and BZKR sets is carried out by OMIPs (separate marine engineering regiments). The Navy has four OMIPs - one for each fleet.
What needs to be done to make the above calculations become reality and not remain theoretical calculations?
1. Put the port facilities in Crimea in order. Ideally, purchase as many new cranes, reach stackers, forklifts, etc. as possible. At a minimum, repair those cranes that are available.
2. Check the actual depths at the berths and, if necessary, carry out dredging work. Since most of the berths in Crimea are not used for their intended purpose, there is a possibility that some of them have become shallow.
3. Increase the fleet of tugboats in ports so that there are enough of them for intensive ship handling.
4. Since the railway tracks do not approach all berths in Crimea, additional motor transport enterprises or automobile divisions of the Ministry of Defense will be needed for cargo transshipment.
5. Strengthen the staff of dockers at the ports. There are three ways to solve this issue:
• Increase the number of employees of the State Unitary Enterprise "Crimean Sea Ports" and "Sevastopol Sea Port". Since the number of workers will have to be increased radically, it is not a fact that there will be enough labor resources in Crimea. In addition, if massive transshipment of military cargo begins in the ports, the Ukrainian Armed Forces will begin attacks on the ports with unmanned boats, saboteurs and UAVs. In this case, losses among civilian port workers are possible, after which they may refuse to go to work.
• Create Department of Defense units dedicated to handling cargo at the port, similar to the US Navy Cargo Handling Battalions. They can be staffed according to the principle of territorial defense from the residents of Crimea, that is, without taking people away from peaceful life and home, they can be trained in the specialties required for dockers and, if necessary, called upon to perform work in the ports.
• Create a PMC with a specialization in handling sea cargo in the ports of Crimea, which will also be responsible for port security. In this way, you can get a commercial structure that will cope better with work in the port, where military discipline will apply, better than the state one. This option, although optimal, will not be implemented in the foreseeable future for obvious reasons.
6. Organize the security and defense of ports from BEC, UAVs and saboteurs. Perhaps, for this, the Navy will need to form additional units that will service booms, keep watch on piers and berths, patrol the water area on boats, etc. Such units can also be staffed on the principle of territorial defense.
7. Accumulate stocks of pontoons, floating piers, cargo hoses for oil products, rigging equipment, etc. In other words, equipment necessary for unloading ships on an unequipped coast.
Transport fleet
In the Black Sea-Azov basin, among others, the following types of river-sea class dry cargo vessels are used: DCV36, RSD, "Rusich" (project 00101), "Valdai" (project 01010), project 488AM/2, project 488AM/3 , project 1557, project 05074, project 1743.1. The deadweight of these ships ranges from 7 tons to 154 tons when sailing at sea. For the calculation, a deadweight of 3 tons was taken.
If you look at the dry cargo fleet of one of the largest river shipping companies, Volga Shipping Company, which includes vessels of the types mentioned above, you can see that it consists of 50 vessels with a total deadweight of 245 tons, i.e. the average deadweight of a vessel is approximately 600 tons.
All of the vessels listed have a design speed of 10,5 to 12 knots, but the actual speed when sailing with cargo at sea will be about 9 knots.
The cargo draft of DCV36 is 6,40 meters, for other types the draft is from 3,26 to 4,34 meters. The length of these ships is from 90 to 140 meters. Each vessel has 3–4 holds, with the exception of the DCV36 - this type of vessel has only one large hold, but its hatch covers are large enough, and a crane can reach any point in the hold at once. As you can see, all of the listed types of vessels are suitable for Crimean berths.
The distance from Novorossiysk to Sevastopol is 219 nautical miles. At a speed of 9 knots, the ship completes it in approximately 24 hours. The remaining ports, with the exception of Yevpatoria, are even closer to Novorossiysk than Sevastopol. The ship will spend 9 hours on the transition Novorossiysk - Yevpatoria at a 27-knot speed.
Thus, we will accept for calculations that the ship spends 24 hours on the passage from Novorossiysk to any port of Crimea (actually less, but we will take it with a margin).
The carrying capacity of a ship with a deadweight of 5 tons can be taken as 000 tons, since some part of the deadweight is spent on fuel and other ship supplies. If we assume a capacity utilization factor of 4 (which is usually used for ammunition and food), then it turns out that each ship will be able to take 500 tons of cargo.
If we take all the above factors, it turns out that to supply Crimea we need 72 dry cargo ships with a deadweight of 5 tons (the actual carrying capacity will be about 000 tons). At any given time, 3 vessels will be unloading in Crimea (and unloading 500 tons of dry cargo daily), 24 vessels will be loading in Novorossiysk, and 36 vessels will be transiting from Novorossiysk to Crimea or vice versa (in fact, some of these 000 will be standing awaiting unloading).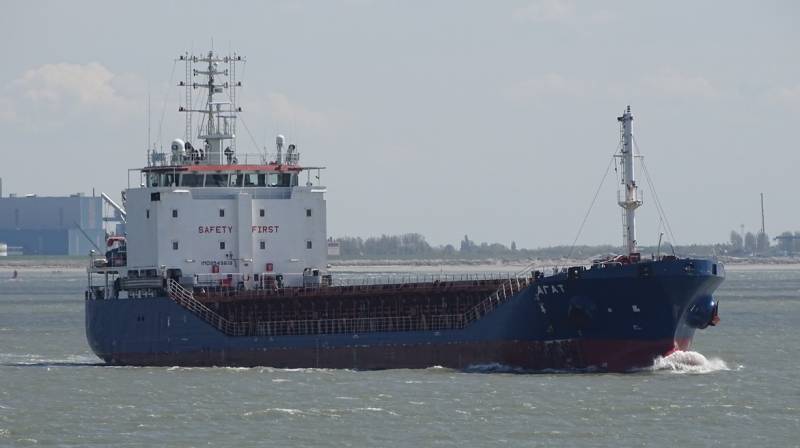 River-sea class vessel of project DCV36, deadweight 5 tons. There are at least several dozen vessels flying the Russian flag of the same tonnage and class operating in the Black Sea-Azov basin. Photo: StylishBag Photobank website.
To transport petroleum products, 20 tankers (with a reserve) of 5 deadweight each will be required. At each moment in time, 000 tankers will unload in Crimea, 5 tankers will load in Novorossiysk, 5 tankers will transit from Novorossiysk to Crimea or back.
As with the calculation of berth productivity, ferries and ro-ro vessels are not taken into account here. It is desirable to have as many ships of these classes as possible, but there is no certainty that they will be available at the right time.
Where can I find the required vessels?
There are three options:
1. On the global market for used ships. After purchasing the vessels, they can be included in the Oboronlogistics fleet - the company was created for such purposes. If you look at how the "Shadow Fleet" was created, it becomes clear that ships can be bought on the world market even under sanctions, and that there is money in the budget for this if necessary.
But, most likely, this option will not be accepted, and transportation to Crimea will be carried out by the existing Oboronlogistics fleet. At the moment it consists of 2 car ferries, 2 railway ferries and 5 dry cargo ships - with a total deadweight of 58 tons.
2. Use landing ships in transport mode. Currently, 9 BDK Project 775, 2 BDK Project 1171 and 1 BDK Project 11711 are grouped on the Black Sea. Even if we assume that only 2/3 of the ships will be operational at the same time, then in one voyage they can transport from the Taman Peninsula to the Kerch region 100 units of automotive equipment. They will be able to operate at least two flights per day. At the same time, they do not need berths for loading and unloading.
3. Mobilize ships of Russian shipowners.
Composition of the fleet of the largest shipping companies in the Black Sea-Azov basin:
• Volga Shipping Company. 50 dry cargo vessels of the "sea" and "river-sea" class, total deadweight 245 tons;
• Azov-Don Shipping Company. 73 river-sea class vessels, total deadweight of about 300 tons;
• BashVolgotanker. 14 tankers of the Volgoneft type, total deadweight of about 67 tons.
In all of the listed companies, ships sail under the Russian flag and, accordingly, are registered with the military. The percentage of serviceable vessels in Russian companies can be taken as 85–90%. In addition to the large shipping companies listed, there are many smaller companies.
Of course, I would like to use modern high-speed ro-ro vessels and ferries for supplies, and not the old low-speed river-sea class dry cargo ships, which sailors call "river-mountain" due to their low seaworthiness and which, due to the lack of The ship's cargo handling equipment is critically dependent on shore cranes.
But even if we consider the worst option, which is usually a working one, it is clear that Russia has the required fleet tonnage. It may seem that there are fewer tankers available than required according to calculations (14 instead of 20), but, again, remember the "Shadow Fleet" - if you wish, you can find tankers on the world market.
The only question is that they get to the Black Sea in a timely manner.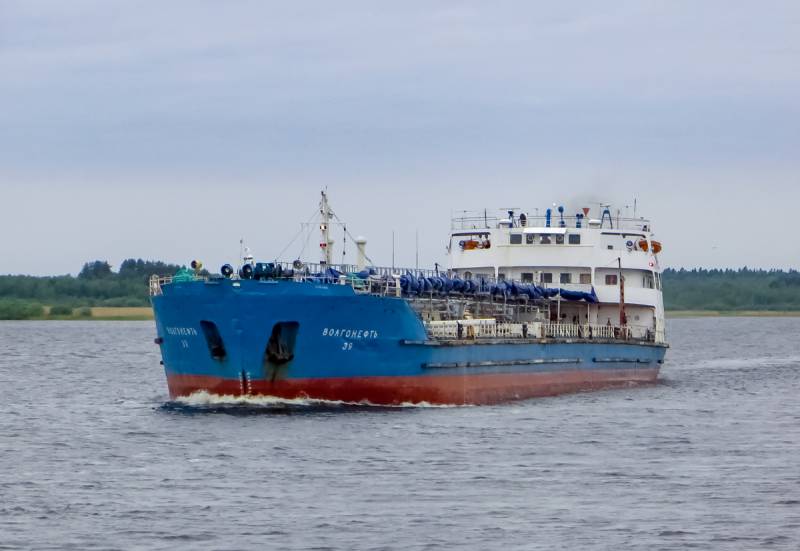 Volgoneft type tanker, project 550, carrying capacity 4 tons. Photo: "Water Transport" website (fleetphoto.ru).
Will weather conditions allow these vessels to be used?
Storms in the Black Sea are most likely in winter, when their frequency in the open sea is 5–10%. In spring, the frequency of storms is 1–4%, in summer, as a rule, no more than 1%, and in autumn 4–6%. Simply put, even in winter, 90% of days are navigable.
There are abnormally strong storms in the Black Sea, when several ships perish within one day, but the last of them happened on November 10–12, 2007. So you shouldn't take them into account.
Conclusions
All the above figures are indicative only. It is difficult to calculate the supply needs of troops, since it is necessary to additionally take into account the supply for the Aerospace Forces and hundreds of other factors. And even if someone knows these numbers for sure, they will not be published in the open press.
No one can name the exact productivity of the Crimean ports either, not even the people working there. Because you need experience in long-term operation of ports at full load in order to speak confidently about their performance. The ports have not received such a load since the collapse of the USSR. In addition, the productivity of ports depends on the capabilities of road and rail logistics in Crimea - these issues must be considered separately.
The article discusses an option in which the preparation of ports will begin urgently. If you invest in the port infrastructure of Crimea in advance, you can use the existing berths to build several container terminals with appropriate access railway tracks. In this case, the issue of cargo handling will disappear. And if you also create a large state-owned shipping company with a fleet of ships dedicated to supplying exclaves, then you don't have to worry about the availability of the required fleet.
But it is quite obvious that this will not be done. And if something goes wrong at the front, then supplies by sea will be organized on an emergency basis without normal preparation, but even in this case, everything is not hopeless.
The point of the article is to give food for thought on the topic "Is it possible to supply Crimea by sea?" Let everyone, after reading it, answer this question for themselves. The author believes that it is possible to supply Crimea by sea if maritime logistics is organized properly, and not engaged in endless empty preparation / review / approval of government programs.
In this case, normal economic life will most likely stop there, but no one will go hungry on the peninsula, and the troops will be able to continue fighting. Perhaps the supply by sea will be interrupted for military reasons - the enemy will gain dominance in the Black Sea, but logistics by sea itself will have nothing to do with it.
Most likely, the enemy will subject the ports to attacks, which will obviously lead to heavy losses (for example, the Saratov large landing ship), but it is more difficult to disable 5 ports scattered on the coast than one infrastructure facility - the Crimean Bridge. The resistance to damage of ports is much higher than that of bridges.
And if one of the "military experts" or "talking heads on TV" says that "it is impossible to supply Crimea by sea," then it would make sense to remember this article and think about how sincere and competent this person is.
Perhaps the measures described above are redundant for SVO. But we must not forget the Russian
history
. The current military conflict is not the first and, I'm afraid, not the last Crimean War in Russia. At least some of the measures taken may be useful in the future. Let me remind you in passing that the Crimean War of 1853–1856 was largely lost due to the weakness of Russian logistics.