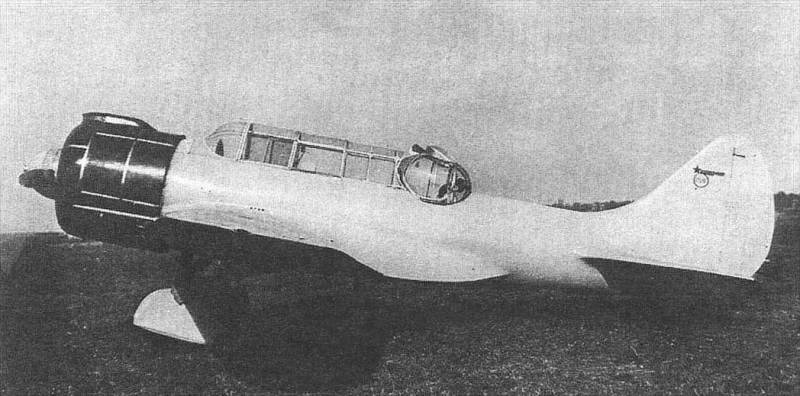 In the 30s of the last century, a program codenamed "Ivanov" took place in the USSR, within the framework of which the country's leading designers had to offer their own version of a military aircraft capable of performing the functions of a reconnaissance aircraft and a light bomber.
Along with I.G. Neman and P.O. N.N. went dry to the finals of the competition. Polikarpov.
By the middle of 1936, the latter had already prepared two aircraft designs - a high-wing and a low-wing, designated by the same index "P", denoting "reconnaissance".
As a result, the designer settled on a low-wing design, which, in fact, was the focus of all three participants in the competition.
After some adjustments to the design of his aircraft for the M-62 engine, which at that time was still in development, Polikarpov already in 1937 presented a full-size wooden model of the future multi-purpose winged aircraft.
In general, almost all the performance characteristics announced by the developer: maximum speed of 350-400 km/h, ceiling - 10 km, landing speed of up to 95 km/h and flight range of 1500 km corresponded to the task. Regarding the latter, however, some "friction" arose, since according to the terms of the program it was supposed to reach 2 thousand kilometers.
Meanwhile, Polikarpov was given the go-ahead to build his aircraft, and on July 25, 1938, the first flight model was ready.
On August 3, test pilot Thomas Susi took Polikarpov's brainchild into the air for the first time. However, already on the next flight, the landing gear was damaged during landing. The car was sent to the factory for repairs.
A month later, Polikarpov's "Ivanov" returned to testing. However, there were still many shortcomings. After almost every flight, the car was lifted onto trestles.
However, the pilots' assessment of the reconnaissance/light bomber was quite positive.
The plane is simple to fly and makes a good impression in flight.
- Thomas Susi wrote in his report.
In general, this aircraft might have been brought to fruition if not for the tragedy that occurred in mid-December 1938 - test pilot Valery Chkalov crashed on Polikarpov's newest I-180 fighter. In the following days, no one dared to let Polikarpov's planes fly.
A sample of a multi-purpose aircraft created as part of the Ivanov program was returned to the factory.
Two months later, Polikarpov's Ivanov returned for testing with the new M-63R engine, which was produced in only a few copies.
However, in March 1940, during a test flight, the "capricious" M-63R failed. It was not possible to find a second such engine, and in April of the same year a regular M-63 was installed on a prototype aircraft.
However, it didn't matter anymore. The Su-2 P.O went into production. Sukhoi, and Polikarpov's brainchild was laid up until better times, which never came.