Children are our continuation into the future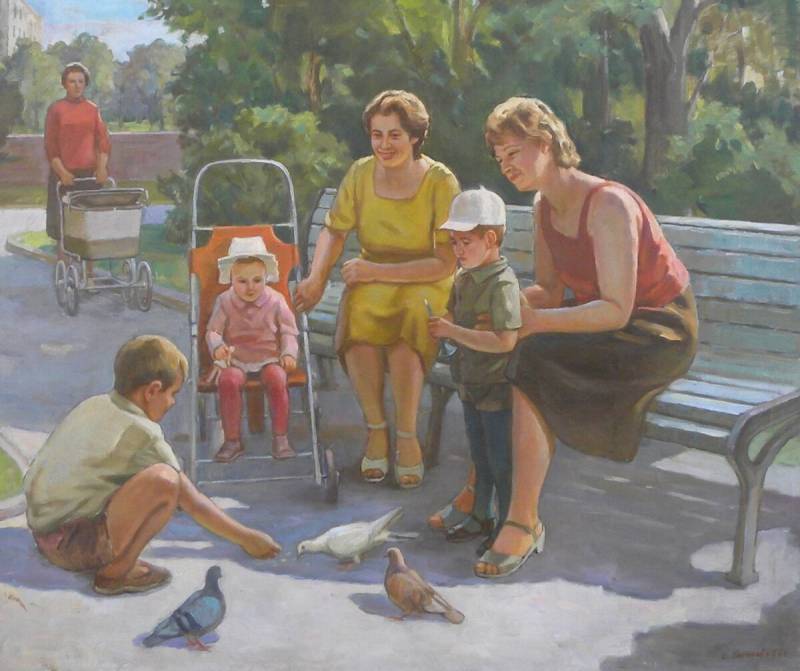 As strange as it may seem to you, I want to start with our athletes, the vast majority of whom really want to compete at the next Olympic Games. It's a good thing to represent your country. But there is a nuance!
What do the new creators of the Fourth Reich require of us? IOC head Thomas Bach said that Russian and Belarusian athletes could be allowed to participate in international competitions in a neutral status if they did not publicly support the SVO and were not associated with the armed forces or national security agencies.
All this means that the athlete must comply with the following points: 1) a neutral athlete must not be associated with his country, 2) must deny his national flag and anthem, 3) deny his association with the national Olympic committee and national sports federation. Essentially, everything taken together means renunciation of the Motherland.
Guberniev, however, broadcasts from every angle that in this case, too, the athletes will represent our Motherland. Oh? Insignia is important. It is no coincidence that since ancient times it was considered a shame to lose identity with the Motherland. Among the ancient Romans, for example, the loss of the legion sign led to its immediate disbandment. Or imagine that the Red Army soldiers were asked to take off their shoulder straps and fight the Nazis in a "neutral" status.
So state symbols are not just pictures and sounds.
Why am I writing all this?
And to the fact that athletes are ready to give a damn about everything, just to receive payments for their mere participation in games where only the lazy, starting from the IOC and ending with WADA, did not kick us or throw slop at us.
Where did these pathetic people come from, for whom there is neither a homeland nor a flag? Who made them like this?
Yes, you can point to the environment, to the course the country has taken 30 years after the 1991 coup. But the basis of education is
family
. We will talk about it in this article.
Maternal glory under socialism
On July 8, 1944, by Decree of the Presidium of the Supreme Soviet of the USSR, the title and order "Mother Heroine" was established - the highest title awarded to mothers of many children. The Order of Maternal Glory was also established in three degrees, which were awarded for the birth of seven, eight and nine children, respectively, and the Medal of Motherhood in two degrees - for the birth of five and six children. All awards were awarded when the last child reached the age of one and if there were other children of this mother alive.
Legally adopted children were also taken into account. Children who died or went missing while defending the USSR or while performing other military service duties were also taken into account. Or when fulfilling the duty of a citizen of the USSR to save human life, to protect socialist property and socialist law and order.
For all
history
Soviet state, approximately half a million mothers were awarded this title.
In addition, there were benefits. These benefits were secured by decrees and regulations. From priority service to pension benefits. The last large package was adopted by the Soviet authorities in 1981. Yes, these benefits were small, but they showed that the state understood the importance of demographic policy.
At the same time, a tax policy was pursued for small families - those who had no more than two children: parents of one child had to pay the state 30 rubles per year, those with two children - 15 rubles per year. The childless were also charged a tax of 90 rubles per year. The tax was imposed on men aged 20 to 50 years and women aged 20 to 45 years.
As we can see, the tax was relatively small, so the cries that commies were forced to give birth under pain of deprivation of earnings are inappropriate in this case. By the way, pay attention to the tax age period. Women from 20 to 45 years old. That is, the most optimal age for childbearing. We will return to this below.
Any qualified psychologist will tell you that in a large family, a child has more opportunities to grow up to be a kind and sympathetic person, unless, of course, the family is problematic. Caring for each other from early childhood is the best teacher and educator. This is how people grow up ready to sacrifice themselves for the common good, starting with a piece of bread and ending with their lives for the sake of the happiness and lives of other people.
In a family where there is only one child, he, as a rule, grows up to be an egoist, because he does not see examples that a person can and is obliged to sacrifice his personal interests for the sake of others. A parent pampers their one and only child with everything they want. And he, not seeing boundaries to satisfying his needs, ceases to understand the importance of behavior in a group.
The decline in the number of children in a family began in the Soviet Union. But then the norm was a family with two children. One child in a family was quite rare. Unfortunately, I could not find statistics on this matter, so I am guided only by personal experience. If anyone can provide statistical data on this issue, I would be grateful.
Demographic catastrophe
The 1991 coup d'etat led to a catastrophic decline in the standard of living of the overwhelming number of citizens of the former USSR. Survival became the main goal of the average family, and the child began to pose a threat to the stomach. It's scary, but it's a fact. During the 9 years of Yeltsin's rule, every person was encouraged to not care about the general and strive to satisfy only their own needs.
Since 2000, a slight recovery began, the economic collapse moved from an acute stage to a stabilization stage, and welfare began to gradually increase. But the state policy towards the family remained the same: we were called to hedonism, a career was made the meaning of life, and children were made an undesirable obstacle to a successful and carefree life. This is where the roots of our athletes' disregard for both the flag and the Motherland grow. Everything in the world is interconnected. For that fought for it and ran.
A targeted policy to reduce the population has led to the fact that women do not want to give birth. Their car and career come first. The rest is after 30 or 35 years. Or maybe later. From a biological point of view, you can become a mother from 15 to 50 years old. If we talk about the optimal time for the birth of the first child, then it is advisable to do it from 18 to 25 years.
And it is quite obvious that with age, the number of unwanted problems that relate to women's health increases. But there are also women who deliberately have abortions so as not to give birth in their youth, for the sake of their selfishness, for the sake of pleasure. And warnings that late pregnancy can be dangerous both for the health of the woman and the unborn child do not stop them. "Enjoy here and now" is their motto.
When I ask why they don't want to give birth, young girls, as a rule, answer that they will have a child
to interfere
! You won't be able to go to the theater, you won't be able to sit in a cafe, let alone travel. The child has become
a hindrance
! And they talk about this completely calmly.
To the credit of some, not everyone thinks so. But they have other arguments. One of them is that there is no one to look after the child in case of urgent need. As we remember, the authorities are categorically against grandparents caring for their grandchildren. Well, so that there would be no thought of sitting with grandchildren, the retirement age was raised.
However, there is another reason for late pregnancy: large companies seek to avoid payments for child care and, wittingly or unwittingly, take all measures to prevent a woman from thinking about pregnancy. These are not soulless commies who created job security for pregnant women, maternity leave, nurseries and kindergartens, here, my dears, the most sacred things are profits and business.
Modern trend
To be fair, it should be said that in recent years the authorities have realized that with this approach, the oligarchs may be left without human material that will work in their enterprises. And then the first law on payments for the second child was adopted. And now the question is: how many Russian families do you know in which they immediately began to give birth to a second or even third child? I don't know, I haven't met it.
And who began to use this law? Absolutely right! Valuable foreign specialists! A few months ago I had a conversation with one of these indispensables. When I reprimanded him that he was a guest here, not the owner, and must follow the rules of our society, he said something like this:
"Eh, this is your land now, but where is your child? No child? And I have five of them. And in twenty years, yours will become mine. They will grow up, and we will become masters of our land!"
It becomes scary that the original Russian land is becoming depopulated by a great people. And there are no visible measures to correct the situation. Payments for birth will not save you from demographic problems.
Constantly nodding to the demographic holes caused by the Great Patriotic War is not comme il faut. In the end, the Soviet government did not complain about tsarism, but simply began to take effective measures to increase the birth rate. After the terrible war, the population of the USSR grew, albeit slowly. In our country, only foreign diasporas are growing, attracted by the opportunity to receive payments for maternity capital. Russians don't want to give birth. And those who want to, face difficulties that discourage all desire to have children.
And finally, a few words about mortgages.
On the one hand, mortgages help solve the housing crisis. But, on the other hand, it drives a person into such debt slavery, which, coupled with rising prices for everything, drives away any desire not only to have children, but also to start a family. The value of family, which has been preserved in Russia since time immemorial, has ceased to be so. How can one not recall Lakhnovsky from the film "Eternal Call":
"The human brain, people's consciousness are capable of change. Having sowed chaos there, we will quietly replace their values ​​with false ones and make them believe in these false values. We will find our like-minded people, our allies and helpers in Russia itself! And not even the right word – we'll find it. We will make as many of them as necessary. Let's just act slowly now. With a long and sure aim."
The dialogue is very large, it is impossible to insert it completely. But I advise you to find it on the Internet and read it in full. There is a program for the destruction of Russia, which is followed by the "enlightened civilized" world. And there are also laid the roots of the phenomenon from which the demographic pit of our society grew. Or will you argue about the fact that we have been sold false values ​​for 30 years?
What conclusion do I want to draw?
There is only one conclusion. Until we change the ideology of society (and it still exists, even though the absence of ideology is enshrined in the Constitution), there will be no changes in public consciousness, no matter how much we talk about the guilt of the Bolsheviks, Polovtsians and Pechenegs. Only the transition to new socialism is able to restore the power of consciousness and the natural Russian spirit. When speaking about the Russian spirit, I mean all the peoples of Russia in general.
No matter what the apologists of capitalism say, it, in my opinion, only leads to the destruction of the Spirit; just look at the West and the USA, where the decomposition of society has reached, if not a maximum, but a significant degree of degradation. Do you want such a future for your children and grandchildren? I don't.
This means, in my opinion, that the future can only lie with socialism. Capitalism by its nature is not capable of resolving this issue from the point of view of the Spirit, because the Spirit and profit are incompatible.
https://stylishbag.ru/4-kartinki/kartinka-sovetskaya-semya.html