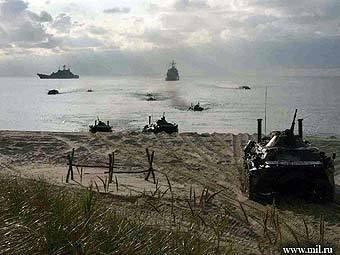 A big holiday awaits sailors at the end of January. 2013
From the Russian Ministry of Defense came the news that at the end of the first month of 2013, large-scale exercises of four fleets of the Russian Federation will be held. The agency reports that the maneuvers will take place in two seas: the Black and the Mediterranean.
It should be noted that the teachings of January sample 2013 of the year will be the largest for the whole
history
new Russia. The sailors have been waiting for such teachings for a long time and now dreams can become a reality in the near future.
The main goal of future large-scale exercises is that sailors of different fleets will have to work out issues related to the creation of an interspecific grouping that is outside of Russia. During the exercises, practical skills will be developed to achieve a single set for different
fleets
goals.
One of the most spectacular sections of the operation will have to be an episode with the landing of marines and airborne troops on large landing ships from the shores of the North Caucasus, which are not equipped with any appropriate infrastructure facilities. As the military says, the operation will be carried out in conditions of virgin terrain, where the Russian paratrooper has not yet walked.
In total, during the exercise, several dozens of operations of various kinds will be conducted, including tactical special training with missile launches and combat operations in night and day conditions.
Already today, some ships rushed to the place of the exercise and should arrive at the site by the middle of this month.
News of the teachings were a real New Year gift for Russian sailors. By the way, some of them are now ready to begin operations as part of their fleet. While the whole country celebrated the New Year along with
http://www.only-unik.ru/nebesniy_fonarik.html
launching Chinese sky lanterns and firecrackers, the sailors of the Baltic Fleet cruised the waters of the Mediterranean. BDK "Kaliningradets" and "Alexander Shabalin" together with the watchdog "Yaroslav the Wise" celebrated the holiday in the waters of the Mediterranean Sea.
The ships passed more than 4 thousands of nautical miles and reached the Strait of Gibraltar, having worked out a whole series of tactical and combat operations in the conditions of a winter stormy sea. Sailors conducted a series of exercises on missile and anti-submarine defense, as well as swimming as part of the so-called warrant.