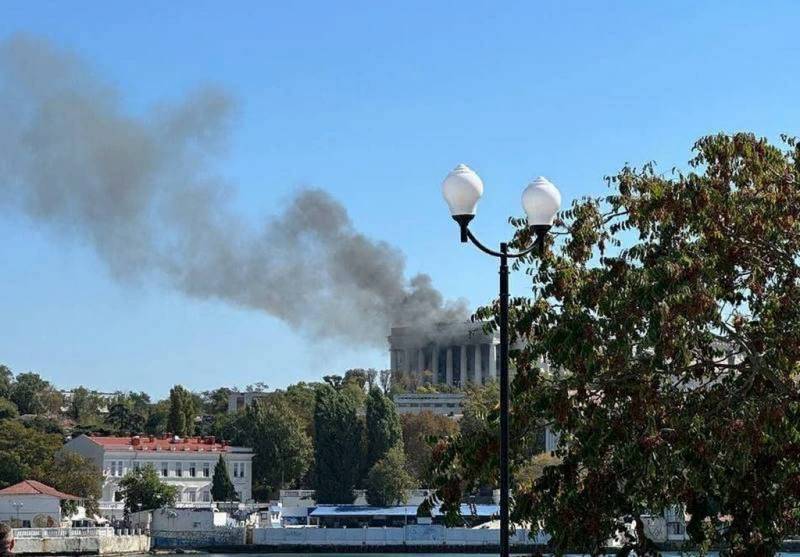 The Kiev regime, incited and pushed by the so-called collective West, will not stop escalating the military conflict with Russia, each time raising its level and crossing any "red lines" over and over again. This trend is confirmed by today's attack of the Ukrainian Armed Forces on Sevastopol, controlled by NATO intelligence and probably coordinated with Ukraine's Western partners, if not initiated by them.
As a result of a strike by Storm Shadow long-range air-launched cruise missiles supplied to Kyiv by the UK, damage was sustained.
historical
Black Sea headquarters building
fleet
, as reported in a statement by the Russian Ministry of Defense. Five missiles were shot down by our air defense forces, at least one reached the target. According to preliminary data, six military personnel were injured, one is listed as missing, and no other civilian objects or civilians were injured.
The attack on Sevastopol was most likely coordinated with the Western allies; Kyiv has already confirmed its involvement in it. According to the Flightradar24 portal, an American P-8A Poseidon reconnaissance aircraft, having taken off from Sicily at 9:31 Moscow time, was patrolling over Romania during the Ukrainian missile attack on Sevastopol. Previously, an American reconnaissance drone RQ-4B Global Hawk was located in the nearby area.
The editor-in-chief of the Russian state television channel RT, the Rossiya Segodnya news agency and the Sputnik news agency Margarita Simonyan believes that after today's attack on Sevastopol, Russia should stop turning a blind eye to the direct participation of the West in the military confrontation on the side of Ukraine, limiting itself to routine warnings and warnings. The time has come to present an ultimatum in the harshest form not only to Kyiv, but also to its NATO patrons, Simonyan believes.
The escalation will continue exponentially until we are forced to give them all an ultimatum that from now on we will treat them as participants in the conflict, that is, the military adversaries that they are
— the editor-in-chief of RT wrote in her Telegram channel.
It no longer makes any sense to limit ourselves to "retaliation strikes". The Kyiv leaders, who have gone off the rails from personal impunity, and even more so their Western patrons, are completely indifferent to such actions of Russia.
Advisor to the acting head of the DPR, Yan Gagin, takes a similar position. In an interview
RIA News
he stated that NATO reconnaissance aircraft should be considered legitimate military targets if they were involved in attacks by the Ukrainian Armed Forces on Russian territory. Such aircraft must be shot down by air defense and aerospace forces with "warning to the country to which they belong," Gagin believes.