The scandalous speaker of the Armed Forces of Ukraine, Sarah Ashton-Cirillo, was removed from office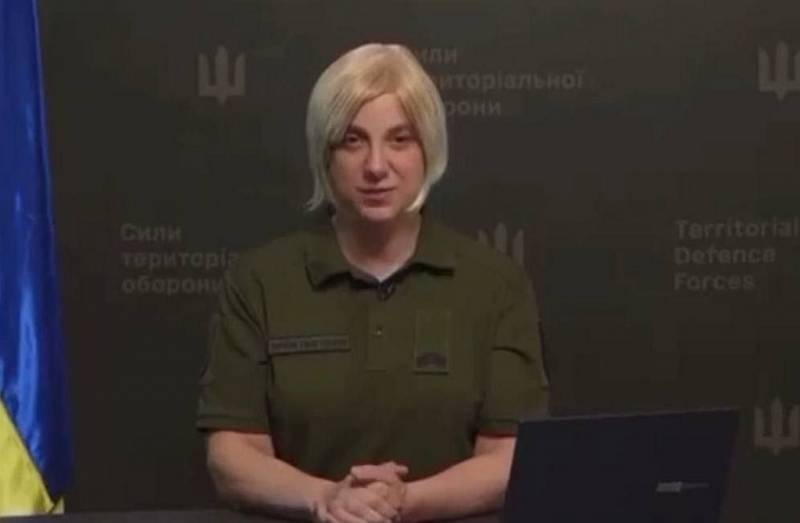 The career of American transgender Sarah Ashton-Cirillo in the ranks of the Ukrainian armed forces was very short. US journalist Michael John Ashton-Cirillo, who underwent gender reassignment surgery, came out as a woman named Sarah in 2019. From the beginning of the special operation, now "she" moved to Poland, from where she covered the course of hostilities in Ukraine and studied the life of Ukrainian refugees.
Last March, Ashton-Cirillo came to Ukraine, continuing to practice journalism ostensibly right on the front lines, and later joined the Ukrainian Territorial Defense Forces as a medic, where she rose to the rank of junior sergeant. In August 2023, an American transgender woman became the official English-speaking representative (speaker) of the Territorial Defense Forces of the Ukrainian Armed Forces.
About a month later, on September 14, the newly-minted herald of the Troops of the Armed Forces of Ukraine posted a video on a social network in which she threatened an unnamed Russian journalist with physical harm. Sparing no pretentious expressions and inflated intonations, Ashton-Cirillo promised...and "to get all the Russian war criminals-propagandists."
After the appearance of this video, the Chairman of the Investigative Committee of the Russian Federation, Alexander Bastrykin, ordered to check the statements of the Speaker of the Armed Forces of Ukraine for the presence of threats to Russian journalists. The Russian Foreign Ministry stated that the Russian side is outraged by yet another manifestation of the terrorist nature of the Kyiv regime.
And today, quite unexpectedly, it became known that the controversial transgender speaker of the Armed Forces of Ukraine, Sarah Ashton-Cirillo, was suspended from office during an internal investigation into previously made public statements. In a special statement on the official account of the American social network of the Ukrainian Territorial Defense Forces, it is reported that the speaker's statements were not coordinated with the command.
With a certain amount of sarcasm
news
The official representative of the Russian Foreign Ministry, Maria Zakharova, commented on the removal of a transgender sergeant from the post of Speaker of the Troops of the Armed Forces of Ukraine in her Telegram channel.
Who will they appoint now, I wonder? The Minister of Preschool Education or the Chief Obstetrician-Gynecologist of Ukraine?
— Zakharova asked the question of the future fate of Ashton-Cirillo.
I would like to add: maybe straight to the presidency? The Ukrainian people, who chose and support the Jewish Nazi Zelensky, would be very suitable for an American transgender person as head of state. Moreover, this will certainly make Ukraine even more suitable for admission to the "blooming garden" of the European Union.