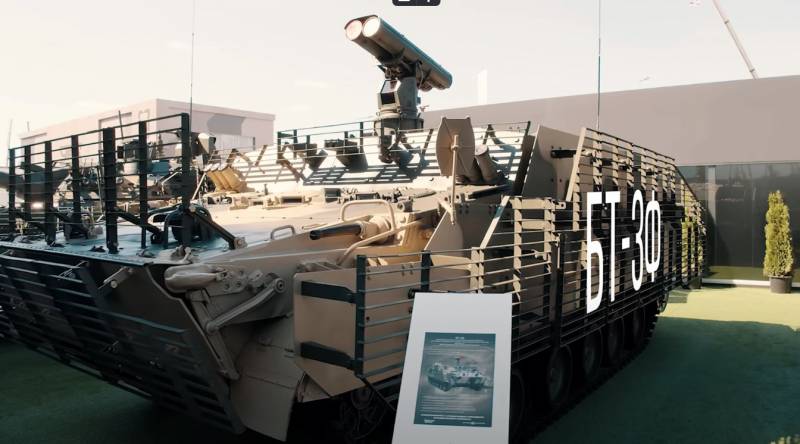 During the Army-2023 forum, many developments of the domestic military-industrial complex were presented, including those that took into account the comments and wishes of the Russian Armed Forces servicemen participating in the military-industrial complex in Ukraine.
One of these examples is the newest Russian armored personnel carrier BT-3F, designed to deliver soldiers from marine units and created on the basis of the BMP-3.
According to the commentary of a representative of Kurganmashzavod PJSC (developer), the BT-3F is capable of transporting troops of up to 15 people and combines all the advantages of the BMP-3, on the basis of which it was created.
Based on the experience of the SVO, additional screens and anti-cumulative grilles were installed on the vehicle, which significantly increased the survivability of the armored personnel carrier in conditions of high-intensity conflict.
According to the developer, this version of the vehicle was equipped with a panoramic sight with an installed Kornet ATGM. In addition, it can be equipped with a remote-controlled 12,7 mm caliber module.
Water jets installed in the rear allow the vehicle to move through the water. The maximum speed in this mode is up to 10 km/h. At the same time, on the highway the armored personnel carrier is capable of accelerating up to 70 km/h.
It is also important that the BT-3F is capable of towing artillery, for which the vehicle is equipped with an appropriate towbar.
As a representative of Kurganmashzavod PJSC put it, they managed to create a universal vehicle designed not only for transporting troops. According to him, the BT-3F is capable of transporting cargo and even fuel in special soft bags, and also acting as a communications vehicle, radiochemical warfare equipment, electronic warfare, etc.