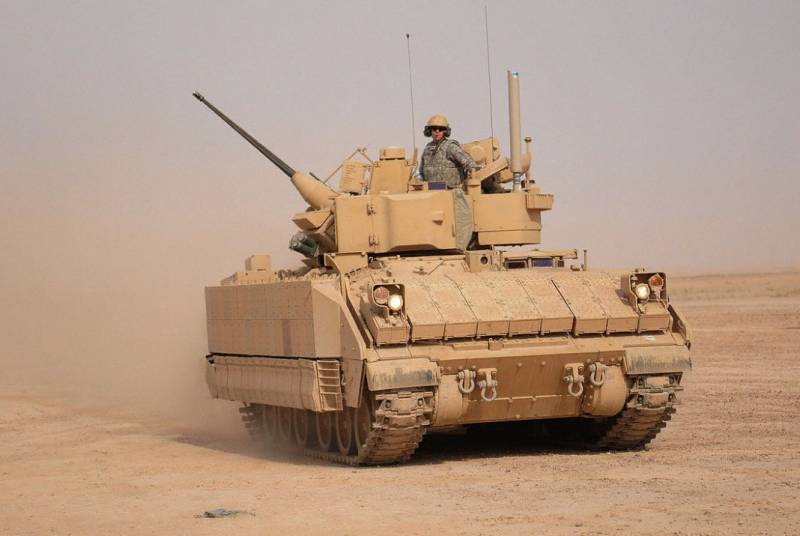 The American Bradley M2/M3 armored personnel carrier, adopted by the US Army in 1981, is associated with many "inconvenient" stories for the Pentagon. Most of them relate to falsification of state test results, inappropriate waste of funds and non-compliance with the characteristics of infantry fighting vehicles declared by the manufacturer.
One such "embarrassment" occurred in the late 80s of the last century. Only the BMP underwent the first modernization in 1986 to the M2A1/M3A1 version, as already in 1988 the next one was required.
The reason for this was the tests that US Air Force Colonel James Burton insisted on. An American officer, who acted as an independent observer during the development of the infantry fighting vehicle and did not obey the people who led the process of creating and testing this armored vehicle, decided to once again test the security of the Bradley using the 30-mm 2A42 cannon captured by the Afghan Mujahideen from the Soviet BMP-2.
It is worth noting that the American command was not enthusiastic about such a proposal. After all, the previous "strength tests" were falsified. The infantry fighting vehicle was fired from a Chinese analogue of the RPG-7, from the grenades of which the gunsmiths removed the linings of the cumulative craters, replacing them with copper foil. Naturally, the Bradley armor survived then.
But during tests with the 2A42 gun, the result turned out to be very disappointing. 30-mm shells penetrated the frontal projection of an American infantry fighting vehicle from a distance of 550 meters, and the side projection from 1600 meters.
Moreover, in the same tests, Burton insisted on firing an RPG-7 armored personnel carrier with Soviet ammunition from "its own reserves." This time the cumulative jet pierced the Bradley right through.
It is worth noting that after the above-mentioned initiative, Colonel Burton was dismissed. But modernization to improve armor protection was carried out in 1988.