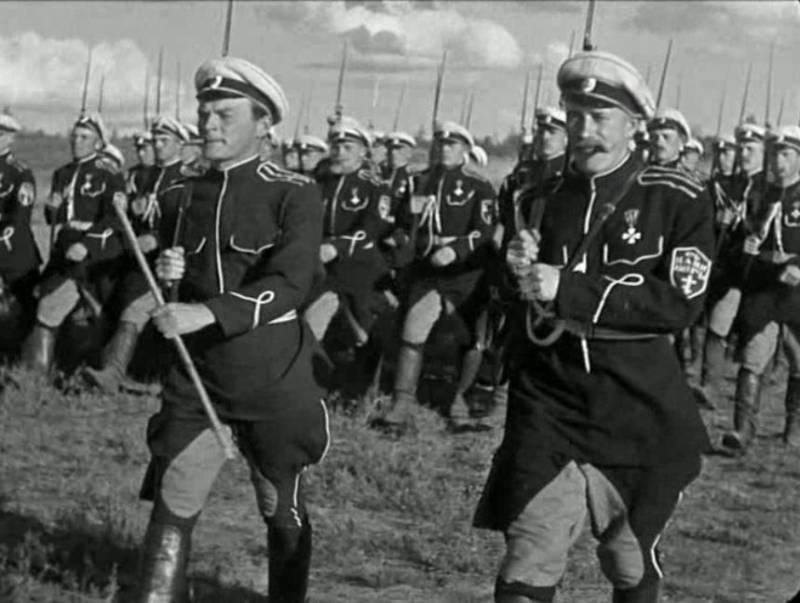 Judging by the color of the caps and shoulder straps, the Markovsky regiment is attacking, but not the Kappelites! Still from the film "Chapaev" (1934)
English uniform
Shoulder strap french
Japanese tobacco,
Omsk ruler.
Chorus:
Oh, my scumbag
American,
There will be no money
I'll take it and sell it!

Girls are coming
Raising the skirts
Czechs are behind them,
Gnaw nuts.
Civil War Song
Unknown Wars.
In our material today, we will deviate from the rule of presenting clippings from the Izvestia newspaper in the text and will talk about what was not reported in this and other Soviet newspapers at that time. Moreover, it was not reported due to some malicious intent, no, but simply at that time this information was not considered important, that's all. Meanwhile, today it is of quite definite interest.
Moreover, in order to facilitate the perception of the text, instead of a dry story, an excerpt from the first book of the author's novel "Three from Ensk" will be used. There, his main characters find themselves in Yekaterinodar, the then center of the Kuban White Guard, and walk around the city, looking at the military men they meet, dressed in the uniforms of the "colored regiments," named after their former commanders and representing, so to speak, the military elite of the White movement.
"Both at the station and in the city, the bright uniforms of the soldiers and officers they encountered literally dazzled their eyes. There were more of the latter, including those with rifles in their hands. Boris stared at them with all his eyes, and as soon as they settled down, he ran into the city to find out everything. He did not return soon, but later in the evening, when Volodya and Stasya decided to go for a walk, he could already give them explanations and more or less get his bearings in everything.
– Those strange characters on the other side of the street in black uniforms, red and black caps and with the same two-color shoulder straps are Kornilovites. This is, so to speak, the Volunteer Guard. Half of their shoulder strap is red, which means their blood shed for freedom. The other black one is a sign of mourning for the freedom destroyed by the Bolsheviks. And the red color of the crown on the cap apparently symbolizes that in the end they must win. All this, as they say, was established by the late Kornilov back in 1917. However, now it is not recommended to talk about freedom in front of them. For them today it seems like a curse...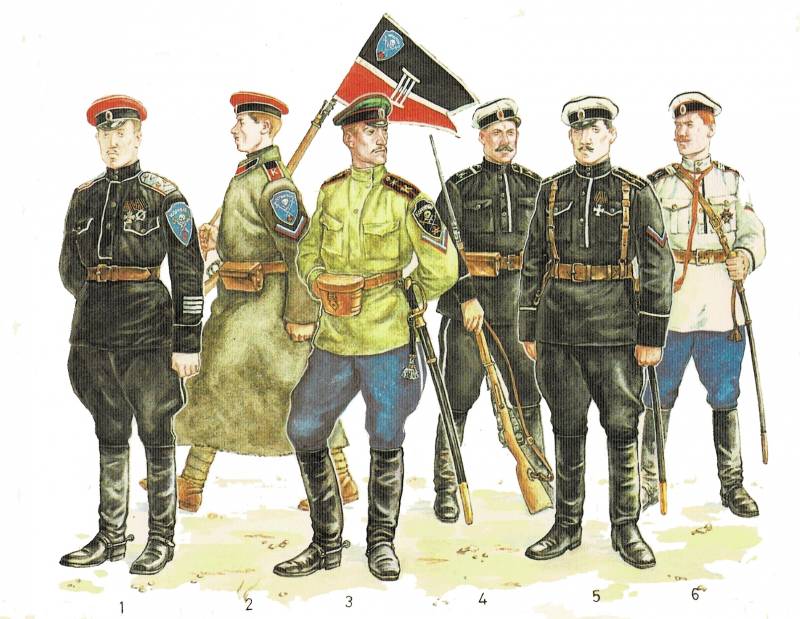 Uniform of the "colored units" of the South of Russia 1918–1920: 1. General of the Kornilov Shock Division; 2. Private of the Kornilov Shock Regiments with a battalion badge; 3. Officer of the Artillery General Kornilov Brigade (1920); 4. Corporal of the 1st Officer General Markov Regiment; 5. Officer of the 3rd Officer General Markov Regiment; 6. Fireworks of the 1st General Markov battery (1920)
– Accordingly, the Markovites - in the "Ice Campaign" they were commanded by Lieutenant General Markov - wear shoulder straps and caps of white and black color: with a black band, the top is white, the shoulder straps are black with white edging and gaps. These colors correspond to the motto "Death and Resurrection": black – "Death for the Motherland"; white – "Resurrection of the Motherland."
– Alekseevites flaunt in white and blue, which seems to be done in order to remind of the origin of these units, since in the beginning they were formed from high school students and students, whose distinctive color of clothing was blue.
– Drozdovites wear caps with a crimson top, a white band, and black piping, but their shoulder straps are crimson with a different combination of piping and gaps in black and white.
Well, and the letters on the shoulder straps, of course... The Kornilovites have "K", the Markovites have "M", the Alekseevites have "A", the Drozdovites have "D", although not all of them. And these regimental colors are also reflected on their banners, regimental and battalion badges: black and red badges for the Kornilovites, usually with a skull and crossbones, as on the sleeve emblem, black and white for the Markovites and black, white and crimson for Drozdovites.
"For some reason I used to think," said Stasya, "that they have a white flag with a state double-headed eagle, that's why they are called white." Or at least white-blue-red, but here...
"Well, this flag has been accepted as the main symbol of the struggle for Russia," Boris said importantly, and it was clear that he had picked up this phrase somewhere, cherished it in his soul for a long time, and now finally had the opportunity to pronounce it. - In addition, as I was told, this is a mandatory element of the flags for all armored trains, and in the Volunteer Army, tricolor white-blue-red chevrons are worn on the sleeves with an angle downward, so traditions are still observed here!
– What kind of person is this? - Stasya pointed with her eyes at a tall officer in pince-nez, dressed in an English service jacket and a khaki cap, but in bright red wide breeches with stripes. - Why is he wearing red pants?
"This is the headquarters captain of the 2nd Cavalry General Drozdovsky Regiment," Boris answered, looking at the officer walking towards them at the shoulder straps and at the black badge with some white letters sewn on his sleeve. – You see: 2-KDO-P – so everything is simple. And what about the red pants... well, that's what he wanted. Maybe he took them off some red cadet, sewed on the stripes and is walking around to his health.
- Interesting.
- Yeah! And do you see? He has the "Insignia of the First Kuban Campaign." These were awarded for the "Ice March", so the guy, although clearly a dude, has been in battle...
"I don't understand," said Volodya, looking at the Drozdov officer who passed them, "why should you single yourself out like that?" A protective jacket and red pants are nonsense. Well, I still understand the red and black shoulder straps, but the white tunics and caps with a red top are just a godsend for sharp shooters. Now there is such a war that the less visible you are, the better, but here, on the contrary, everything is topsy-turvy.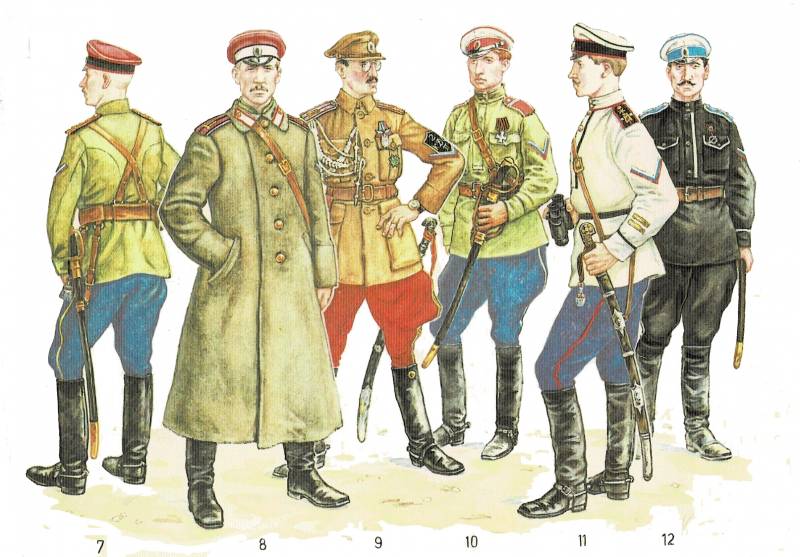 Uniform of the "colored units" of the South of Russia 1918–1920. (continued): 7. Officer of the Artillery General Drozdovsky brigade; 8. Officer of the 2nd Officer Rifle General Drozdovsky Regiment; 9. Officer of the 2nd Cavalry General Drozdovsky Regiment; 10. Non-commissioned officer of the 1st Cavalry General Drozdovsky Regiment; 11. Officer of the Alekseevsky artillery division (1920); 12. Officer of the Partisan General Alekseev Infantry Regiment (1919)
- And you also think about this: an officer captured by the Reds will immediately face a painful death, because it is easier to distinguish him by his band, but... nevertheless, they wear all this, and not only in the rear, but also at the front Same. Moreover, they find a special chic in this.
Keep in mind that in these very colored regiments it is customary to differ not only in shoulder straps, but also in their demeanor. The Kornilovites are pointedly contemptuous of death, and after the death of their Lavr Georgievich they even portray a kind of disappointment in life - they say, it's all vanity of vanities!
Markovites wear crumpled overcoats in memory of their commander, and also—sorry Stasya—they swear so much that their ears literally wither. The Alekseevites behave like students - after all, General Alekseev was a General Staff officer, a "scientist" - well, they copy this manner. But the Drozdovites, as I was told, are ironic, condescending, and almost all of them wear gold pince-nez in memory of their fallen general.
"Well, that's stupid," said Stasya. – In the rear it's all right, but in a combat situation you wear pince-nez. What nonsense!
- It's not stupid, but that's how they do it. Tradition," Boris smiled condescendingly. – The old traditions have broken down, but now they are creating new ones for themselves and trying to follow them religiously. Although the common people don't like all this...
They even sang a little ditty to me here about the Kornilovites, and it hit me right in the eye: "Who is painted like a poster? That's Kornilov's soldier." Well, and there further in the same spirit. In addition, there are too many of these warriors in the rear, they are almost talking about this out loud, but at the front there are catastrophically not enough soldiers!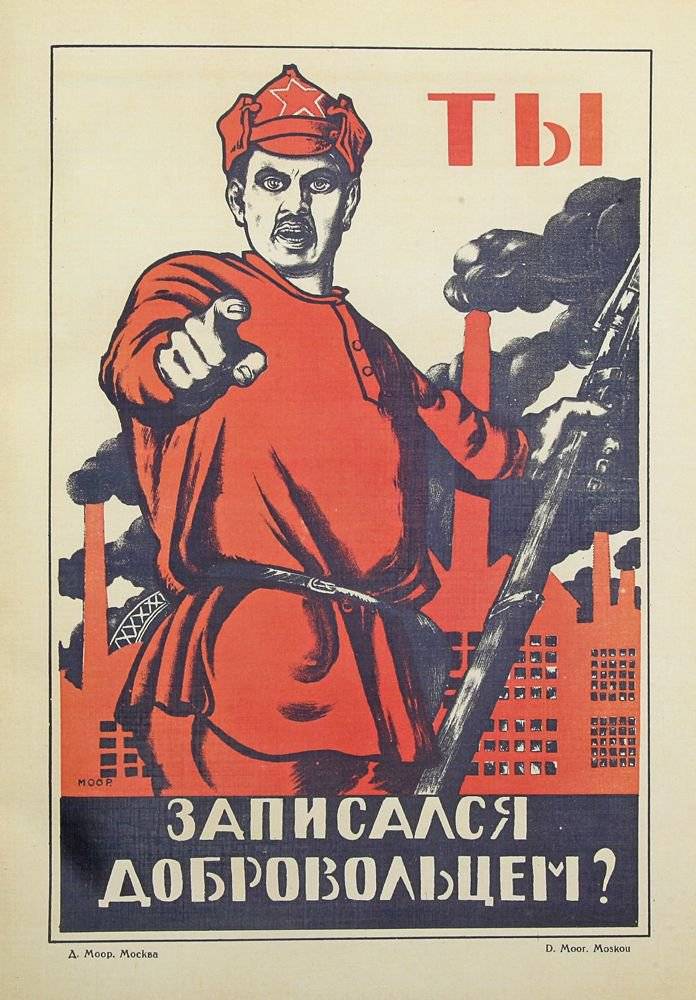 "Are you among the volunteers?" – Bolshevik propaganda poster created by artist Dmitry Moor in June 1920, during the Russian Civil War
"Oh, all this is not good," Stasya said quietly and shook her head.
"Yes, that's obvious," Volodya remarked in her tone. – Firstly, all this military tinsel costs both time and money, and secondly, it simply unmasks our soldiers. There is a third aspect to this issue. All this riot of colors makes it possible for red propaganda to present the white army in the most unfavorable light and emphasize its anti-people character, that is, that it is fighting against the toiling peasants and workers and is almost entirely composed of bloodsucking nobles.
– Well, we've seen a lot of such posters in the Council of Deputies. There are hanging on almost every corner...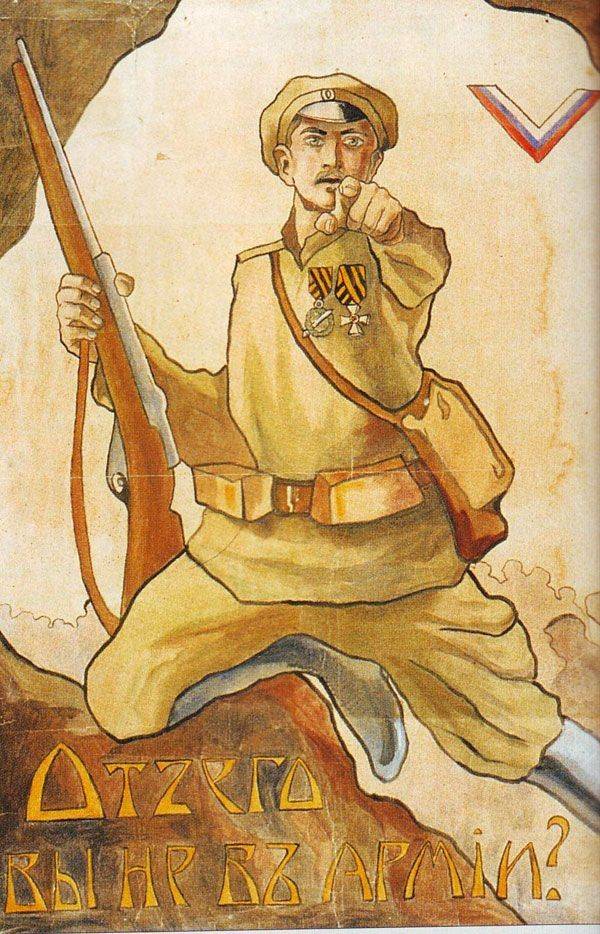 White Guard recruiting poster
"But here," and Volodya pointed to the guys at the poster hanging on the wall, "everything seems to be deliberately turned upside down." - No, just look! "Why aren't you in the army?" - a skinny-looking soldier with a barely noticeable chevron on his sleeve, and all in khaki, asks him.
Is that the case - remember? The Reds have a poster: "Have you signed up as a volunteer?" - and everything is drawn in one red color and there's also a guy pointing his finger at you?! That poster convinces me, but this one doesn't at all!"
PS
The text used materials from A. Deryabin's article "The Civil War in Russia 1918–1920. South – "colored parts", as well as drawings by R. Palacios-Fernandez. The article was published in the magazine "Tseichgauz" No. 1 in 1991.