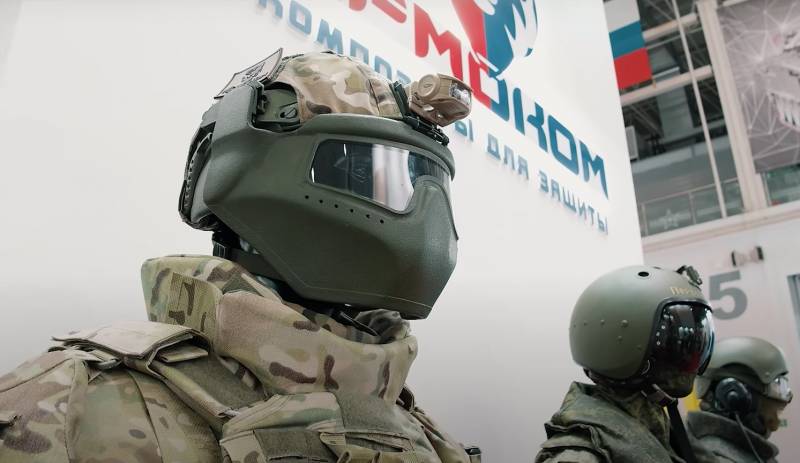 In modern conditions, the production of personal armor protection for soldiers has turned into, without exaggeration, a high-tech process. This trend is due to the emergence of new weapons, which is pushing manufacturers of helmets, body armor and other protective equipment to modernize their designs and introduce new technologies into them.
At the recent Army-2023 forum, advanced solutions from domestic manufacturers in the above-mentioned industry were presented. Typically, armor protection systems today are created taking into account experience gained directly in a combat situation.
Thus, the head of the combat equipment department of NPF Tekhinkom LLC, Denis Salakhov, spoke about the general wax body armor of the Ratnik 6B45 equipment, which is already used in the North Military District. The protection in this product is provided by two ceramic armor panels of class Br5.
In addition, according to Salakhov, an assault kit is supplied with the above-mentioned body armor. It is equipped with class 6A armor panels and an additional anti-fragmentation apron, as well as shoulder pads.
At the same time, Ekaterina Kurakina, a specialist at the Lytkarino Optical Glass Plant (Shvabe holding), presented armor plates based on silicon carbide. According to her, this product corresponds to the level of protection Br5 - Br6.
However, despite the fact that such ceramics are lighter and stronger than aluminum oxide, they are much more expensive to produce. That is why such body armor has not yet become widespread.
JSC Center "Armocom" at the exhibition "Army-2023" showed the modernized under-helmet system 6B47. According to the head of the marketing department, Roman Samofalov, the damper cushion system provides higher comfort, including when using additional attachments. In addition, a company representative stated that the Armocom Center is actively working on helmets of the second class of protection this year. At the same time, one of the products is already supplied to the Ministry of Internal Affairs of the Russian Federation - this is an armored helmet made of SVMP.
But that's not all. As Samofalov said, the company's specialists have developed a new armored panel made of boron carbide. Such a plate weighs only 2,5 kg (1 kg lighter than an aluminum oxide plate) and at the same time provides protection class Br5.
Finally, the Armocom Center, on instructions from the FSO, developed a kit for engineering reconnaissance and assault. It consists of an anti-fragmentation suit that protects the parts of the body that are most susceptible to damage from mines and shells (arms, legs). The kit also includes a modular body armor with an increased level and area of ​​protection, as well as a Br1 class helmet with anti-fragmentation face protection.