We continue to talk about what was interesting the outgoing year in the military sphere. Probably the most unusual exhibit at the DEFEXPO - 2012 arms exhibition in India could be called a new modification of the Russian infantry fighting vehicle BMP-2.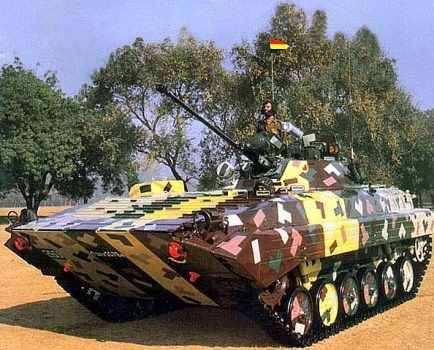 Indian BMP "Sarath"
We have already noted that at one time India received a license to manufacture these BMPs, after which more than one thousand cars were issued, which received the national designation Sarath. Indian engineers not only produced one to one this machine, but developed a lot of modifications: from machines of the air defense systems and anti-tank missile systems to various types of engineering equipment. Something remained in the form of prototypes, something went into service.
This version of the "two" is striking in that it was decided to abandon the tracked chassis - without further ado, the Indians perched in a three-axle vehicle.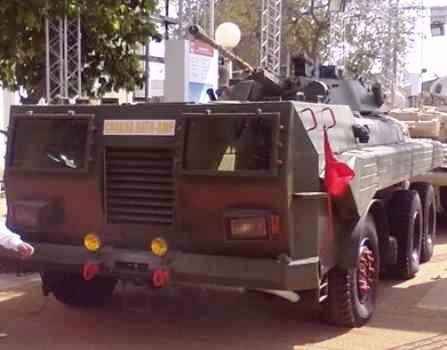 What is surprising is that in this design there were even side floats that were relevant on a floating tracked variant, but completely superfluous on this wheeled chassis.
It is still unknown - was it an order of the Indian Ministry of Defense or the initiative development of wheeled BMP?
The designers of this "mutant" used to work only with tracked armored vehicles, as the car turned out to be crude: poor visibility ahead, insufficient protection of the commander's and driver's seats, as well as the engine.
This wheeled BMP maneuverability is clearly insufficient, and its use in desert areas is difficult. It will only feel good on the highway, as a convoy escort vehicle.
However, even in this form, the car can have one plus - the life of the wheeled chassis is much higher than the track, and their operation is much cheaper.
It is unclear what became a source of inspiration for this design. I remember that at one time the Americans crossed their army trucks with armored personnel carriers M-113 - this was the case in Vietnam and at the beginning of the Iraqi company.
In addition, in Afghanistan, Soviet Ukranian and KamAZ trucks could be seen as part of the Soviet convoys, in the backs of which they installed fighting compartments of wounded armored personnel carriers with KPVT and PKT turret guns.
In any case, only ingenious Indian engineers came up with the BMP-2 wheeled car.
From the first show of this car, nothing more was reported about it, so it is possible that this car remained as a single copy.