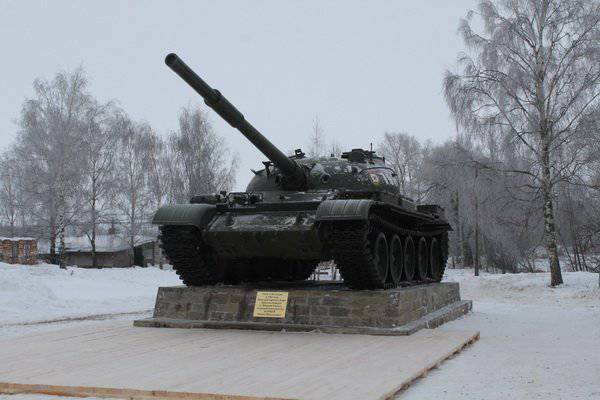 Memorial memorial in the form of a sample
tank
T-62 in honor of the designer of armored vehicles Leonid Kartsev opened in his homeland in the village of Skomovo, Gavrilovo-Posadsky district, Ivanovo region. The memorial was opened on December 7 by Governor of the Ivanovo Region Mikhail Men, Colonel General Sergey Mayev and the daughter of designer Galina Kartseva.
Mikhail Men, recalled that the initiative to install the memorial belongs to the fellow countrymen of the designer. "The appeal of the inhabitants of the village of Skomovo was supported by the Ministry of Defense of the Russian Federation, the regional government, the senator from the Ivanovo region, Yuri Smirnov, the leadership of Uralvagonzavod, in which Leonid Kartsev worked. For three months, joint efforts have resolved organizational issues and established a memorial, "he added.
As Colonel General Sergei Mayev said, the tank of the T-62 sample was delivered from the tank museum in Kubinka.
The daughter of Leonid Kartsev, speaking at the opening ceremony, thanked all those involved for helping to install the memorial, especially noting the work of fellow countrymen Leonid Kartsev - residents of the village of Skomovo. In addition to solving organizational issues, they constructed a pedestal for the tank.
Recall, designer Leonid Kartsev was born in 1922, in the village of Skomovo, Gavrilovo-Posadsky district, Ivanovo region. Under his leadership, the T-54A, T-54B, T-55, T-62 tanks were created, which received world-wide recognition, as well as the missile tank destroyer IT 1. The pinnacle of his work was to participate in the creation of the T-72 tank, released in quantities of more than 30 thousands of units, half of which are still in service with 20 countries of the world. By a decree of the President of the Russian Federation in July of this year, Leonid Kartsev was awarded a state award - the Order of Honor.
The event was attended by a member of the Council of Federation of the Federal Assembly of the Russian Federation from the Ivanovo region, Yuri Smirnov, representatives of OAO Ural Design Bureau of Transport Engineering, relatives and colleagues Leonid Kartsev.