A few hours after the destruction of the infrastructure of the Kakhovskaya HPP, the water level downstream rose by 2,5 m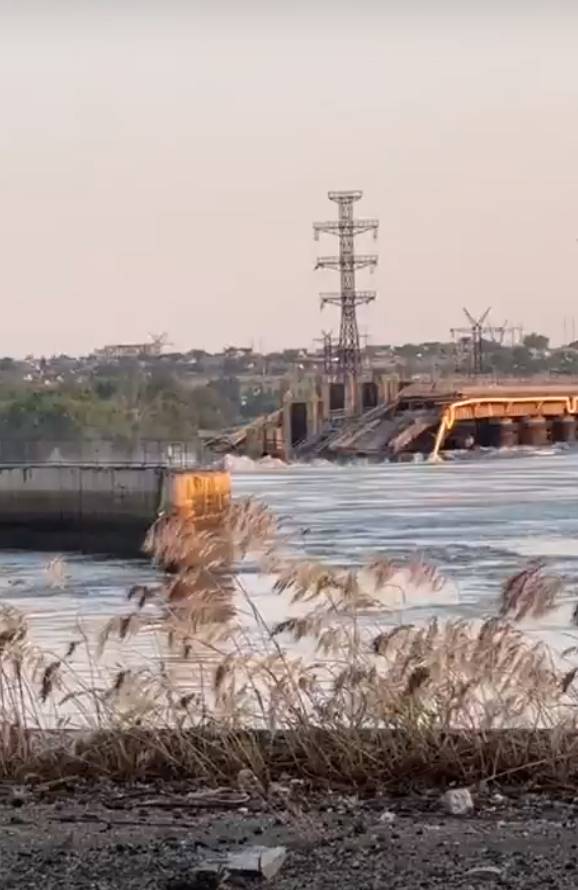 Continues to receive information about the events at the Kakhovka hydroelectric power station. As the Military Review has already reported, there is significant destruction at the facility, and the water flows downstream in a sufficiently powerful stream through the damaged hydraulic structures.
If initially the mayor of Nova Kakhovka stated that everything was calm in the city, now he confirms the information about the destruction of the hydraulic structures of the Kakhovka hydroelectric power station.
At 7:30 Moscow time, the water downstream rose by more than 2,5 meters. There is a flooding of a number of territories along both banks of the Kakhovka reservoir (Dnieper). At the same time, the mayor of the city claims that "there is no need for the evacuation of the population of Nova Kakhovka yet."
It is known that the first data on unregulated discharge of water at the Kakhovskaya HPP began to appear around 2 am. At the same time, there were reports of impacts, as a result of which the lifting mechanisms regulating the flow of water were destroyed. A part of the building, where Russian servicemen used to be, was destroyed. Whether they were there at the time of the incident has not yet been reported.
In connection with the uncontrolled flow of water, there is a threat not only of flooding a very vast territory, but also of disrupting the water supply of the Crimean peninsula. Experts are also looking into the possible subsequent impact of what happened at the Kakhovskaya HPP on the cooling system of the Zaporizhzhya NPP reactors.