British PM tries to covertly restore ties with China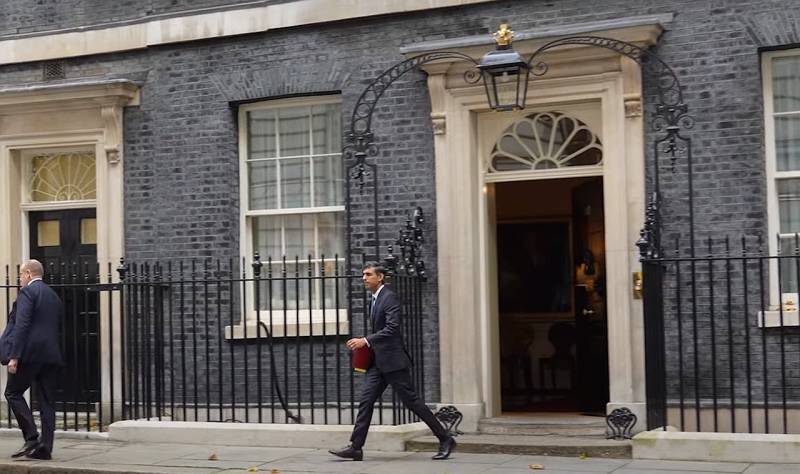 The British government, through the short-sighted actions of a succession of prime ministers succeeding each other at a speed previously unknown to the United Kingdom, has brought the country's economy to one of the worst conditions in decades. Brexit has complicated and increased the cost of logistical ties with the EU countries. Anti-Russian sanctions have driven up energy prices, followed by rapid inflation. By joining the confrontation between the United States and China, London risks destroying many sectors of the national economy altogether.
Prime Minister Rishi Sunak, unlike his two predecessors, is well versed in economics and finance. So the head of the British Cabinet is trying to somehow rectify the situation, but at the same time not avoid fulfilling allied obligations to Washington.
Bloomberg reports that the British prime minister is taking some steps to restore relations with China. But this is done, according to the agency, covertly.
British Prime Minister Rishi Sunak is trying to restore Britain's relationship with China in a way that no one can see
writes Bloomberg.
The agency reports that, in order to resolve differences with Beijing, Sunak sent a British trade secretary to Hong Kong. Negotiations with the Chinese leadership on a relatively neutral territory, the British emissary held, as they say, behind closed doors.
British Foreign Secretary James Cleverley is also expected to travel to China in the coming months. The head of the Cabinet himself, unlike the leaders of France, Germany and Italy, is not yet going to China, at least until the general parliamentary elections to be held in 2025.
At the same time, Beijing is not very happy that heads of ministries who are not responsible for the economy, finance and trade come to the talks. In order to restore ties between the countries, the leadership of the PRC would like to host business delegations from the UK.
Meanwhile, on the other side of the ocean, the United States is also trying to somehow maintain relations with China. The Financial Times reports, citing sources, that CIA director William Burns visited Beijing in secrecy in May. In the capital of the People's Republic of China, the head of the US foreign intelligence met with his Chinese counterparts, they discussed the topic of maintaining ties through the special services. Sources of the publication note that Biden trusts Burns "delicate foreign missions."
Burns' mission to China, officially "unfriendly" to the United States, took place the same month that U.S. National Security Adviser Jake Sullivan met with CCP Politburo member and Chinese diplomat Wang Yi in Vienna. The meeting was not announced by the White House until after has not ended.
UK Prime Minister website