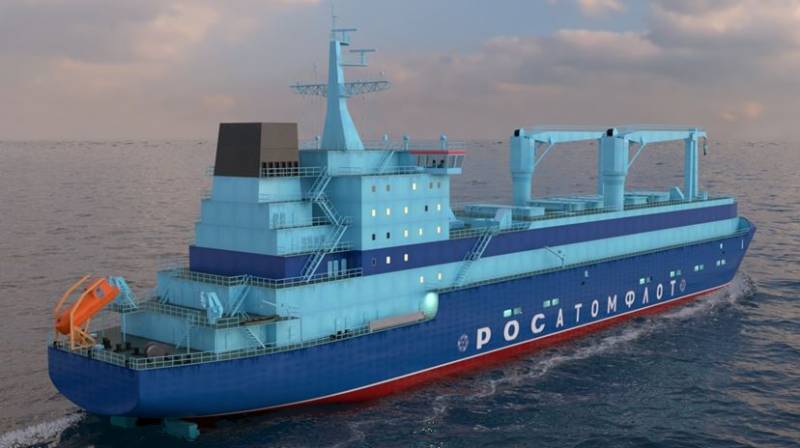 The shipbuilding enterprise "Baltiysky Zavod" received a contract for the construction of a multifunctional nuclear service vessel (MSATO) of project 22770. The agreement was signed with Rosatomflot. This was reported by the press service of the United Shipbuilding Corporation.
Baltiysky Zavod, which has extensive experience in building nuclear-powered icebreakers, has been selected as the sole executor of the state contract for the construction of a new vessel for servicing nuclear-powered icebreakers. The government decree on the allocation of budget investments for the construction of the lead multifunctional vessel and two serial universal nuclear icebreakers of project 22220 in 2023-2030 was signed by Prime Minister Mikhail Mishustin at the end of December last year. Construction will also be carried out by attracting third-party investments, the budget will cover only 50% of the cost of the vessels.
Multifunctional nuclear service vessel (MSATO) of project 22770 should be put into operation in 2029, it is intended to replace the Imandra project 1980, which has been in operation since 1948. The new ship will operate nuclear icebreakers, ships with a nuclear power plant and floating power units. The ship will have an unrestricted navigation area and will be equipped with a power plant with a total capacity of 9,28 MW, as stated by diesel.
The project 22770 nuclear service vessel is an important facility for Rosatomflot's infrastructure. This ship will have many tasks: providing operations for recharging reactors of nuclear icebreakers, storing fresh and spent nuclear fuel
- said in Rosatomflot.
The USC press service gave the characteristics of the ISATO: Length - 158,8 m, width - 26 m, draft - 7,5 m, power plant power - 9,28 MW (on shafts), displacement - 22661 tons, speed - 12 knots.